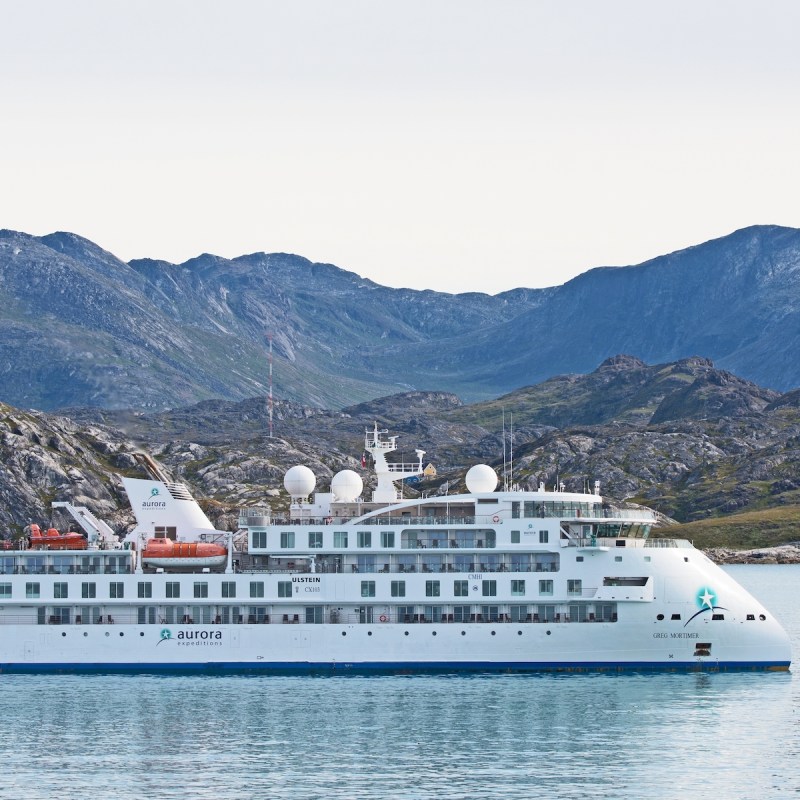 You have the chance to sail to a location practically no one has been to before. Aurora Expeditions is planning to take cruisers to Greenland's northern tip — a place the cruise line says no other company has gone to before.
Greenland Expedition
With only 126 passengers, the new itinerary onboard the Greg Mortimer expedition ship is expected to be intimate and unique. Leaving ReykjavÍk, Iceland, on August 15, 2023, the ship will sail to Northwest Greenland, visiting Germania Land, Kronprins Christian Land, and Northeast Greenland National Park. During the trip, passengers will hopefully see native wildlife, including musk oxen, polar bears, and walruses, as well as the world's only military dog sled patrol on Kronprins Christian Island.
Aurora Expeditions is touting the cruise as unique, maintaining that no other cruise line has ventured to the northernmost parts of Greenland before. "An Aurora first, we aim to break ground by attempting to forge toward the northernmost tip of mighty Greenland," the company explains on its website. "If successful, the North of Greenland, wild and untouched, offers breathtaking landscapes and a completely unique experience."
The company does note that a lot of the ship's route and itinerary will be weather dependent. "Be prepared to experience ice, lots of it!" warns the company. "Our experienced expedition team will use their expertise to design our voyage from day to day. We may explore on land or cruising along spectacular fjords, making the best use of the prevailing weather, ice conditions, and wildlife opportunities."
Expedition Price
A look at Aurora's Expeditions website shows the new East Greenland Explorer itinerary is 14 days, beginning and ending in ReykjavÍk, Iceland. The price starts at about $12,500 per person for a triple room; a double room starts at $12,775 per person. Those prices include an overnight stay with breakfast before the cruise, meals, most drinks (including beer and wine at dinner), all shore excursions, a Captain's welcome event, gratuities, and more. Flights, necessary visas, and optional excursions are all extra.
About Aurora Expeditions
Passionate for adventure, Greg and Margaret Mortimer began Aurora Expeditions in 1991, with their inaugural trip to Antarctica just a year later. The company prides itself on taking a small group of travelers on discovery voyages, reaching sacred areas in Iceland, the Northwest Passage, Norway, Antarctica, and more. Each expedition is run by specialists and offers onboard lectures with the aim of preservation, protection, and education.
Check out why we think Greenland should be on the top of your bucket list and meet the dogs that make getting around easier on the icy island.