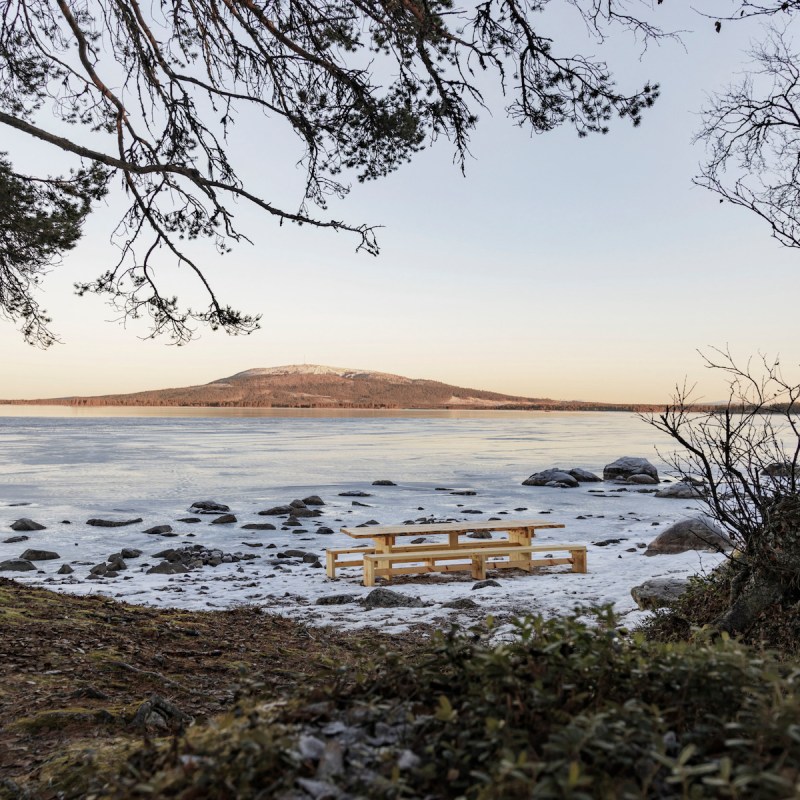 This summer, Sweden is introducing the world's largest, open-air, world-class bar. Drinkable Country will feature 15 tables set up across the country's most beautiful outdoor areas. Guests can experience ready-made drinks that reflect local nature and DIY drinks with ingredients found in the surroundings.
Drinkable Country
Beginning on June 15, guests can book a table for a Drinkable Country experience at locations across Sweden. This gives them the opportunity to explore with local guides while collecting and mixing local ingredients.
Four beverage experts collaborated to come up with recipes that represent different parts of the country.
"The DIY recipes enable visitors to explore Swedish nature through world-class taste experiences," says Jens Heed, program director of food travel at Visit Sweden. "The country's 100 million-acre pantry of fruit, berries, vegetables, and crystal-clear spring water is open to everyone. We call it the Drinkable Country — the world's largest open-air bar."
Tables And Bars
Right now, there are 10 tables from north to south. If you try to make a reservation and it's fully booked, you're told not to worry, "There are another 100 million acres of open-air bar area available for you." Here is a look at 10 tables across Sweden.
Arjeplog
Located in the north of Sweden, settled in the mountains, forests, marshes, rivers, archipelagos, and sea, is the Swedish Lapland. It makes up more than 25 percent of Sweden. It's also where the town of Arjeplog is located and the bar for Drinkable Country is on an islet in Hornavan, Sweden's deepest lake. You'll get a taste for this Arctic area as you gather edible greens for your cocktails, mix them together, and enjoy local, natural bar snacks.
Liehittäjä
Also located in the Swedish Lapland is Liehittäjä, which is home to the "World's biggest (and one of the five most remote) outdoor bar and restaurant," Huuva Hideaway. The bar sits in an old reindeer corral where Sweden's indigenous people, the Sami, have been gathering for centuries. There is space for 12 people at this bar, which has no running water or electricity. You'll be served nature "mocktails" (non-alcoholic) with ingredients from your surroundings, but you can bring your own alcohol and add to them.
Grövelsjön, Dalarna
This table is located in Grövelsjön, Dalarna's northernmost point in the heart of Sweden. Here, you'll take a hike and gather the season's plants and herbs to create drinks over lunch. The non-alcoholic drinks will give you a refreshing taste of the mountains as you gaze over them.
Ven, Skåne
The island of Ven is located between Sweden and Denmark in the Öresund strait. It houses a table nestled in the wheat fields with views of the sea. You'll take a guided walk to collect all the ingredients for dinner and an evening drink. Drinks will be made right there in nature.
Göta Canal, West Sweden
This table in West Sweden has a serene location in a forest, next to the Göta Canal. You'll get a basket with a non-alcoholic drink kit, which includes accessories, ingredients, and a recipe.
Ramsvik
In Southwest Sweden, you'll find archipelagos with thousands of tiny islands. On one of them, you'll find the table at Ramsvik, a nature reserve with hiking trails along cliffs giving you an incredible view of the sea. On that hike, you'll find the ingredients for your cocktail. The experience includes a drink kit, a recipe with information about the area where the table is located, and a box of ingredients.
Orbaden, Gävleborg
This farming and fishing area gives you a taste of the old days with locally-grown ingredients and fishing villages. The table is located in Hälsingland in the hills above Orbaden. A guide will take you to the table and a mixologist will show you how to create your cocktail from items pulled right from the area.
Stufvenäs, Småland
Sitting at this table is very special as it is near Sweden's largest oak tree, right next to the Kalmar Strait. The area grows juniper and sloe bushes, but the oak trees are what draw in nature lovers; the table is situated among several that were planted in the 17th century. You'll mix Småland drinks with a bartender from plants around you and local spirits. The table is not far from the Stufvenäs Country Hotel.
Asa, Småland
Bartenders work with the forests and lakes of Småland as inspiration for the drinks at this table. It's located in the middle of the woods surrounding Asa Herrgård. You'll use lingonberries, blueberries, and spruce shoots to create your cocktails. You'll get a drink kit with instructions, recipes, and ingredients, then head into the forests to enjoy the local flavor.
Ormanäs, Skåne
This table is located in Ormanäs, in the southernmost region of Sweden, in a beech tree forest. To get there, you can hike about 5 miles, or hop on a car or bus. A guide will give you a tour which includes learning about, and tasting, local herbs and flowers. You'll collect these along with berries, fruits, and — at the right time of year — even mushrooms. You'll then get all you need to create non-alcoholic drinks, including instructions to make them with alcohol, if you want to bring some with you.
Drinkable Country was created after the success of Edible Country. It was created by Visit Sweden to showcase the natural and healthy ingredients the country has to offer, right at your fingertips.
To read other articles about Sweden, check out: