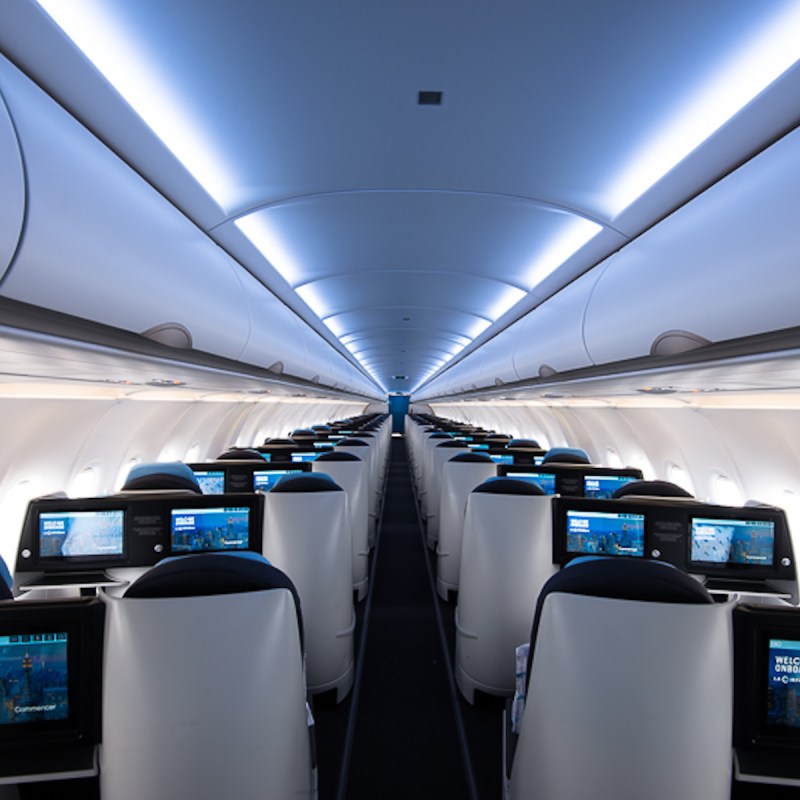 Love is in the air… literally. An all-business airline is launching a two-for-one sale just in time for Valentine's Day.
Business Class On Sale
La Compagnie, an all-business-class airline, is offering two tickets for the price of one on select flights to Europe. The flights are good until the end of 2023 with a few blackout dates, but you must book by Valentine's Day, February 14, 2023 — for anyone who forgot!
The sale covers three popular routes:
Newark Liberty International Airport (EWR) to Milan Malpensa Airport (MXP) from $3,800 round trip for two people
Newark Liberty International Airport (EWR) to Paris-Orly Airport (ORY) from $3,800 round trip for two people
Newark Liberty International Airport (EWR) to Nice Cote d'Azur Airport (NCE) from $4,800 round trip for two people
​​The airline says the sale is the perfect gift for couples. "With just 76 full-flat seats in a two-by-two configuration, couples can cozy up and enjoy an intimate and comfortable flight," an airline spokesperson explains. You can book this deal directly on La Compagnie's website.
The Business Class Difference
Since launching in 2014, La Compagnie aims to offer business class seats at affordable prices. The planes only have business class seats, meaning no cramped economy seats onboard! Each seat reclines to a fully-flat bed with anti-allergenic pillows, soft blankets, and top-of-the-line travel amenities. The seats also have reading lights, an electrical outlet, storage for personal belongings, and a mounted screen for entertainment.
Dining Experience
The dining experience also sets La Compagnie apart from typical airlines with seasonal French cuisine onboard created by famed Chef Christophe Langree.
"Taking people on a voyage is our business, both in the air and in their minds," explains Langree. "Our cuisine plays a part in the La Compagnie journey. It always follows the seasons and our passengers' gastronomic desires. Straight to the point, simple, and good: Those are our guiding principles. From my native Brittany to my travels around the world, I have kept only the best to share with you."
Dining typically includes a four-course menu after taking off and a light snack before landing. Some routes have a light snack after taking off and a full breakfast before landing. The menus rotate each month and sometimes feature creations by award-winning chefs. Each meal is accompanied by an extensive wine menu, handpicked by renowned French wine critics. In late 2022, the duo curated a list of organic wines for the airline.
"We cannot appreciate a meal without a good wine pairing," says Thierry Desseauve, founder of Bettane and Desseauve. "Natural wines are a new trend that is becoming increasingly popular in some of the most recognized and beloved restaurants, and we wanted to
invite La Compagnie travelers to discover this new way of enjoying their food while sitting comfortably 10,000 meters above ground."
Once you land from your business class flight, check out how to spend the perfect weekend in Milan or Nice, plus our favorite walking tours in Paris.