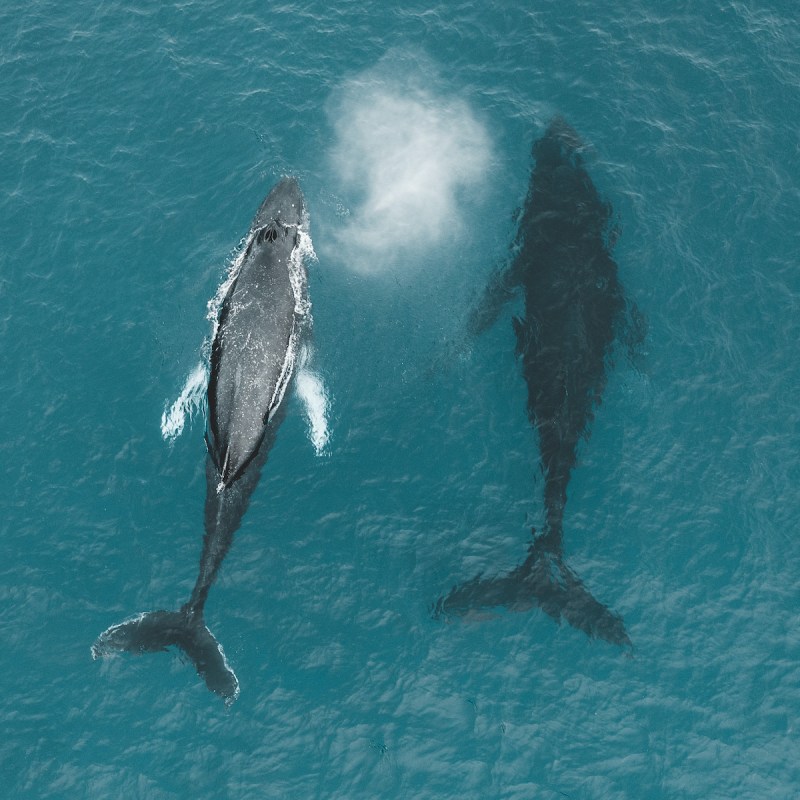 As happens every year about now, pairs of mother and calf humpback whales are frequently spotted in the warm waters of Maui, Hawaii.
Humpback whales, which are a favorite of whale watchers because they often breach and slap the water's surface with their pectoral fins and tails, are found in oceans all over the world. What's known as the Hawaiian population, however, spend most of their time in the North Pacific, near the Aleutian Islands/Bering Sea, Gulf of Alaska, Southeast Alaska, and northern British Columbia, before making their way to shallow, warmer waters near Hawaii to mate and calve.
Amazingly, some humpback whales can make this 3,000-mile migration trip from Alaska to Hawaii in as little as 28 days, according to National Oceanic and Atmospheric Administration (NOAA) Fisheries.
The reason the whales are being seen so often now is that humpback whale season in Hawaii (when the whales are in that area) generally runs from November through April. In other words, it is now mid-season.
"We've been seeing so many," Abrien Aguirre, a Hawaiian tour guide said, according to khon 2 News. "They may be a mile, anywhere from a quarter mile to a mile, off the shore. Mothers teach their calves how to breach, how to dive down, and how to flap their tails. It's been pretty cool."
Humpback Whale Basics
Humpback whales, known for their long pectoral fins and named for the distinctive hump on their backs, can weigh up to about 40 tons and be around 60 feet long, NOAA Fisheries explains. The whales typically live 80 to 90 years.
Female humpback whales generally have a calf every 2 to 3 years. The calves, which are born after an 11-month gestation period, are typically between 13 and 16 feet in length.
The calves stay near their mothers for about a year.
As you may expect, the mothers are incredibly protective of calves. They typically swim close to their calf and often touch them with their flippers.
How To Safely See The Whales
"The presence of whales should not stop you from enjoying fishing, exploring, and voyaging on the ocean," according to the Division of Boating and Ocean Recreation at Hawaii's Department of Land and Natural Resources. "You can take steps to prevent collisions with these visiting giants."
"First of all and most importantly, keep in mind that it is illegal to get within 100 yards of a humpback whale. That regulation applies to all ocean users and vessel types," the Division of Boating and Ocean Recreation continues.
Secondly, boaters of all types need to reduce their vessel's speed around the whales.
"Statistics show that at a speed of 15 knots or less, collisions with whales are greatly reduced," the Division of Boating and Ocean Recreation notes. "So, during whale season, especially in water depths of 100 fathoms or less, maintain a speed of 15 knots or less to reduce your risk of striking a whale."
Finally, if you see an injured or entangled humpback whale or any other marine mammal, keep a safe and legal distance from the mammal and call the NOAA Fisheries Hotline. You can also hail the U.S. Coast Guard on VHF (marine radio frequency) channel 16 immediately.
If you see another vessel getting too close to the whales, you can report the incident by calling the NOAA Fisheries Enforcement Hotline.
"Ocean users play an important role by helping monitor humpback whales," said Ed Lyman, natural resource specialist at Hawaiian Islands Humpback Whale National Marine Sanctuary, according to Maui Now. "By locating distressed animals, reporting, and providing initial documentation and assessment of the animal — from a safe and legal distance — ocean users act like first responders and are the foundation of our conservation efforts."
For more about whales and whale-watching, be sure to also read: