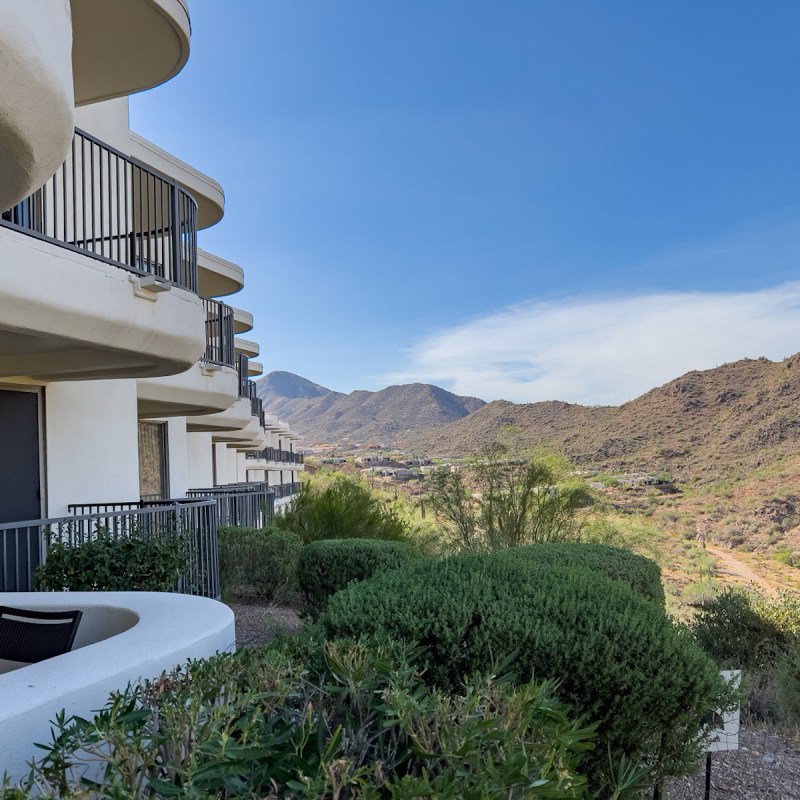 Perched high on a ridgeline of McDowell Mountain in Scottsdale, Arizona, ADERO Scottsdale Resort is perfect for a winter getaway. The weather is pleasant and you can't beat the restorative powers of exercise, massage, fine dining, craft cocktails, and relaxation.
Late September through November and March through early May are the best times to visit Scottsdale for pool time and outdoor activities. ADERO Scottsdale Resort is a perfect destination in the Sonoran Desert for self-care year-round.
Scottsdale is famous for luxury resorts, high-end boutiques, notable celebrities, snowbirds, and championship golf courses. Historic Old Town Scottsdale, only 20 minutes away, is worth a visit.
Because of its secluded location, traffic is minimal, and those arriving at ADERO are quickly accommodated with valet parking. With no stairs to navigate at the entrance, arriving in the spacious lobby holding treasures from the local mine and breathtaking artwork will stop you in your tracks. The experience thus far is merely the beginning of your winter getaway.
ADERO Scottsdale Resort hosted my visits, but all opinions are my own.
Mild Winter Weather
Scottsdale enjoys 330 days of sunshine a year. From October through May, the weather is mild, and the sky is clear. The average daytime temperature ranges between 70 and 90 degrees Fahrenheit.
The summer months bring the monsoons with triple-digit temperatures, humidity, and torrential rains. Thunder and lightning storms dance across the Valley of the Sun.
There is no snow in Scottsdale during the winter, so tee times on the Sunridge Canyon Golf Course and Adero Canyon trails surrounding the resort are not impacted. The temperature drops below freezing only three nights a year on average.
Great Local Hiking Trails
Adero Canyon presents hikes for beginners, intermediate, and advanced hikers. All levels offer panoramic views of the Sonoran Desert, New River Mountains, and Tonto National Forest. The trailheads are 20 yards from the Valet station at ADERO Scottsdale Resort.
The ADERO Adventure Concierge guides guests through the living desert with hiking excursions on the Adero Canyon trails.
The Cleanse + Reset Wellness Retreat at ADERO includes a desert-bathing and earthing walk experience on these trails. It helps to reconnect with yourself, the earth, and nature.
Pro Tip: Signs advise guests to be vigilant for wild animals like javelina on the trail.
Fabulous Amenities
Sunridge Canyon Golf Club
A short drive down the hill from ADERO, Sunridge Canyon Golf Club offers stunning golf course views, rental clubs, reserved tee times, seasonal passes, and golf instruction with PGA-trained professionals.
Fitness Center
The ADERO world-class Fitness Center has state-of-the-art cardio and weight-training equipment and includes pilates, aqua classes, peloton cycling, and other group fitness classes. Daily yoga classes begin on the Four Peaks View Lawn at sunrise.
Unique to ADERO, outdoor pickleball courts nestle next to one of the heated pools. You can rent pickleball equipment at the Fitness Desk.
Lighted championship tennis courts offer an exceptional view for spectators and players perfecting their game.
Two heated pools help you recharge on the sundeck. The family pool is over 2,000 square feet, the adult-only lap pool is 1,000 square feet, and a secluded hot tub and poolside cabanas complete the outdoor water features.
REVIVE at ADERO provides snacks for breakfast, lunch, and dinner. Homemade granola parfaits, freshly made smoothies, and refreshing cactus water are available when you are in the Fitness Center or coming from an appointment in the spa.
Spa At ADERO
I could have spent the entire day in the spa. Ending in the relaxation room on a Rolf Benz chaise lounge with low lighting reflecting off the shimmering azure and silver bead wall, I savored the refreshing beverages served post-massage. Every comfort is considered. From the fluffy robe, countless white towels, and slippers to the whirlpool and sauna in the women's locker room.
The delightful 80-minute massage, Amethyst Awakening Massage, accomplished exactly what it was supposed to. I came away in a peaceful state of relaxation.
Named for the gemstones found in Four Peaks Mine in the Mazatzal Mountains 35 miles across the valley from ADERO, the massage utilized amethyst-infused oil, hot stones on pressure points, heated packs, an eye covering, and cool polished stones on my face at the end. While I thought someone would massage me with amethysts, I discovered that to be highly unlikely. Here's why.
Native Americans first discovered the gemstone deposits in Four Peaks Mine. The only commercial amethyst mine in the United States has no roads leading to it. It takes a three-hour hike for the miners to get to work and all the mining is done by hand. A helicopter brings in supplies and takes out the gemstones for cutting. There's no electricity or running water in the mine. Solar power provides lighting and ventilation, and rainwater is purified for drinking.
A piece of amethyst gemstone that resembles a geode decorates the lobby next to the front desk.
Dining At ADERO
Cielo Restaurant
Cielo Restaurant is a modern, farm-to-table-to-sky experience. The service is consistently superior and friendly. I enjoyed the American dinner menu and craft cocktails on both visits.
A lavender negroni is a gin drink stirred, not shaken. This colorful signature drink accompanied the charcuterie board that included acerbic caper berries, cherry bomb peppers, artisan cheese, meats, rustic bread, and whole grain mustard. In the summer, I chose to sit on the outdoor deck (with the misting system turned on to cool the air around me), slowly devour this meal, and relish the view of Fountain Hills with its hourly fountain performance, Four Peaks, and the valley below.
On my winter visit, I appreciated the panoramic windows in Cielo Restaurant. The musician played easy listening tunes while I sipped It's A Dry Heat, a curated craft cocktail perfectly paired with the Ahi Sashimi tasty plate. The blackened seared tuna with sides of truffle edamame, kimchi cucumber, pickled garlic-onion, and shishito Peppers was enough for a light meal in keeping with my health and wellness experience.
The Village At SkyTop
Open for brunch on the weekends and daily for dinner, the award-winning SkyTop Lounge might be my favorite spot at ADERO. It was too warm for cocktails outside on my summer visit, but it was the perfect spot for exciting experiences in cooler weather. Let me explain.
Seating for refreshments and panoramic views with comfortable furniture and cocktail tables afford a stadium view of the valley and mountains.
In the winter, globes dot the grounds in The Village at SkyTop. Guests can reserve a themed globe that looks like an igloo to drink and dine under the stars. The use of a Bluetooth speaker creates a fantastic sanctuary. Your reservation includes an appetizer and a bottle of prosecco.
Star Dudes
ADERO is strategically located in a Dark Sky Zone. On bluffs overlooking Fountain Hills, the world's 17th International Dark Sky Community, the unobstructed view is perfect for observing the star-studded sky.
On Friday evenings October through May, weather permitting, Star Dudes bring a telescope for guests to observe and learn about the night sky. At this exciting event, the experts help preserve the night sky by raising awareness of smart lighting and protecting our dark skies.
ADERO joins the Star Dudes in their quest to educate their guests with this unique opportunity. You can reserve a telescope to use in your room on the expansive balcony.
I was fortunate to participate with other guests on a breezy, cold night in winter at the SkyTop Lounge. We observed Saturn, Jupiter, Mars, and countless star constellations. A brilliant meteor burned out so close we could almost touch it. Gasps of amazement accompanied its trajectory.
How To Get To ADERO Scottsdale
ADERO Scottsdale Resort is a 30-minute drive from Phoenix Sky Harbor International Airport and a 25-minute drive from Scottsdale Airport. Vehicle rentals are available at both airports, along with taxis and ride-sharing.
Interstate 10 is easily accessible from Scottsdale via Loop Roads 101 and 202. I prefer the drive through Salt River Valley and the Salt River Pima-Maricopa Indian Community with its wide-open spaces venturing through Fountain Hills and driving up McDowell Mountain.
Pro Tip: Drive across the northern side of Phoenix on Loop 101. Traffic flows well, the freeway is broad, and you can avoid traffic jams on Interstate 10 through Phoenix.
Adero Scottsdale Resort is perfect for a winter getaway. The resort fulfills health and wellness goals with all the fitness activities, spa services, fine food and beverage selections, and ultimately, relaxation. Unique offerings that you won't find anywhere else are the pickleball courts and Star Dudes.
For more information on traveling to Scottsdale, check out these articles: