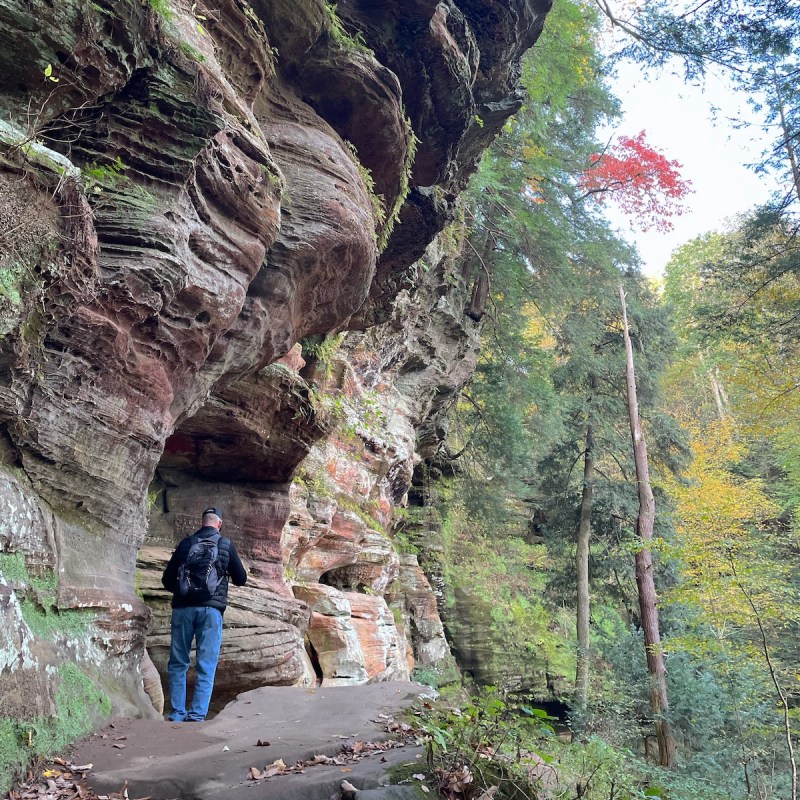 When you gear up for travel, I think most people would consider a backpack to be essential, and I'd have to agree.
While my husband Dean and I have industrial backpacks for more serious hiking, there's a smaller backpack — more accurately, a daypack — that we've been using for years, and it's the one that always makes the (packing) cut. Trip after trip, whether international or domestic, we reach for our Osprey Daylite Packs (yes, we have his and hers) to go the extra mile with us.
These backpacks literally been around the world with us on everything from a northern Mediterranean cruise to outdoor adventures in Belize and Okinawa, Japan, to a Rhine River cruise, including a mountaintop experience on Mt. Pilatus, Switzerland.
Let's take a closer look at this daypack and why we take them everywhere.
Buy Now
There are many reasons the Osprey Daylite Pack is our daypack of choice. It's a great size, it's well made, smartly designed, lightweight, durable, and comfortable to wear or carry, and the quality is backed by Osprey.
Size: 16.93" high X 10.24" wide X 7.87" deep
Weight: 1.087 pounds
Volume: 13 liters
Note: We've had our packs since at least 2016 and there's no sign of slowing down, but the pack has been slightly re-designed since our purchase.
1. Great Size
The reason this daypack travels almost everywhere we do is because of its perfect size. Larger packs serve a grand purpose, but this one is an easy grab for all kinds of day trips.
Hiking is a natural use, but it's also great for biking, and we were glad we brought one on our 25-mile ride on the Sugar River State Trail in New Glarus, Wisconsin. Dean wore it while biking to carry extra gear and a few snacks, and it didn't slow him down.
2. Smartly Designed
This little bag is big on features. It has a large main compartment with plenty of room for a raincoat if the weather changes or to hold an extra layer I've peeled off if I get too warm hiking or biking. The multi-functional interior sleeve is great for a hydration reservoir, a 13-inch laptop, tablet, or computer.
This one size does seem to fit (almost) all-day trip needs. We use the dual mesh pockets on each side for water bottles to help us stay hydrated when we are on the go. The front pocket is great for smaller things that could get swallowed up in the larger compartment, and the clip for keys means they won't disappear in the bottom of the bag (or anywhere else).
Perhaps most surprising of all, there's a whistle on the sternum strap, built right into the clasp! Now, it's not every day you need a whistle while hiking, but it's a thoughtful feature to have one built-in (no misplacing or forgetting it) if you need it.
3. Quality Construction And Durability
This daypack is well-made and can stand up to whatever abuses a love-to-travel life creates. According to the website, it's made from high-quality Bluesign-approved recycled fabrics, GRS-certified recycled polyester, and a PFC-free DWR coating. I can testify that it's built to last; ours are at least seven years old and there are no signs of wear.
4. Lightweight
Sometimes quality can be a weighty thing, but not this time. Weighing in at slightly over a pound, this pack punches above its weight class. It's little but it holds all the basics. If we're bringing a pack with us on a day trip, it's going to be this one.
5. Comfortable
The Osprey Daylite daypack is wearable. It has a mesh-covered panel in the back for comfort and ventilation. The compression straps on each side are adjustable, so we can make sure the fit is tailored to our preferences.
When we went hiking at Cascade River State Park in early April, we brought our daypacks with us. Even with the many layers needed for early spring hiking in Minnesota, our daypacks were completely comfortable.
6. Rolls Up Small When Not In Use
When we fly, we use a larger carry-on bag on the plane, but that doesn't mean our Osprey daypacks aren't present and accounted for. It rolls up compactly when not in use, packed within larger luggage. We know when we reach our final destination, we'll be glad we've got a smaller, lighter pack for our adventures.
7. Great Choice Of Colors
As of this writing, the daypack comes in eight great colors. Dean uses a black daypack and I use a red one, so we can easily tell them apart. When we hiked Lamar Valley with Yellowstone Hiking Guides, we carried lunches in our daypacks and the photo above shows our two Osprey daypacks on the rocky bank of the Lamar River, where we stopped for lunch.
8. Versatility
We haven't used this feature, but I think it's appealing for those who have reason to double up on their packs. This daypack has features that allow it to be fastened to other Osprey bags for more storage options and the two packs will function like a single bag instead of two. Ingenious!
9. Osprey Warranty, 'The All Mighty Guarantee'
In the travel world, you'd be hard-pressed to find a more all-encompassing product guarantee. In their words: "Integral to the Osprey brand is our All Mighty Guarantee, designed to extend a product's life. We will repair any damage or defect for any reason free of charge — whether it was purchased in 1974 or yesterday." Impressive!
Next Up
There's still a whole lot of the world to see. Next up for us is our snowbird road trip to Florida and South Carolina. We're planning to bike, hike, and kayak. We are also planning to take our hardworking Osprey daypacks with us. As an essential part of our travel gear, they'll be along for more than the ride.