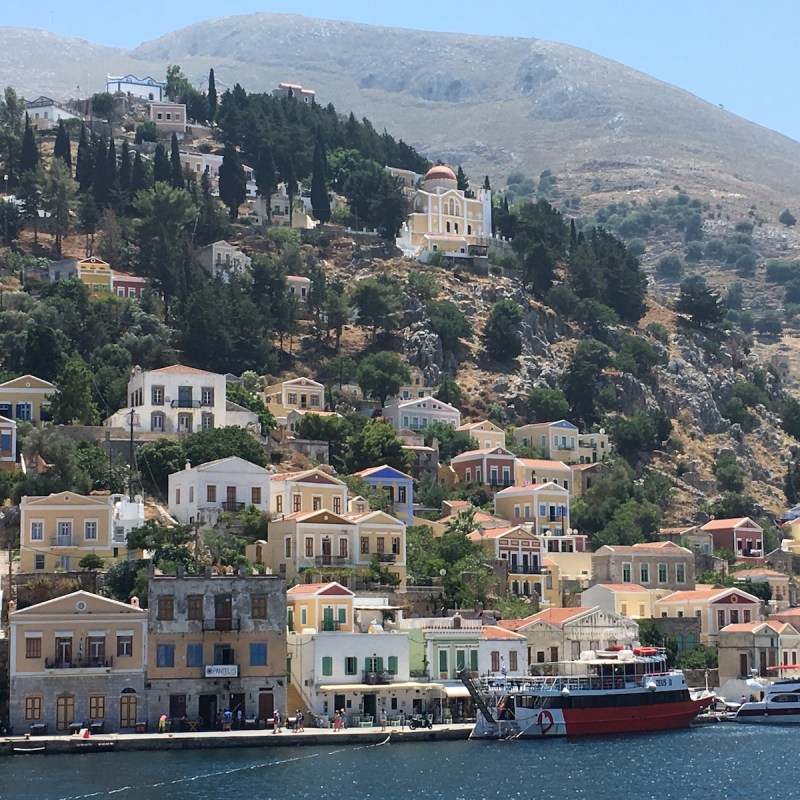 While Greece has well over 2,000 islands and islets scattered around its seas, only 227 are inhabited. Many are well-known to the international visitor, the obvious ones that stand out are Santorini and Mykonos. And yet with so many more to choose from, smaller islands shouldn't be ruled out. Often more authentic and lacking in the hedonistic party crowds and cruise ships, take a look at my recommended 2 gorgeous lesser-known Greek islands that should certainly be on your itinerary.
1. Symi
There's no airport on Symi as it's a very small island, only 22 square miles and with a local population of about 3,000 people. This means it's a great place to escape the mass crowds as experienced on more mainstream islands.
You'd travel by ferry or catamaran from Rhodes island, the nearest bigger Greek island that has an airport with regular direct European flights in the summer, plus connections from Athens. Be warned though, the close proximity to Rhodes means it can become inundated with day-trippers in the summer months, plus temperatures exceed 104 degrees Fahrenheit. The best time of year to visit is in the spring and fall.
One of the best views of Symi is as you round the headland and come into its harbor. Ceded to the Italians in 1923 — although rejoined with Greece in 1948 after more years of occupation by Germany and the UK — means you'll find Venetian architecture everywhere as the colorful merchants' houses and mansions seemingly tumble down from the hillside into the sea. Keep that camera to hand as you'll need to be prepared for the sight!
Things To Do On Symi
Panormitis Monastery
As with most places in Greece, churches and monasteries play a big role in their prominence, Symi being no different. The 18th-century Panormitis Monastery — or Monastery of the Archangel Michael — is one of, if not the top attraction on the island.
It's a large monastery with a looming bell tower sitting on the harbourside of Panormitis Bay in the southwest of the island. Inside the grounds are an Ecclesiastical and Folklore Museum, plus an added bonus, for those of you looking for a truly peaceful, alternative place to stay is that there are rudimentary rooms that can be rented out on a nightly basis. Contact the monastery to double-check prices, but they're roughly €20 a night at 2022 prices.
Pro Tips: Ferries from Rhodes make a stop here on the way to or from the main port of Symi, so either stay on the ferry or take a boat from the main harbor. It's possible to reach the monastery by land from Symi's main harbor, but this entails driving over the mountains.
Gialos Beach
At just over half a mile northwest of the main harbor, Gialos Beach is an easy walk along a mainly flat road, but without much shelter, so be sure to wear a hat and take plenty of sunscreen. The bay is very protected at Gialos, meaning it gets very little wind and as it's a less frequented part of the island, does not get particularly busy.
As it's a pebbly beach, it's recommended to bring sea shoes to protect the sensitive soles of your feet. And be content to lay your towel down on the pebbles and relax — no organized area here.
Pro Tip: Walk to Gialos, past the clock tower on the main harbor, and spend the morning and early part of the afternoon relaxing. Before the real heat of the day (2 p.m. onwards), head back, stopping at one of the many tavernas along the way for a delicious salad.
Walk The Kali Strata
Ano Symi/Chora — or the Upper Town — is literally the upper part of the island. Many people miss this part of the island, particularly day-trippers as it's rather a hike to get here, quite literally.
The Kali Strata is a "road," or set of steps that connects the harbor with the Upper Town, and these steps are steep, albeit wide. There are approx 500 steps to walk up at a very steep angle, but once at the Upper Town you'll usually be applauded by locals sitting in the cafes at the top — they appreciated how hard the walk is — and rewarded with fantastic views across the Mediterranean, seeing as far as the Turkish coast.
There are many merchants' mansions to be seen on the walk up, some intact but a lot abandoned, merely adding to their haunting beauty.
Pro Tips
Take a bus or taxi (not many on the island) up, then walk down. If you do want to walk up, then good shoes are a must as the steps can get slippy. You may even want a hiking pole.
Symi is a very hilly island, so make sure you're relatively physically fit. There are only about five or six taxis on the island, but there are water taxis during the summer months to reach those out-of-the-way spots.
Don't drink the water, because the island has its water shipped in and stored in wells. Bear in mind sheep and goats roam the land and droppings can land in the wells! And be sure to conserve water by not leaving it running constantly when showering.
2. Halki
At 10 square miles and a year-round population of approximately 330 people, but swelling with day trippers rather considerably in the summer, Halki is a much smaller island than Symi yet is still worth visiting. It's about 24 miles from Symi, and in the summer it's possible to connect directly by a 2-hour ferry journey between the islands, though only once a week. Daily services do operate from Rhodes though, from the little marina of Kamiros Skala on Rhodes's north coast, which is only a 30-minute crossing.
Due to its small size and lack of an airport, Halki is untouched by mass package tourism and this is reflected in its unique charm of captains' mansion houses, quaint harbor, and small beaches.
Things To Do On Halki
Nimborio–The Main (And Only) Town
Similar to Symi yet on a smaller scale, as you round the headland into the island's capital and only inhabited village — Nimborio, keep your camera to hand as you'll want to snap away at the traditional architecture of the island. This includes old captains' mansions and Venetian buildings, plus several cafes, tavernas, and fish restaurants along the waterfront. Don't forget to look to your left at the ochre color building at the headland. This was an olive oil-producing factory, now a hotel with swimming platforms directly into the sea.
Nimborio is where you'll no doubt be based if you choose to stay one or two nights on the island as there's a selection of private house or villa rentals, plus the aforementioned hotel and one or two small run guesthouses.
Life in Nimborio is reminiscent of the island as a whole — there's literally no rush at all. Wander the cobbled streets, drink a Greek coffee, or choose which taverna for lunch.
Medieval Castle – Chorio
The original capital of Halki was the Chorio, standing high above a hill in the center of the island. It was gradually abandoned in the mid-19th century as piracy was held at bay, so people moved nearer the sea to create a new settlement and make a living from fishing.
It's possible to visit the 14th-century medieval castle which still stands in the Chorio. During its heyday, it protected the island from pirate invasion and at its base, three small chapels can be found.
It's a unique place to spend some time exploring and even though a small paved path has been created today to access it, it's still a rather arduous hike up, but worth it for the views across the sea and the whole island. It's easy to understand why the islanders at the time chose this remote spot to base and defend themselves from invaders.
Pro Tips: It's best to hike it in the spring or fall seasons and as there's very little shade. Bring good walking shoes, plenty of drinking water, sunscreen, and a hat. A hiking pole can be helpful too.
Islet Of Alimia
This is one day trip from Halki or Rhodes that you will not want to miss. Located between the two islands, Alimia is a true desert island, once inhabited until the end of the Second World War, now abandoned as people moved to neighboring islands to create livelihoods.
All that's left are the crumbling houses and sheep and goats roaming free — plus several very tame cats. This is because the only real resident is a caretaker who lives year-round, maintaining the Agios Georgios church and having supplies from Rhodes or Halki brought to him weekly.
With no electricity (except by generator for the caretaker's house) and no cell phone or Wi-Fi coverage, Alimia is the perfect day trip island escape. You can swim, hike up to the ruins of the fortress, or scuba divers will enjoy diving the Italian cargo wreck of the Elvira Vaselli, torpedoed and sunk in 1942.
Pro Tips: Alimia is a completely abandoned island so there are no facilities here. The maintained church does have toilet facilities, but be sure to pack a picnic on your day trip and plenty of protection from the sun — plus maybe some cat treats!