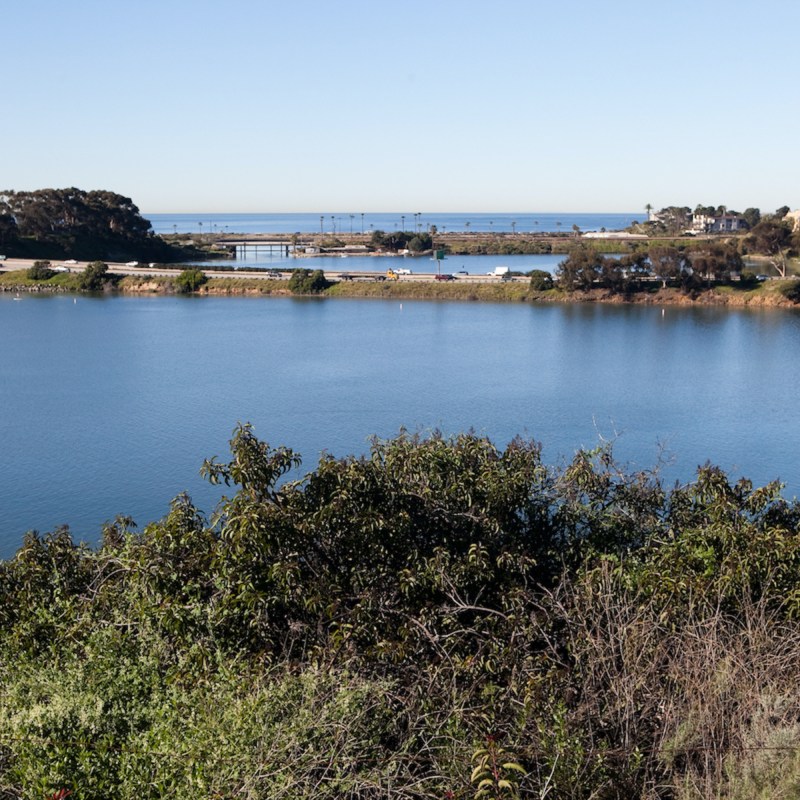 For almost 30 years, I've been driving past the Agua Hedionda Lagoon in Carlsbad on my way to San Diego. I've always noticed this small body of water flowing under the 5 Freeway but never gave it much thought.
That all changed when I had the chance to take a guided kayak tour of the lagoon. It turns out that the seemingly calm waters are teeming with life and part of a much larger ecosystem. Over the course of 2 hours, I came to appreciate the importance of Agua Hedionda and other lagoons in the protection of coastal wetlands and the nearby waters of the Pacific Ocean.
What Is The VIP Eco Tour?
The Agua Hedionda Lagoon Foundation is committed to preserving this important watershed through education and engagement. And what better way to do this than by getting visitors out on the water through a VIP Eco Tour? These 2-hour guided kayaking experiences, led by an environmental educator, allow guests to get up close to see the plant, bird, and marine life that isn't so easily spotted from land.
We started at California Watersports to grab our paddles, lifejackets, and kayaks. Then our guide led us into the water. My husband, Jason, and I love to kayak and have done so in many different places. At times, paddling can be hard work, but here we found it to be easy, which allowed us to watch for wildlife and pay attention to our guide. From a distance, it doesn't look like anything is going on in the lagoon, but when you stop and pay attention, there's plenty happening.
The lagoon extends 1.7 miles inland, is half a mile wide, and covers a total of 400 acres. We only covered a small part of this since some sections are restricted to commercial activity or conservation.
I was amazed to learn that there are 192 species of birds that either call the lagoon home or use these grounds for migrating and breeding. Without the protection of this sensitive ecosystem, many of these species would struggle to exist. A solo California brown pelican flew over us while a great blue heron watched the water carefully looking for its next meal. On the shore were dozens of sandpipers searching the sand for worms and clams.
Over 70 species of fish call the lagoon home, but these aren't quite as easy to see as the birds. Fortunately, mullet fish occasionally jumped several inches out of the water so we could indeed see them. Our guide shared that flounder, sea bass, and even stingrays are found here as well.
While spotting the wildlife is a fun part of the tour, my greatest takeaway was the importance of how lagoons protect our oceans. The 135,000 acres of land in North San Diego County drain runoff water through lagoons like this one. During the process, the water is filtered and cleaned as it reaches the Pacific Ocean. From a distance, this collection of marshlands and mudflats that comprise the lagoon may not look like much, but they are indeed a critical part of our environment.
What Makes The VIP Eco Tour Unique?
After kayaking in many scenic locations, what Jason and I appreciated about the VIP Eco Tour was learning about the lagoon. Often we float along, spot something interesting, and wonder what it is. Having a guide to answer our questions and provide commentary was invaluable.
I also value a tour given by a non-profit organization. All proceeds benefit the educational and advocacy work of the Agua Hedionda Lagoon Foundation. I like knowing that my tourism dollars are making a difference.
Tips For Experiencing The VIP Eco Tour
A great way to round out your tour is to visit the nearby Discovery Center of the Agua Hedionda Lagoon. Filled with interesting exhibits about the history of the region and informative displays about the lagoon, the center is free to visit and appropriate for all ages. A highlight of our visit was the chance to meet a western screech owl named Tecolote, part of their Raptors collection.
VIP Eco Tours are not regularly scheduled but instead organized by request. If you're planning to be in the Carlsbad area, get in touch with the foundation. Participants must be 16 years or older.
Any time I travel abroad, I scour the internet for unique tours and lesser-known experiences. And yet with cities near me, I eat at the same restaurants, visit the same attractions, and don't take much time to go deeper. I'm so grateful for this recent opportunity to learn so much more about an essential ecosystem located in a city I've long enjoyed visiting.
For more stories about kayaking adventures, check out these articles: