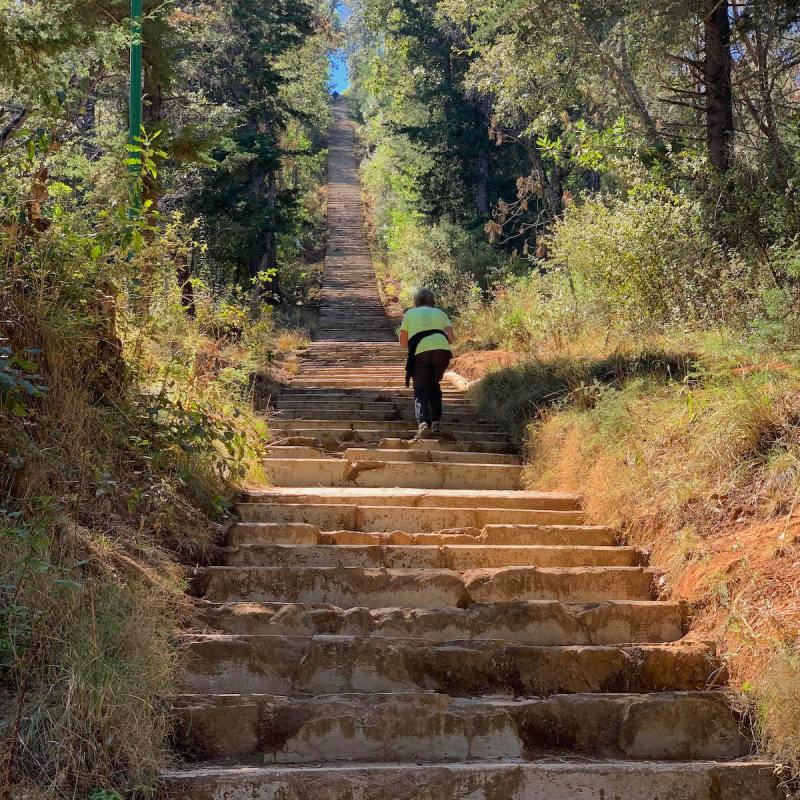 Last year around this time, I wrote an article for TravelAwaits describing my travel goals for 2022. That was the first time I'd ever set goals of this type. I don't think they're necessary for everyone, but in my case, they helped me think about not just where I wanted to go, but why. What did I hope to experience when I arrived at my destination?
Although I didn't succeed at each one, when I look back, I realize setting goals did help me be more mindful. Here were the goals I set in 2022 (and how I did):
Deepen my connections with people while traveling (Yes)
Keep working on my Spanish (I did, but not that much while traveling)
Overcome my reluctance to approach strangers (Yes, significant progress)
Explore archeological ruins and Pueblo Mágicos from our Mexican home in Guanajuato (Absolutely!)
Visit more places by water (Yes)
Pack light (Getting there — it's a process!)
Take a long trip in our camper van (Nope)
Having decided this is a worthwhile exercise, I'm repeating it this year. Here are my travel goals for 2023:
1. Keep Traveling Close To Home
In 2022, my husband Barry and I had all sorts of mini-adventures near our home in Eureka, on California's North Coast. For instance, we discovered a beautiful riverside trail, Redwood Creek, part of Redwood National Park; we learned more about the history of several nearby trails; and we took a guided tour of a protected beach called Lanphere Dunes.
Because Barry writes about the history of the county in California where we live, Humboldt, we often combine local travel with research. This year, for example, we discovered a historic smelter on a beach near Eureka and learned that you can see WWII bunkers on another beach nearby. Our trips whetted my appetite, and I'm looking forward to more mini-adventures.
2. Visit More Ruins
My motto is "You can never see too many ruins." In 2022, we visited the semi-circular Tzintzuntzan ruins near the Mexican Pueblo Mágico of Pátzcuaro, and we explored many Roman ruins in Bulgaria. This year, one idea is to revisit the Yucatan, which is dotted with ruins — far more than just the famous ones like Chichen Itza or Tulum.
3. Stay Active
Wherever we are, Barry and I like to be active. Last year, in addition to hiking near our two homes, we climbed a volcano outside Pátzcuaro; explored the mountains above Sofia, Bulgaria; and hiked up the Baker Preserve, a 1,000-foot hill on Lummi Island, just outside Bellingham, Washington, with our teenage grandsons. We didn't find any of these strenuous, but they would have been if we weren't in shape. A lot of the travel we do involves physical activity, which means that the older we get — Barry is an agile 80 while I'm 71 — the more important we find being in good physical condition.
4. Return To Eastern Europe Or Visit An Islamic Country
Last year, Barry and I spent a month in Bulgaria. We love Eastern Europe for its architecture, cafes, parks, public transit, slower pace, and low cost. We look forward to visiting other countries in that part of the world. But an even higher priority for us is to visit an Islamic country, which we have not done in over a decade.
I miss the call to worship, which is heard five times a day in Muslim countries. I've never forgotten staying in a hotel across from a mosque in the city of Trabzon, Türkiye, during the 20-month sabbatical Barry and I took. The haunting sound of the adhan woke us about 4:30 every morning. Once we got used to it, this was a beautiful way to usher in the day.
Our goal for the spring is to travel to Morocco, where we'll hike in the Atlas Mountains and explore the port city of Essaouira. Eventually we'll make our way to Spain, where we'll visit the southern region called Andalusia, home to the historic Moorish city of Granada, which I have never seen.
We may make it as far north as Madrid, which is said to be a terrific city for walking. (And from a previous visit to Spain, we know we can get a 50 percent discount on train tickets by spending only €6 for the senior discount Tarjeta Dorada card).
5. Travel Flexibly
For years, we've bought one-way tickets, figuring out our return date only when we're ready. But we always had certain restrictions — mainly flying to Pennsylvania to see my aging father, who my sisters and I took turns visiting. Because he died last fall, I no longer have that constraint. So this spring, when we're in Morocco and Spain, we may decide to stay longer and go somewhere else, maybe to one of the Eastern European countries we haven't seen.
6. Revisit Places Where I Used to Live
In May 2022, I returned to New Orleans for the first time in 30 years. During my visit I remembered why I loved the city so much when I lived there as a college student. I stayed with my first mentor, who lives only two blocks from Audubon Park. One day she and I had crayfish at Frankie and Johnny's, and the next day my old friend Jennifer drove me around the city. We visited old haunts like the Bayou St. John, Tremé, and various viewpoints above the Mississippi River. As I rode the St. Charles streetcar and wandered side streets, I was reminded of how much fun it is to revisit places that evoke powerful emotional memories.
7. Experience Fall Foliage
As much as I love our two homes, in neither town do I get to experience the fall season. So this year I'd like to spend a few days in Washington, D.C., Boston (both of which are also cities where I once lived), or other areas where I can bask in fall colors.
8. If In Doubt, Say Yes
A few years ago, when we were doing a home exchange in Medellín, Colombia, Barry and I had the opportunity to go paragliding. We had already done it in Turkey 10 years earlier, so I decided I didn't need to paraglide again. Big mistake! When Barry returned from his adventure, his dreamy descriptions and photos made me regret my decision. Lesson learned: If in doubt, say yes!
In Bulgaria, we had the opportunity to "say yes" several times, visiting people we met at their homes. In one case, a friend of my stepbrother's not only invited us to stay overnight at her family home in a small town near Plovdiv, she also lent us her car the next morning to visit some nearby dolmens, or megalithic tombs.
To be invited to visit people in their homes feels like an extraordinary privilege and an act of intimacy. So even when I hesitate, usually out of a sense of awkwardness, I'm always glad when I say, "yes."
9. Keep Going To The Ocean
I can't seem to get enough of the ocean; it's deeply medicinal and therapeutic for me. After my father died, I was in a deep gloom, and only by taking long walks on the beach did I finally get out of my funk. This year, beaches in Mexico, California, Oregon, Spain, and Morocco are calling me.
10. Bring My Sketchbook When Traveling
I've been faithfully and happily using my sketchbook several times a week for six months. I take photos of appealing scenes and then copy or adapt them, using watercolor and ink.
My supplies are pared down to a simple bag, so I can easily travel with them. Not only is keeping a sketchbook fun, but spending an hour or so every day or two painting while on the road will give my travel a bit of structure, which I find helpful.
11. Accept And Enjoy The Transitions That Travel Entails
Any kind of travel is composed of at least three stages: leaving one place, getting to the next place (which usually involves several mini-phases), and arriving.
As I get older, it seems to take me longer to move through these transitions. For example, after arriving somewhere, it takes me awhile to re-establish my routines, like journaling or using my sketchbook. Traveling and adapting to unfamiliar places is physically tiring, especially when different time zones, jet lag, and elevation gain are part of the change. I need a lot of in-between time.
In recent years, we've spent more time in each place, getting to know it better, experiencing our version of slow travel. I want to continue to take it easy and not push myself as I navigate each transition.
What I like most about travel goals is that they're adaptable and not too serious. They provide a sense of direction, but if something else shows up, that's okay too. Last year, for example, I had no plans to visit New Orleans, but unexpected circumstances conspired to make it a good decision. So I hold my goals lightly and see what happens. That's a good philosophy, wherever I happen to be.
More From Louisa: