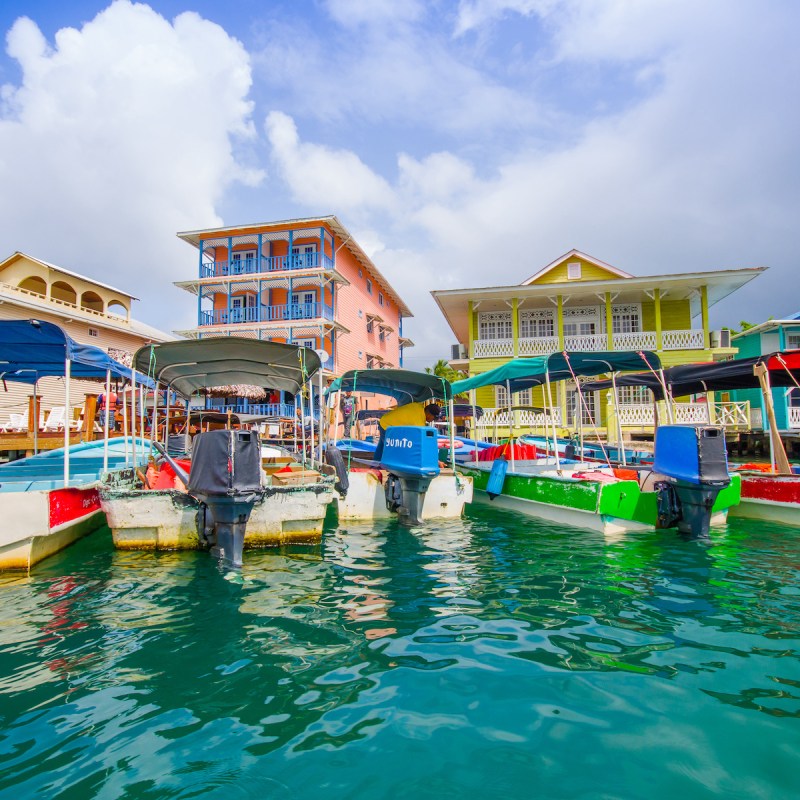 How many times have you thought about running away to a private island? Enjoy the surf and the sand, drink out of a coconut while basking in the sun, and end your day watching the sunset with a cocktail. Sounds like paradise, doesn't it? If you're trying to make that dream a reality, there are so many amazing destinations around the world to pack up and take off to. We've put together a list of some quaint international islands you'll want to explore in 2023. Some of them, you may just want to call home.
1. Colón Island, Panama
Colón Island, or Isla Colón, is the main island in the Bocas del Toro Archipelago in Bocas del Toro Province, Panama. It's the main hub of the area, so while other islands are more remote, here you'll find hotels, restaurants, bars, tour operators, and businesses. The center of town is where you can get crafts made by locals. You can taste a wide variety of foods and dine at over-the-water restaurants. You'll also find amazing beaches like Playa Estrella, known as "Starfish Beach," Bluff Beach, and Paki Point. Surfers are drawn to the area because it's world-class. Bird Island is a municipal reserve only accessible when the water is calm, but you also can't set foot on it. However, you can do bird watching and it's the only place in Panama to see the red-billed tropicbird.
2. Half Moon Cay, Belize
This remote island in Belize is also a natural monument. Half Moon Cay is not easy or that common to get to, but it's worth the trip. You can only get there by chartered boat and walk the island on foot. It's known for snorkeling and diving, both during the day and at night. Half Moon Cay Wall and the Great Blue Hole are my favorite destinations. It's also popular with birdwatchers because it has a rare colony of red-footed boobies. While most take day trips to Half Moon Cay, if you do decide to stay overnight, you'll have to camp. You can bring your gear or stay in safari-style tents.
3. Vancouver Island, British Columbia, Canada
Despite Vancouver Island's proximity to both Seattle and Vancouver off of Canada's Pacific Coast, nature lovers will find this destination extremely exciting and parts of it more remote than they might expect. There are hiking, camping, biking, and water adventures as well as gorgeous beaches where people surf in the winter. It's made up of 50 charming villages, towns, and cities with lots to explore from golf courses to vineyards to art galleries and breweries. You'll find the climate to be fairly comfortable for Canada too, it's one of the warmest areas in the country since it's protected by the mountains and warmed by the ocean currents.
4. Oak Island, Nova Scotia, Canada
Oak Island is a privately owned island off of Nova Scotia in Mahone Bay. It's a must-visit for history buffs and mystery solvers alike. Legend has it that Oak Island is the site of buried treasure, so you can imagine it's a destination for many. But to get here, you have to have a ticket. Tours are typically available, but the pandemic paused it for 2022, with hopes to reopen in May 2023. When the island reopens, pack your hiking shoes to explore nature and the wildlife and enjoy some of the best seafood the area has to offer.
5. Inishmore, Ireland
Set at the mouth of Galway Bay is Inishmore, one of Ireland's Aran Islands. It is the largest of the islands, with the name meaning "big island." It still has a quaint feel, with lots to enjoy. It has more than 50 different monuments of Christian, pre-Christian, and Celtic mythological heritage, making it a destination for history lovers. It's popular to rent bikes and explore the island taking in the views of the ocean from cliffs and beaches. You'll also catch glimpses of seals or "old Irish goats" as they're called. Don't forget to stop for a traditional Irish meal and a glass of Guinness! Read more about the unexpected joys of biking one of Ireland's stunning Aran Islands.
6. Guernsey, UK
More than 65,000 people call Guernsey home. It's a British crown dependency, so it has its own money and government, which is very similar to the United Kingdom. It's the second largest of the Channel Islands, but it maintains a quaint atmosphere. There is something for everyone nestled in the coves, untouched beaches, historic castles, delicious restaurants, and lush green landscapes. Take some time to stroll through one of the most iconic castles on the island, Castle Cornet. Take in the views from Pleinmont Point and wander the cobblestone streets of Saint Peter Port. Plan time for lunch as there are some great places for fine dining or seafood at a pub.
7. Borkum, Germany
There is a truly unique experience to be found in Borkum, Germany. The largest of the East Frisian Islands, Borkum is famous for being the best place to walk on the bottom of the sea. Twice a day, the tide recedes, allowing you to explore miles of the sandy bottom of the Wadden Sea. When the tide comes back in, make sure you are out of there and exploring the Old Lighthouse, stunning meadows, beaches, the Borkumriff sandbank, and its seal colonies. One of the newest additions to the island is a ropes course with 60 platforms on the coast giving you incredible views of the North Sea. Be sure to breathe deeply while you're there because the air is low in pollen and high in iodine.
8. Elba Island, Italy
Located in the Tyrrhenian Sea, Elba Island is in the Tuscan Archipelago National Park off the coast of Tuscany. History buffs probably know it as the place where Emperor Napoleon was exiled from 1814 to 1815. The villa where he stayed is called Linguella Tower Villa dei Mulini and today is a national museum. Elba Island is also known for its beaches. There are about 80 of them. Get a spectacular view of them from the top of Mount Cappane. If you're up for the climb, you can hike the 3,343 feet or take a ride on a cable car. Diving and snorkeling are two popular activities because of the more than 30 sites to explore including a shipwreck and a statue of the Madonna.
9. Vis Island, Croatia
Located in the Adriatic Sea, the Croatian island of Vis is the remotest and least inhabited of the Dalmatian Islands. Whether you like strolling the beaches or the village streets, you'll want to make time for both while you're here. There's a tiny sand beach called Stiniva and another rockier beach called Srebrna. Both with excellent views and crystal clear waters. Enjoy restaurants, bars, coffee shops, and culture in the towns and villages. Take in some history at its many churches, Fortican fortress, the Our Lady's Battalion & Museum, and the Archeological Museum. If you're a Mamma Mia fan, keep your eyes peeled for locations. Mamma Mia 2 was filmed here.
10. Ikaria, Greece
Ikaria is a Greek island in the Aegean Sea. According to Greek mythology, it got its name from Icarus, the son of Daedalus, who was believed to have fallen into the sea nearby. It's one of five Blue Zones in the world, a place where people live the longest and healthiest lives. One of the most popular beaches is the blue water and white sand at Seychelles Beach. Mythology also says this is the birthplace of Dionysus, the god of wine, so you'll want to put wine tasting on your to-do list. A popular winery is Afianes Wines, which combines ancient winemaking with modern techniques. Take a hike through Halari Gorge to see waterfalls, rivers, and different kinds of birds.
11. Mafia Island, Tanzania
Just off the coast of Tanzania in the Indian Ocean, you'll find the Mafia Islands, and the largest, Mafia Island. With many coral reefs, it's a destination for divers and snorkelers to see sea life like whale sharks and endangered sea turtles. If you happen to be exploring a lagoon, you may even spot a hippo. Learn about the history and heritage of the islands through ruins dating back as far as the 12th century and the Omani slave trading days. There are only a few places to stay, most of which are bungalow-style lodges.
12. Kihavah Huravalhi Island, Maldives
On the island of Kihavah Huravalhi Island in the Maldives, you'll find the luxury resort of Anantara Kihavah Maldives. To preserve the island, the resort was designed in such a way as to keep it intact. It's located on the Baa Atoll in a UNESCO Biosphere Reserve. This large lagoon encloses 75 smaller atolls and islets (an atoll is a ring-shaped coral reef, island, or series of islets surrounding a lagoon). Here you can stay on a private beach or an over-the-water villa. Snorkeling or diving is popular on the coral reefs to see Hawksbill sea turtles or mantas. You can also dine on a private beach or under the water.
13. Rodrigues, Mauritius
The small volcanic island of Rodrigues in the Indian Ocean off the East Coast of Africa is known for its mountainous landscape and stunning black beaches. A favorite activity is walking among the giant tortoises at François Leguat Giant Tortoise and Cave Reserve. The Saturday market in Port Mathurin is the best place to get local arts and crafts and fresh fish and produce. Because the island is surrounded by coral reefs, it has world-class diving and snorkeling. Rodrigues has many endemic species including the Rodrigues fruit bat, the Rodrigues fody, and the Rodrigues warbler, two species of damselfish, a species of coral, and many new species of crustaceans.
14. Zamami Island, Japan
Located in the East China Sea off the Naha coast of Okinawa, Japan, is Zamami Island. It's part of the Kerama Islands and the largest of the four, which make up Keramashoto National Park. Zamami is known for its gorgeous beaches, snorkeling and diving, and dramatic cliffs. Ama Beach in particular has black rocks in beautiful contrast to the white sand and bright waters called "Kerama blue." If you visit between January and April, you could catch a glimpse of humpback whales migrating south from the Arctic. Take a hike to the Takatsuki-Tama Observatory for breathtaking views of Agonoura Bay.
15. Lord Howe Island, Australia
The Australian island of Lord Howe is in the Tasman Sea east of Port Macquarie. It's known as one of Australia's best-kept secrets. It's listed as a UNESCO World Heritage Site for its spectacular volcanic geography. On its rim is the southernmost part of the Great Barrier Reef, so scuba diving and snorkeling are popular activities here to see more than 500 species of fish and 90 types of coral. If you'd rather stay on land, the hiking options are fantastic. This includes the 2,870-foot Mt. Gower, with one of the tallest sea cliffs in Australia, covered with cloud forests and rainforest. Biking, kayaking, and fishing are also fun things to do on the island. A few unique things about the island: since it's small, you can witness sunrise and sunset, and since there is no cell phone coverage and limited WiFi, you can completely disconnect and relax!
16. Phillip Island, Australia
A popular day trip from Melbourne, Australia, Phillip Island sits just off its southern coast. Animal lovers will enjoy this getaway. It's home to the largest little penguin colony in the world. The site is dedicated to research, but you can watch them waddle from the ocean to their home any night of the year. It's also a great place to watch koalas in their natural habitat and scout more than 250 species of birds. Keep your eyes peeled for wallabies and seals, too. Several hiking trails will lead you to beaches or cliffs to take in the incredible views and perhaps spot one or two of those animals. On Phillip Island, you'll also come across several vineyards and microbreweries with, of course, delicious seafood.
17. Bora Bora, French Polynesia
The small, Pacific island of Bora Bora is just northwest of Tahiti in French Polynesia. You've likely heard of this destination for its luxury resorts with bungalows over the water on stilts. They're just as incredible as you could imagine. There is something for everyone, whether you want to relax on the beach staring out at the gorgeous turquoise waters or get your adrenaline going.
Dive deep below the water for some incredible scuba diving or head up to the tallest point on the island, Mount Otemanu, at the center of Bora Bora. There are several opportunities for private tours like windsurfing, taking an airplane tour of the islands, or spending the day at a spa. The ultimate escape and relaxation on one of the most popular island destinations.