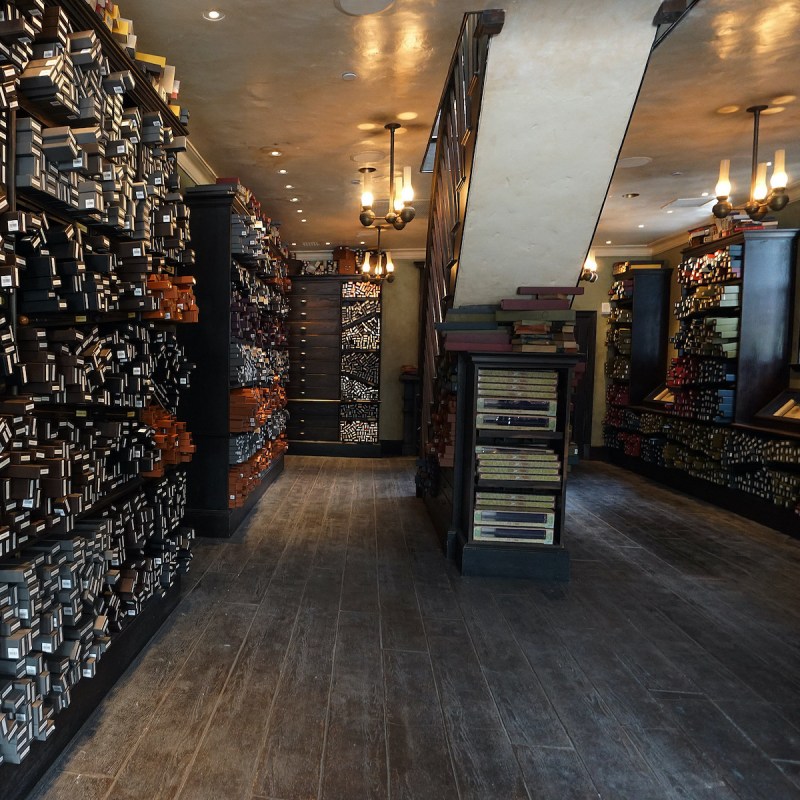 Don't be a muggle! Pick up one of Universal Studio's Wizarding World's new interactive wands. The new collection of Garrick Ollivander's interactive wands has made a magical appearance at Universal's Wizarding World of Harry Potter at the company's theme parks. The wands join existing offerings inspired by well-loved Harry Potter characters.
Where To Buy Wands
For the complete interactive wand-buying experience, it's best to appear at Ollivander's in Diagon Alley or Hogsmeade. Ollivander's lays claim to making the finest wands since 382 B.C. Fans of the books and movies will remember that Harry was brought to Ollivander's by Hagrid to choose his first wand.
Visitors to Universal Orlando's wizarding worlds can also buy wands from Wands by Gregorovitch in Diagon Alley, the wand cart on the path to Hogwarts, the main gift shops, at CityWalk, or online. For the complete experience (an interactive show), you'll need to go to Ollivander's or Diagon Alley.
What's the "full experience"? Ollivander himself chooses just one guest from the crowd to try out several wands until a wand "chooses" them. Usually, the chosen guest is about 12 years old – when an aspiring magician is accepted to Hogwarts.
Choose A Wand (Actually, The Wand Chooses You)
Young wizards have lots of wand choices. There are the original wands that don't have powers or the new interactive wands that connect with animatronics around the theme park. Wizards can choose interactive wands based on their favorite characters, i.e., Snape, Harry, Hermione, Lord Voldemort, Dumbledore, or Sirius. Or, they can choose based on their birthday or a special event. Assistant magicians will help.
Each interactive wand matches a wood type with one of three potent cores: dragon heartstring, unicorn hair, and phoenix feather. A "wand lore" insert explains the wand's properties and the qualities its ideal owner should have. This helps match your wand to you.
Interactive wands are packaged in an Ollivander's box with a map showing the spell-casting locations in Diagon Alley and Hogsmeade.
Make Magic!
You have your wand! Where to start? Peruse the map and go to one of 16 interactive wand locations in both Diagon Alley and Hogsmeade. Look for a bronze medallion embedded in the street. It shows you where to stand, in which direction to face, what wand movement is needed, and the magic required to unlock the surprise. See a lesson here.
Where Does The New Wand Get Its Magic?
The new Ollivander's interactive wands have a translucent half-sphere at the tip. They connect with a hidden infrared camera at each spell-casting spot. The most successful spells are aimed in the right direction (shown by the medallion). Gestures should be small; try using only your wrist.
Stumbling Over Those Arcane Spells? Get Help!
There is a spell-casting assistant at most of the spell locations. Assistants, in character, are friendly and patient — they are trained to work with budding magicians.
Interactive Wands Cost Just A Bit More Than Original Wands
The 2023 price for the original (non-interactive) wand starts at $55 plus tax. Interactive wands start at $59 plus tax. That's not a lot of difference, plus you get Ollivander's interactive wand experience for free.
Conjuring The Best Wand Experience
There are two Wizarding Worlds at Universal Orlando, and they are in two different parks. This means you'll need the right tickets to enter both Diagon Alley and Hogsmeade. If you want to experience all of the Harry Potter rides, purchase a Park-to-Park ticket. That's the only ticket that will allow you to visit both Diagon Alley and Hogsmeade on the same day. It's also the only ticket that will enable you to ride the Hogwarts Express! This attraction is one of the fastest ways to travel between Hogsmeade and Diagon Alley.
Want to learn more about visiting one of Universal's theme parks? See this TravelAwaits content: