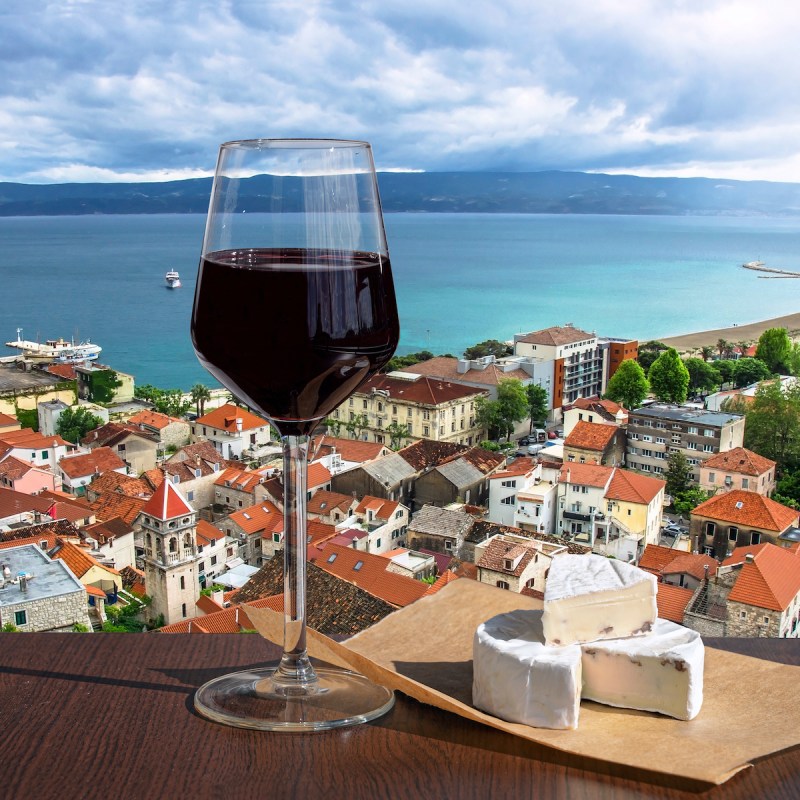 Croatia's quickly become one of the planet's hottest destinations. From its historic towns to its beautiful, expansive coastlines and alpine peaks, there's truly something for every traveler in the small Balkan nation. It's clearly no longer the hidden gem it once was.
The same could also be said for its wines. The secret's out of the bottle about the nation's many vintages, some of which have recently brought home big awards and accolades.
Let's get something straight right off the bat: I am a wine lover, not a wine snob. I drink what tastes good to me. In Croatia, it all tasted fabulous. If you're like me, here are seven reasons the gorgeous country should be on your travel list!
1. It's Home Of The Original Zin
Croatia's wine tradition runs so deep, it's where one of the world's best-known varietals first took root. Most red wine lovers have heard of zinfandel. The bold, big-bodied varietal is beloved in America, and the grape grows especially well in California. It's been in the States since the 1820s, but no one was sure where it actually came from. As it turns out, one of Croatia's indigenous vines is actually the original zin!
Legendary California winemaker Mike Grgich was born in Croatia and had long suspected zinfandel had Balkan roots. He partnered with Dr. Carole Meredith from U.C. Davis, who DNA tested samples from many Croatian vines. In the resulting analysis, she and her team proved that the native crljenak Kaštelanski grape was actually zin, and had piggy-backed over to America centuries before with immigrants seeking to plant vineyards here. Crljenak Kaštelanski was near extinction by the time that DNA discovery linked it to zin; it's since made a comeback, with vineyards reviving the old standard. It's terrific wine history, and today you can try a glass of the original zin (its Croatian name is rather difficult to pronounce) at a few wineries in Croatia.
2. The Perfect Climate
Much like California or Italy, Croatia is the perfect place for growing grapes, and for enjoying the resulting wine! The Adriatic Sea it borders is the northernmost arm of the Mediterranean, after all, and is blessed with the same lovely and temperate climate. Dry, hot summers eventually give way to cool and wet, but not cold, winters on the country's Dalmatian and Istrian coasts. Just keep in mind that the further inland you move, and the further east from the country's stunning Dinaric Alps, the chillier that weather's going to be.
Croatia also has an extended shoulder season, so expect lovely temps starting in April before summer's heat, and warmth well through October. The grapes love it, and so do visitors who come to sample the resulting wines.
3. There's Something For Everyone
As far as wine is concerned, there truly is something for everyone coming out of Croatian vineyards. The terroir is varied; grapes are grown on the mainland's Dalmatian coast as well as across the islands sprinkled across the sea. While you'll find international standbys, including chardonnay, merlot, and riesling, why wouldn't you try indigenous options as well?
The most common of these is graševina, which can produce white wines ranging from sweet (slatko) to dry (suho), and even sparkling. I ended up drinking more than my fair share of pošip, a lovely dry white with minerally notes made with a grape that's native to the lovely island of Korčula. Plavac mali is the offspring of the aforementioned crljenak Kaštelanski grape and makes a big red wine with plenty of tannins and an alcohol kick to match. You'll find it in smaller cafes — called kornobas — up and down the Dalmatian coast.
Bottom line: The names can be intimidating, but the wines are worth it. Don't be afraid to ask questions — everyone loved answering even my silly ones — and let your server know your preferences. They'll find the perfect sip for you during your visit to Croatia.
4. Winemaking Roots Run Deep Here
The history of wine in Croatia pre-dates the Romans. Artifacts left behind by the Illyrians, an Indo-European people who first settled islands off the Dalmatian coast, indicate the presence of wine in their early culture. The Greeks also brought vines over before the Romans extended their empire into Croatia and continued the practice of planting and harvesting wine grapes. When Rome fell, Croatians took over production, and it has continued ever since. Through occupations from Venice, the Ottomans, and the Habsburgs, wine traditions stayed constant. These roots truly run deep, and you can taste that fact in every sip.
5. Harvests Stay Mostly Local
While Croatia's rocky soil and conducive climate are terrific for grape and wine production, supply for export remains low. Croatian wineries aren't huge money-makers like their French and American counterparts — rather they are on the small side, with limited amounts released. And the Croatians love their wine; I understand why they want to enjoy it for themselves!
This is not to say you can't find Croatian vintages in the States or elsewhere, but they're not going to be at your local grocery store or really even readily available. All the more reason to enjoy them on your holiday… and consider bringing some home. (More on that later!)
6. It's Been An Underdog
The more I learned about it during my visit there, the more I came to admire the very existence of Croatian wine. That's because relatively recent disasters have truly taken it to the brink. When the phylloxera scourge that ravaged French vineyards in the late 1880s initially struck, it appeared Croatia might have been spared. But the bug eventually showed up, devastating the winemaking craft there for years. Communism also took its toll, with private ownership of wineries all but prohibited and quantity stressed over quality. Last but certainly not least, the Croatian War of Independence also stalled the country's winemaking capabilities.
However, throughout it all, Croatian wine has kept bouncing back. Old traditions might bend, but they haven't broken, at least not in this regard. It makes me appreciate the wines there all the more.
7. Coral Wine And Other Unusual Offerings
While on a recent trip to Croatia, I was able to try a couple creative twists on the typical glass of vino. In Split, I visited the fabulous MoNIKa's Wine Bar. It proudly serves Croatian wines, pairing them perfectly with delicious tapas plates. I initially popped in to try a couple of pours of rosé made with babić, an indigenous red grape grown in the northern part of Dalmatia. They were bone-dry and delicious, but then something else caught my eye on the wine list.
"Um, what's coral wine?" I asked the bartender, who chuckled and brought a strange bottle and accompanying glass to my table.
That bottle was covered with a thin, lacy layer of coral (or some other type of water critter), and the white wine inside was a chardonnay that had been aged not in steel or oak, but by the Adriatic Sea. In the coral wine method, bottles are rested underwater at a depth of 45 to 90 feet for anywhere from several months to 2 years. About 15,000 bottles a year get this special treatment.
The wine-maturing conditions of the sea are said to soften the wine's tannins and acidity while preserving the aromatic profile. I'm usually not a huge chard fan, but this aging method suited it well, mellowing it out a bit. It was a fun thing to try!
There are different ways the Croatians like to mix up their wine. I enjoyed gemišt, a refreshing mix of dry, high-acid white wine (such as Graševina or Pošip) and seltzer water.
The one thing I didn't explore: bambus. It's equal parts red wine and cola served over ice. I decided to skip the sugar and opted out. However, Croatians love this strange concoction.
Pro Tips
Don't make the mistake I did. I wasn't prepared for how delicious some of the wines in Croatia truly were, and found myself wishing I could take some home. However, I crammed everything into carry-on bags because I didn't bring a wine case carrier with me. I could have easily checked an empty one and filled it up during my stay, and am still kicking myself that I didn't. Plan ahead to take some home for your cellar, and bring what you need to get it home safely.
One more thing: I found the pours in Croatia to be significantly smaller than what we typically get in the States. This isn't necessarily a bad thing, simply a difference in culture; and bottles weigh the same 750 milliliters we're accustomed to here.
No matter the size of the pour, or the type of Croatian wine you choose, živjeli!