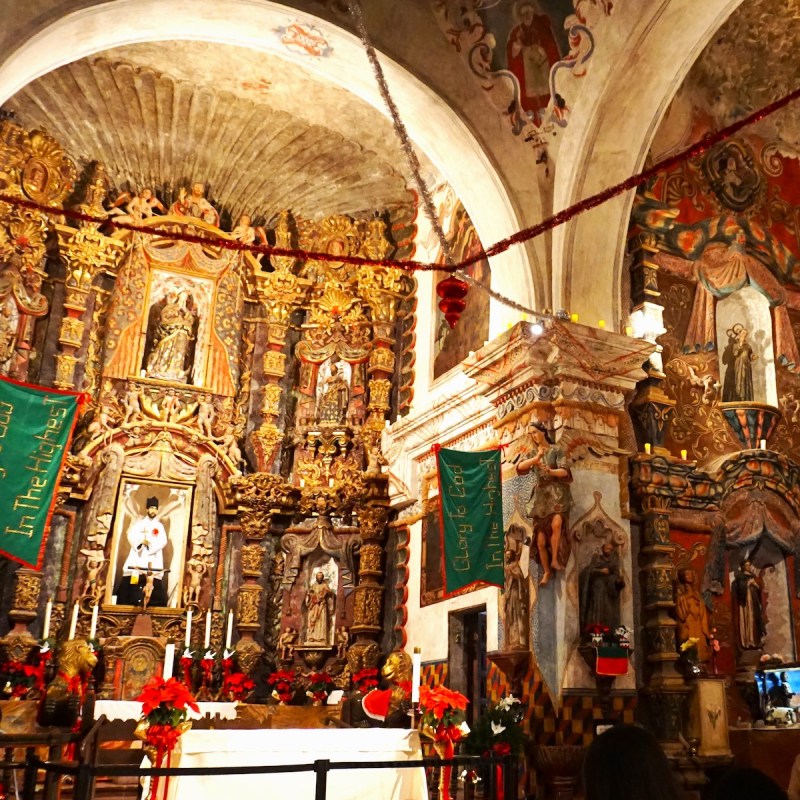 America tends to treat Christmas like a grand party that's especially meant for the young. But as Catholics, my husband and I have always looked at it as much more than a party: a very special time with family, much like Thanksgiving. So in the summer of 2009, when we decided to go RVing full time after our wedding, we wondered how Christmases on the road would be.
1. Our First Christmas In Florida
That year, after a cross-country trip from Seattle, we arrived at the Spirit of Suwannee Music Park in Live Oak, Florida, on the afternoon of December 24. The cooking and dining space in our 24-foot RV was so cramped, and disaster struck as our camera fell when Bill was trying to slice the turkey breast roast. The short lens was forever ruined. Still, we were happy. We had just established a tradition of a Christmas ritual on wheels (hopefully, minus a broken camera).
On Christmas night, we went to a very lively concert, a tribute to the Eagles. The park is Florida's biggest music venue, with several halls for indoor gigs and a large space for outdoor events. But soon we headed south to Thousand Trails Orlando RV Resort.
It eventually became one of our favorite campgrounds, only a few miles from Disney World with the city perks we'd been missing. The New Year's Eve Dinner Dance Party was a blast. With blinking lights on Mickey Mouse ears from EPCOT, I danced the night away to the music of a live band. At the stroke of 12, 100 balloons dropped from the ceiling, and our first Christmas season away from family was not bad!
2. A Hybrid Christmas In Chehalis, Washington
The following year, a letter from the Commission on Immigration told me I had missed an important appointment for my citizenship application. Luckily, they granted an appeal. Taking a different cross-country route, we were back in Seattle in time for the interview, right before Christmas.
We found the Chehalis RV & Camping Resort 2 hours south of Seattle. We bought our little tree, ornaments, wreath, garland, stockings, and lights at the Christmas Crafts Fair at Yard Birds, a large shopping complex that started as a military surplus store in 1947.
Because we were close to the city, we spent Christmas Eve with family and Christmas Day with friends from church. Poker, soup, Wii nights, and waffles morning led into the New Year's Day party. And a day before New Year's Eve, the ladies of my former "Estrogen Book Club" came for a potluck dinner at the campground.
We loved our hybrid Christmas — camping and seeing loved ones.
3. Overcoming A Setback In Treasure Island, Florida
After the oath-taking ceremony on Valentine's Day, we took our RV all the way back to Florida on another cross-country route. We got back to the Orlando resort in early December. But the morning after we arrived, my husband felt pain in his chest. We hurried to an urgent care center. They told us to waste no time and go to the Orlando Heart Center. Bill had a heart attack that ultimately required three stents to be put in.
After the surgery, we booked a unit at the Sand Pebble Resort in Treasure Island, Florida, 2 hours from Orlando. We relived the comfort of condo living. There was a view of the Gulf of Mexico and activities around the hot tub, pool, and bar on the ground floor — but it was the beach at the back where we spent our time.
But we had to get back to shopping for Christmas Eve and exploring the beauty around us. We went for long drives along Gulf Boulevard, which connects all 10 barrier islands and the Tampa Bay Beaches.
On December 24, after mass, we had a simple Nochebuena meal with ham, cheese, crackers, and stollen. At the stroke of 12, my husband loved his new jammies, hankies, and a hand warmer. But he didn't stay on budget. I got new diamond earrings, fit-over dark glasses, and a leather purse.
We rediscovered Christmas in those gifts, the simple meal, and the beauty of Tampa. And we found it with each other. We decided to continue RVing; we had just begun.
4. A Different Christmas In The Caribbean
Fast forward many years. We had given up our RV life and settled at the Viewpoint RV & Golf Resort in Mesa, Arizona. We were looking forward to our first Christmas in our home when our timeshare called. We would lose 5 weeks' vacation if we didn't use our points by year's end.
So for a different kind of holiday, we flew to Cozumel, Mexico, an island in the Caribbean, just a 35-minute ferry ride from Playa del Carmen, south of Cancun. A rental car enabled us to explore the island. I wrote more about it in Celebrating a Cozumel Christmas.
San Miguel de Cozumel, where most of the island folk live, was all bedecked for the season. It's where we shopped, dined, and found a brightly decorated church for a Christmas mass in Spanish. El Cid La Ceiba Hotel De Playa en Cozumel, where we stayed, was beside the island's International Cruise Terminal. On any given day, huge cruise ships docked seemingly right at our doorstep. We saw the first, second, and third largest vessels in the world! We postponed buying until the cruisers who swarmed the shopping villages were gone — that's when prices dropped.
I got a taste of home when I found YES, a Filipino restaurant that caters to the thousands of Filipinos who manned the ships. The Christmas Eve party was at La Ceiba's waterfront restaurant. And we rocked New Year's Eve at Hard Rock Cafe, dancing to a live band and eating traditional Mexican round fruits at the stroke of 12.
Yes, Cozumel has plenty of ways to ease the longing for loved ones during the special time that is Christmas.
5. A Meaningful Christmas In Tucson, Arizona
Beginning December 29 the following year in Mazatlán, we extended our timeshare ownership to spend three winter months a year in any of seven hotels around Mexico. To break up the 17-hour drive there, including a long border wait time, we booked a week at the Star Pass Golf Suites in Tucson, Arizona.
We heard Christmas Eve mass at the oldest intact European structure in Arizona, the Mission San Xavier del Bac, founded in 1692 — and it feels like it. Temperatures were in the mid-40s, our clothes were suited for Mexico, and the church didn't have any heating. We were shivering until we found seats in a corner away from the door. That night, there were about 200 of us who felt 300 years closer to the reason for the season.
After mass, we looked for a place to have Nochebuena, but all the good restaurants were closed. We remembered Mary and Joseph and found the same relief they must have felt at finding the Inn as we came upon a Denny's, that old reliable American diner. It was the only place open on Christmas Eve, but the simple meal filled our hearts.
We spent Christmas Day hiking the 2.5-mile Star Pass Trail, soaking in more of His wonderful creation. That night, we stayed inside and kept ourselves warm and cozy by the fireplace. There was no need for a party. On the road, we have found the true meaning of Christmas. So close to New Year's Day, it is not only about a birth. It is our annual rebirth, wherever we happen to be.