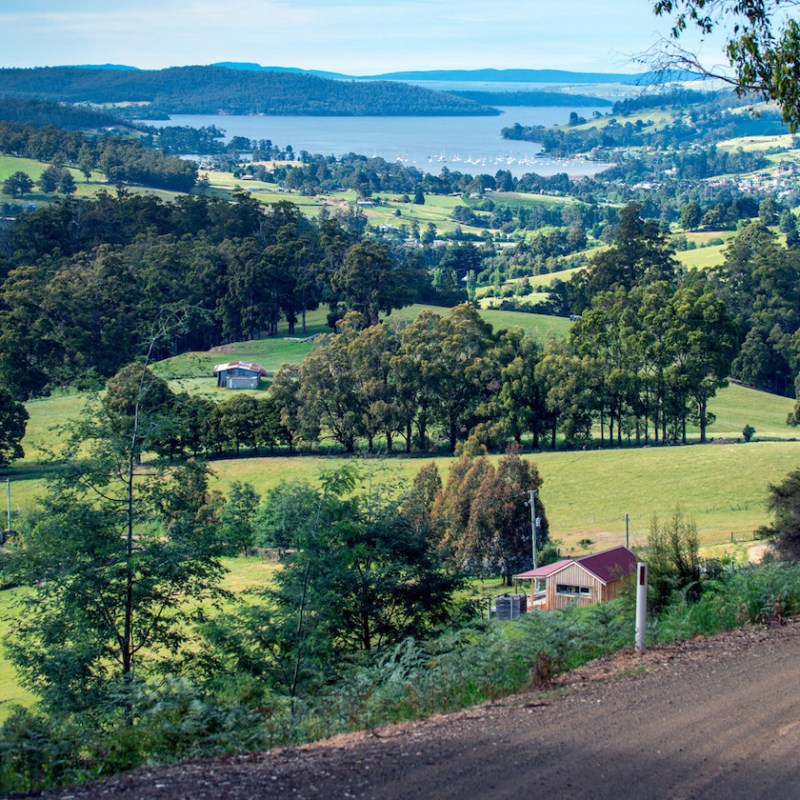 Now that Australia and New Zealand are open to tourists again, many travelers are looking for Australasian destination inspiration. Our expert travel writers recommend beautiful lesser-known towns to visit in Australia, its island of Tasmania, and New Zealand below. Consider adding these desirable destinations in Australia and New Zealand to your 2023 travel plans.
1. Cygnet, Tasmania
Due to its apple industry, Tasmania has long been known as the Apple Isle. Nestled in the heart of the Australian island, the scenic Huon Valley is home to Cygnet. Nadine Cresswell-Myatt came across this cute township just 45 minutes southwest of Hobart while she was following the Huon Valley Cider Trail. Cygnet once served as the center of Tasmania's export orchards. Now apples and cherries are grown for cider — a more recent export. "Pagan Cider took me by surprise," said Cresswell-Myatt, "especially their voluptuous cherry cider."
Cygnet radiates bohemianism. Historic buildings have been transformed into funky art galleries, boutique shops, and heritage stays. Eateries such as the Port Cygnet Cannery offer wholesome fare. Originally the area's apple canning factory, it is now a fully self-sustainable restaurant that prides itself on nose-to-tail butchery and making everything in-house, right down to the bread and butter. "I left enamored with a pickled carrot!" Cresswell-Myatt exclaimed.
Idyllic scenery reminiscent of England's Lake District meets the folksy feel of Woodstock, New York, in Cygnet, where the owner of the supermarket doles out compliments and the hairdresser gossips. Friendly locals billet visitors at the annual Cygnet Folk Festival, January 13-15, 2023.
2. Featherston, New Zealand
Shops line the main road in Featherston, which looks much the same as it did more than a century ago. While some of the old shops still sell everyday essentials, several others have been occupied by second-hand bookshops in recent years, making Featherston a Booktown. In 2018, the town joined the International Organization of Booktowns, a worldwide network of towns with a concentration of second-hand and antiquarian booksellers. Like other Booktowns, Featherston hosts literary events throughout the year. An annual festival in May offers a weekend of author talks and workshops. "The beautiful autumn foliage makes this an ideal time to visit Featherston," Denise Stephens said.
However, Featherston's not just for book lovers! Train enthusiasts come from all over the world to visit the Fell Locomotive Museum, which celebrates Featherston's railway heritage. It is home to H199, the only locomotive of its kind in the world. It was designed to take heavy loads up the steep Rimutaka Incline. "The town was a rural center with the first railway station over the hills from Wellington," explained Stephens, "Museum volunteers regularly start up the locomotive to show visitors the unique mechanism that hauled heavy loads over the nearby hills."
3. Opononi, New Zealand
Marooned in New Zealand during the pandemic, Heather Markel spent most of her time in Kerikeri. Her hosts introduced her to the tiny yet wonderful town of Opononi and its surroundings. "You'll feel like you've gone back in time," Markel remarked. There are only three places to eat and one hotel! A beloved dolphin named Opo befriended the townspeople in the 1950s and put Opononi on the map by letting children ride on his back.
What makes Opononi exceptional are all the things to do within an hour's drive. The town of Omapere has beautiful scenic views of the Tasman Sea. The Koutu Boulders are so large and perfectly round, they'll make you think dinosaurs used to play marbles. The Wairere Boulders nature reserve has several beautiful walks — some with fairy houses! Tane Mahuta is the oldest kauri tree in New Zealand. At over 2,000 years old, it is so large it boggles the mind. Ngawha Springs, a place mostly known to locals, offers wonderful hot pools.
4. Geeveston, Tasmania
Australia's most southern town, Geeveston, is about an hour southwest of Tasmania's capital, Hobart. Located on the Huon River, this fascinating town is home to fewer than 1,500 residents. "In Geeveston, there's every chance you'll make two rare sightings," said Marie Kimber, "platypus in their natural habitat and the aurora australis (the southern lights) in winter."
Timber is a fundamental feature of the former forestry town's architecture. Additionally, intricately carved wooden statues of significant locals dot the charming main street.
Geeveston serves as a gateway to Hartz Mountains National Park, one of the Australian island's 19 national parks. Made up of forests and alpine peaks, the park was shaped by ancient glaciers. It also serves as part of the eastern edge of the Tasmanian Wilderness World Heritage Area. In addition to being a UNESCO World Heritage Site, the Tasmanian Wilderness is one of Australia's largest conservation areas.
To get a bird's-eye view, head to Tahune Airwalk and join the tree canopy from a steel walkway that's nearly 100 feet up in the air! The final section is a cantilever that sits 164 feet above the Huon River, offering beautiful views of its confluence with the Picton, and a glimpse of the World Heritage Area.
Kimber suggests staying at the quaintly named The Bears Went Over the Mountain bed and breakfast. For an out-of-the-ordinary culinary experience, she recommends Masaaki's Sushi, where a world-class Japanese chef makes sushi from fresh, locally sourced ingredients. "Be sure to get there early," warned Kimber, "because he goes surfing once his stock is sold out!"
5. Ballarat, Australia
An hour and a half from Melbourne, Ballarat is one of the most significant Victorian-era gold rush boomtowns. In the 1850s, gold was discovered, transforming the small sheep station into a major settlement. Decades of sustained output is evidenced by the city's rich heritage architecture.
Pan for gold yourself at the area's famous theme park and living museum, Sovereign Hill. There is also an informative and entertaining AURA sound and light show. With tickets at A$49 a head, Carol Colborn and her husband opted out and decided to walk the town instead.
Colborn described Ballarat as "a wonderful open museum of heritage buildings," including Her Majesty's Theatre Ballarat, Craig's Royal Hotel, Regent Cinemas movie theater, the old railway station, and the Town Hall. With rooms dedicated to different periods, the Art Gallery of Ballarat "depicts the obvious art shifts," said Colborn, "from the times when all that was available were imported European art, to the colonizers' works, to the earliest works of locals, to the modern contemporary art scene."
6. Sassafras, Australia
Less than an hour's drive from Melbourne's central business district, Sassafras is perched near the top of the Dandenong Ranges' ridgeline. This small village of under 1,000 residents is a popular destination for locals and we can see why.
Miss Marple's Tearoom offers a great afternoon tea of scones, bread pudding, coffee, and tea. Colborn called the tearoom a "must-visit" and recommends making reservations.
Sassafras boutiques offer everything from antiques to hand-crafted goods. "We brought home a great beechwood top toy for my youngest grandson," said Colborn, "and still cherish the book we found there, In Your 70s and Still Having Fun!"
When the weather is warm, visitors can picnic at the Village Green, explore the nearby Alfred Nicholas and George Tindale Memorial Gardens, and see the bonsai trees at Chojo Feature Trees plant nursery. Hike the 8-mile Sassafras Creek Trail (temporarily closed) or bike to the SkyHigh Mount Dandenong and restaurant. If it is too chilly for outdoor activities, you can simply drive the serene forest roads.
Related Reading: