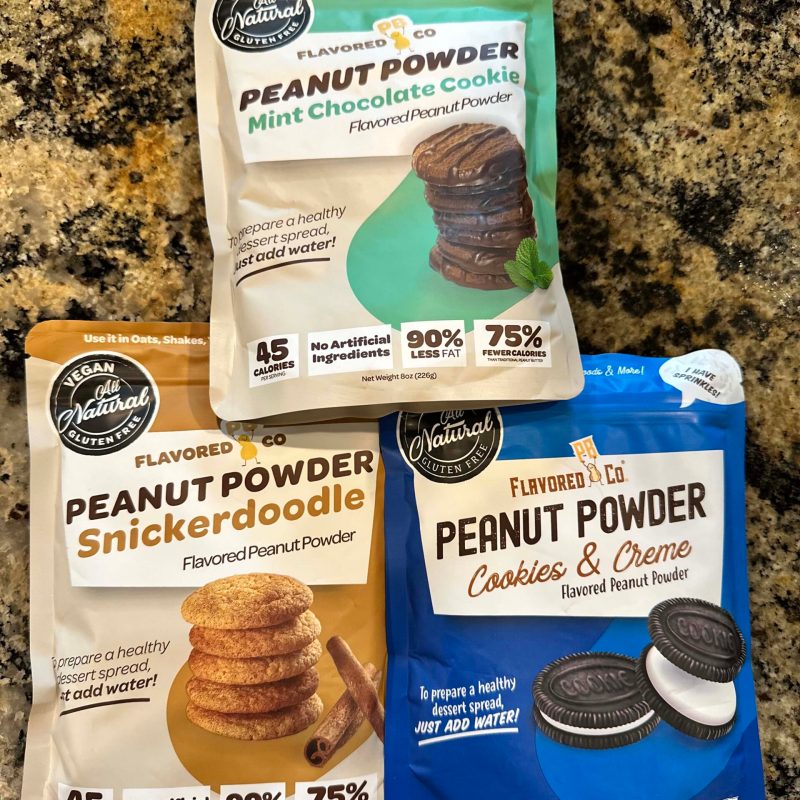 As a retired flight attendant, I've learned a few travel tricks along the way. Now as a passenger, I continue to use many of those same hacks. One I always follow is packing portable snacks. These have saved me more than once during long layovers or hunger pangs on a long flight.
One of my absolute favorite snacks to pack is powdered peanut butter. It travels well, is high in protein, and keeps you satisfied. So I was game to try Flavored PB Co.'s all-natural peanut butter powder. This small, family-owned business's infused peanut butter powder. has an almost cult-like following. When they say it tastes like dessert, they are right! And better yet, you can save up to 40 percent right now on these must-try snacks.
Flavored PB Co.'s Flavors
They offer so many different flavors, it was hard to choose. I ended up with the Snickerdoodle, Cookies and Cream, and Mint Chocolate Chip. The Salted Caramel Crunch and Birthday Cake might be in my next order!
On my recent trip to Vancouver, I brought the Snickerdoodle. It spread well, was full of flavor, and was very creamy. Honestly, I didn't even need to put it on anything. It's great to eat by itself.
How To Use Powdered Peanut Butter In Shakes
(And Favorite Flavor Combinations)
I typically use powdered peanut butter in protein shakes. Flavored PB Co.'s powder is great because it's low in sugar and has 90 percent less fat and 75 percent fewer calories than traditional peanut butters. I tested out the cookies and cream after a high-intensity workout and I have one thing to say: This will now be a staple in my house!
It's fun to experiment with, too. I combined the Snickerdoodle with a banana for a protein shake. It was nothing short of fantastic! I did use extra powder in the shake for a little extra shot of deliciousness. The mint chocolate chip also mixed well with bananas. I'm happy to report I have some new shake options to add to my repertoire.
Powdered Peanut Butter For Homemade Cookies, Pancake Mix, And More
If you want to impress your family and friends, I highly recommend adding the powders to cookie mixes. I added the Snickerdoodle powder to my cookie batter and then topped it with the Cookies and Cream spread. Again, it was amazing and took my cookie game to the next level.
You can also try adding any of the powders to pancakes, using them as fruit dip, or sprinkling over yogurt or oatmeal. You can adjust the consistency with the amount of water you add. I think I'm going to try making ice cream next!
The only thing that was tricky for me was sealing the bag. But you can put it in a larger sealable bag or use a chip clip. Problem solved!
For a low-carb, low-calorie protein option, Flavored PB Co.'s offerings are the way to go. You can add their powdered peanut butters to just about anything to take the flavor up a notch. This would make a great stocking stuffer!