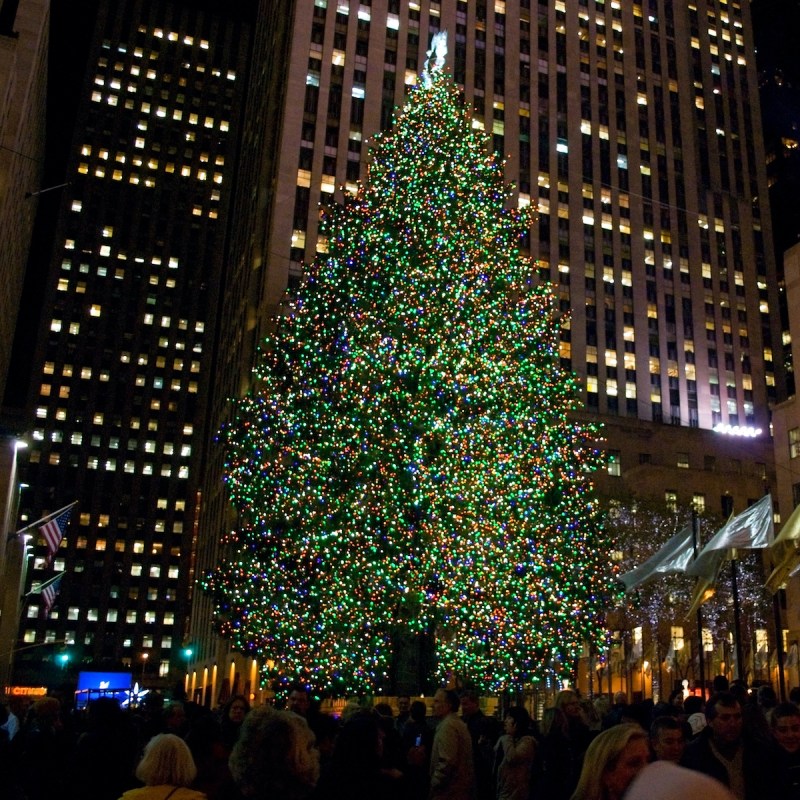 Every year, thousands gather in Rockefeller Plaza to watch the lighting of the Rockefeller Center Christmas Tree. Even more drive by to see its splendid decorations and gawk at the soaring tree with its crystalline star on top.
How Can I Watch The Christmas Tree Lighting?
New York City kicks off the holiday season with the annual tree lighting at Rockefeller Center (30 Rockefeller Plaza) on Wednesday, November 30 at 8 p.m. EST. There will also be a live national broadcast, "Christmas at Rockefeller Center," on NBC at the same time.
After November 30, the tree will be lit daily from 6 a.m.–12 a.m. On Christmas Day, it will be lit for 24 hours, and on New Year's Eve, it will be lit from 6 a.m.–9 p.m.
History Of The Tree
For more than 9 decades, the lighting of the Rockefeller Center Christmas Tree has signaled the start of the holiday season for New Yorkers and visitors alike. While the lights, decorations, and stars have changed throughout the years, visiting the tree is still a quintessential New York experience.
The tree had humble beginnings before World War II. In December 1931, workers at Rockefeller Center pooled their money to buy a Christmas tree. The men decorated the 20-foot-tall balsam fir with handmade garlands made by their families. Over the years, the tree has gotten larger, taller, and more splendidly decorated.
About This Year's Tree
The 2022 Rockefeller Center Christmas Tree was chosen by the head gardener for Rockefeller Center. He was driving through Queensbury in Upstate New York this past spring when he spotted it.
The tree, which is being donated by the Liebowitz family, is an 82-foot-tall Norway Spruce. It's 50 feet wide, weighs 14 tons, and is between 85 and 90 years old. The tree is set to arrive on November 12.
Fully decorated, this year's tree will sport more than 50,000 multi-colored LED lights on about 5 miles of wiring. Designed by architect Daniel Libeskind in 2018, the three-dimensional Swarovski star at the top weighs approximately 900 pounds and features 70 spikes covered in 3 million crystals.
What Happens When The Tree Comes Down?
It's yet to be decided when the tree will come down, but details will be announced in the coming weeks. To stay informed, sign up for The Center Newsletter.
Continuing a longstanding holiday tradition, the 2022 Christmas tree will be donated to Habitat for Humanity, then milled, treated, and made into lumber to be used for building homes. A symbol of hope, the Rockefeller Center Christmas Tree inspired the children's book The Carpenter's Gift, written by David Rubel and illustrated by Jim LaMarche in collaboration with Habitat for Humanity.
The following articles provide more information on how you can enjoy Christmas in New York City: