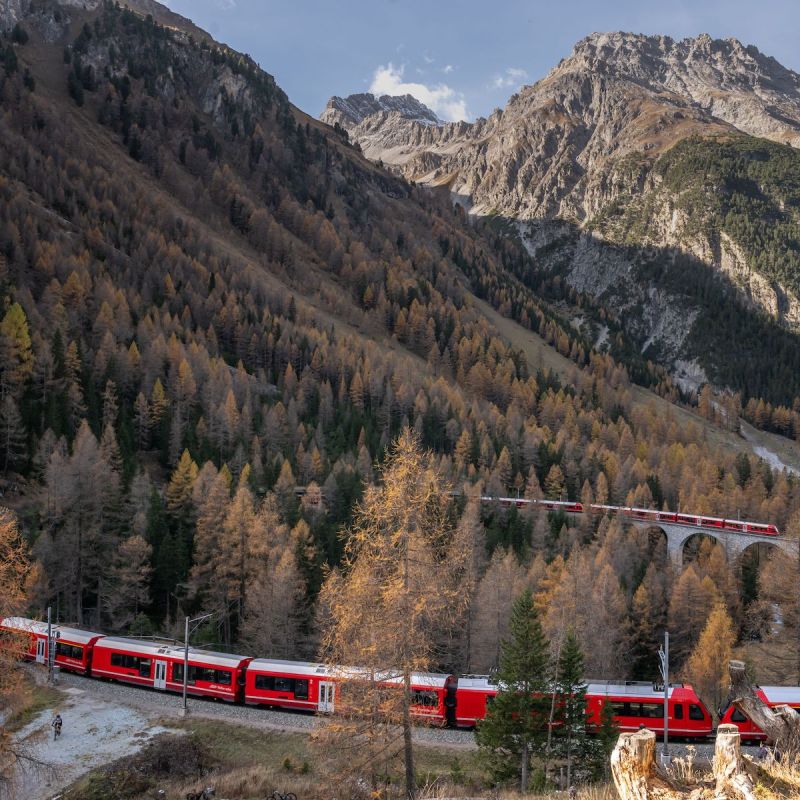 Last weekend was a historic one for passenger trains.
On Saturday, October 29, Swiss rail company Rhaetian Railway set a new world record by operating the world's longest passenger train. What's even more impressive is that the 1.2-mile-long train made up of 100 coach cars traveled along a route in Switzerland that has been designated a UNESCO World Heritage site. That route makes its way through numerous tunnels and crosses even more bridges as it winds through the Alps.
Roughly 3,000 people gathered at a site in Bergün, Switzerland — about halfway through the route — to watch the train on a giant screen, Agence France-Presse reports, according to Radio France Internationale. And while nearby roads were closed for the event, crowds of people hiked and biked to scenic overlooks so they could watch the record-breaking train pass by.
"After intensive preparation, we are overjoyed to have achieved this world record," Renato Fasciati, director of Rhaetian Railway, said in a statement. "Not only did we have a wonderful railway festival here in Bergün, but we were able to present ourselves around the world as a fascinating and innovative mountain railway thanks to our dedicated partners, sponsors, and an incredibly dedicated team."
Rhaetian Railway points out that a Guinness World Records official was on hand for the event to verify that the train set a new world record for being the longest passenger train.
The World-Record Setting Passenger Train
The 1.2-mile-long train was made up of 25 "compositions," which each included four Capricorn railcars from Swiss manufacturer Stadler, Rhaetian Railway explains. The train weighed 2,990 tons.
Interestingly, the train traveled the 15.5-mile route at a speed of around 20 miles per hour, taking less than 45 minutes to cover the route.
Along the way, the train, which needed 7 drivers and 21 technicians, crossed 48 bridges and went through 22 tunnels as it made its way through the mountains.
The Scenic Mountain Route
The route from the Albula Tunnel in Preda, Switzerland, to the towering 213-foot-high and 446-foot-long Landwasser Viaduct is a UNESCO World Heritage route that "represents an exemplary railway development for the disenclavement of the Central Alps at the beginning of the 20th century." That's because it "constitutes an outstanding technical, architectural and environmental ensemble."
Here's what that means. The Rhaetian Railway in Albula and Bernina connects two historic rail lines that cross the Swiss Alps through two breathtaking passes.
The Albula line, which opened in 1904, is 67 kilometers (just over 41 miles) long. It features numerous impressive structures, including 42 tunnels and covered galleries as well as 144 viaducts and bridges.
Meanwhile, the Bernina pass line, which connects northern and southern Europe, is 61 kilometers (just under 38 miles) long. It features 13 tunnels and galleries as well as 52 viaducts and bridges.
For more about traveling by train, be sure to read all of our rail content, including