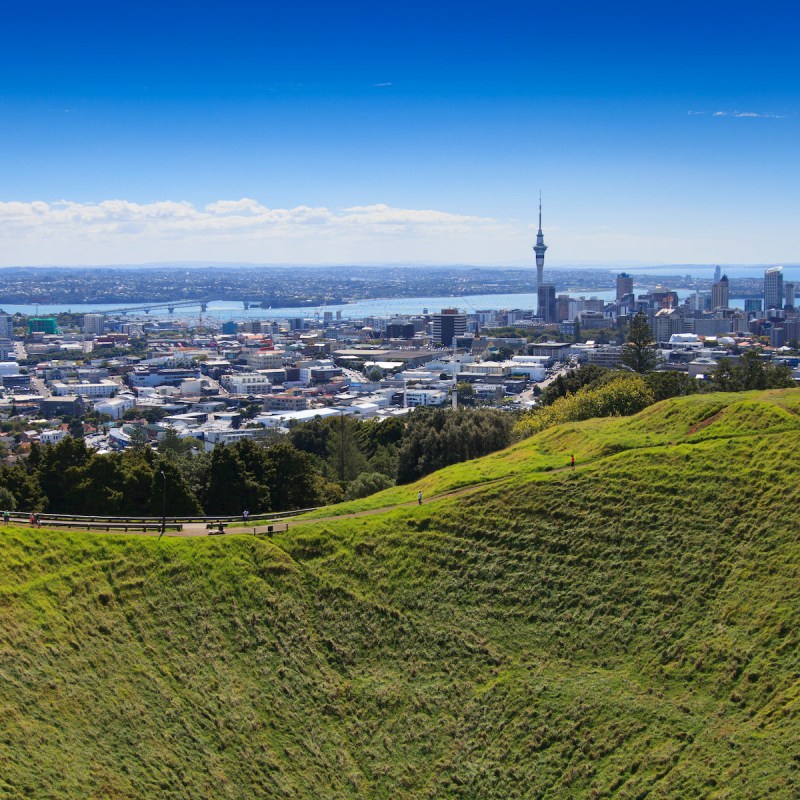 For many years, I traveled to New Zealand regularly to spend time with my then-husband's family. I hadn't been back since 2017 when I booked a trip to visit this summer when COVID restrictions were lifted. In July 2020, my dual-citizen son AJ decided to get out of Miami and move to Auckland, where he's spent the past two and a half years embracing his inner Kiwi.
I enjoyed hearing how he was getting to know the city in ways that differed greatly from our many family visits over the years and couldn't wait to see things through his eyes. So in late July of 2022, I returned to Auckland eager to revisit my favorite places I had explored as a visitor while seeing others through the eyes of the local my son had become.
I discovered quickly that not everything is fully back online, but for the most part, life has returned to normal. If a trip to New Zealand has been on your bucket list, now might be a great time to go and take advantage of a less crowded landscape. According to Rene De Monchy, CEO of Tourism New Zealand, it could take up to 3 years before international tourism truly returns to pre-COVID levels.
1. Head To Waitemata Harbour — The Heart Of Auckland's Waterfront For Dining And Shopping
Located in the heart of Auckland's downtown waterfront, Viaduct Harbour — or as Kiwis refer to it "the Viaduct" — was redeveloped for the 2000 defense of the America's Cup sailing competition. International yachting's biggest global event helped to shine the spotlight on the tiny island nation and establish the waterfront as a welcoming destination for locals and tourists.
At the Viaduct, enjoy a stroll around the Marina checking out the mega-yachts. Grab a local brew on the terrace at Coop's Corner or settle into a prime seat on Soul Bistro's plant-filled terrace and enjoy a glorious sunset view along with award-winning cuisine.
The waterfront footprint has expanded to include more reclaimed neighborhoods — Wynyard Quarter to the north and Britomart to the south. Wynyard has become a live/work neighborhood with plenty of restaurants, parks, and playgrounds. The ASB Waterfront Theatre — home to the Auckland Theatre Group and groundbreaking theatre, dance, and film — is there along with Auckland's first Park Hyatt Hotel and dining options ranging from fast casual to more upmarket fare.
We had a cozy lunch the day I arrived in Auckland at a lovely French bistro called Wander, sharing truffle fries and a magnificent seafood platter complete with Te Matuku oysters from nearby Waiheke Island, smoked Trevally rillettes, clams, local ceviche, and more, washed down with delicious Dog Point Sauvignon Blanc from Marlborough.
Another great Wynyard option is The Auckland Fish Market, which has been open since 1904 and was modernized in 2018. Enjoy fresh-from-the-waters seafood from one of the fishmongers or restaurants onsite, or sign up for a class at the cooking school.
Dodging raindrops, we headed south to Britomart, the new nine-block development that lays claim to Auckland's first five Green Star hotel, The Hotel Britomart, which opened in June 2020. Here you will find outposts of New Zealand's top designers as well as high-end international brands like Chanel and Tiffany & Co., along with quirky and creative home furnishings and design stores. Great dining is everywhere, from Kingi for sustainable local seafood at the Hotel Britomart to Amano for rustic Italian.
2. Explore Auckland's West Coast Beaches
Regardless of the season, anyone visiting Auckland should take time to visit the spectacular Auckland's West Coast beaches including Piha, Karekare, Murawai, Anawhata, and the lesser-known Te Henga (Bethells). Located less than an hour from downtown Auckland, these rugged, wild black sand beaches at the foot of Waitakere Ranges Regional Park attract surfers, locals, and tourists — especially in summer.
Muriwai is home to an entertaining gannet colony, active from August-March; about 1,200 pairs of gannets nest there each year. Karekare and Piha gained prominence after being featured in Jane Campion's Oscar award-winning film The Piano, and Karekare Falls is well worth the short, easily navigated 5-minute walk from the car park for its breathtaking views.
Anawhata is usually very uncrowded due to the 20-minute walk or so it takes to access it, but it's an easy path down to the beach if you crave isolation; it's a bit more of an upward climb when it's time to go, so take care if mobility is limited.
3. Climb A Hill
Considered the most volcanic city in the world with roughly 50 dormant volcanoes located in its vicinity, Auckland's youngest volcano is Rangitoto, an island visible from much of the city that last erupted about 600 years ago. Rangitoto is a popular tourist destination that can be reached by ferry from downtown Auckland in under half an hour. It's about an hour's climb to the summit with amazing views with lava caves to explore on the way. Rangitoto is also home to the world's largest Pohutukawa (known as the New Zealand Christmas tree) forest.
You don't have to leave the mainland though; there are several volcanic craters throughout Auckland with well-marked paths to guide you along. One of the first things I always do upon arriving in Auckland as the sun rises is to find a hill to climb and take in the city views. This time it was Maungawhau (Mount Eden), not far from my son's Sandringham flat. Auckland's tallest volcano, it was once the site of a Māori pa (or fortified settlement). You can wander up from the bottom or drive up and park close to the top where there's a new boardwalk perfect for enjoying amazing 360-degree views of Auckland.
The summit of Maungakiekie (One Tree Hill) overlooks Cornwall Park's grazing sheep and also has great Māori history, while Maungauika (North Head) in Devonport, with sweeping views over the harbor, became a military installation in the 19th century and still hosts a rare 19th-century cannon, an 8-inch disappearing gun.
4. Eat And Drink At Ponsonby Central
Auckland is home to many dining and shopping destinations, but Ponsonby Central — located in the heart of one of Auckland's most vibrant neighborhoods — is one of the best. With over 20 eateries as well as shops and bars, there's an emphasis on international cuisine with something for everyone. You could spend a week dining in a different restaurant every night here and not get bored.
We chose Gaja, a Korean kitchen and bar which was packed on a Thursday winter's night, and enjoyed sharing a variety of spicy small plates including deep-fried eggplant in a sticky gouchang glaze topped with yogurt and lemon and the aptly named yum yum chicken. Other dining options include Chinese, Japanese, Turkish, Venezuelan, Italian, French, and even American hot dogs and hamburgers.
5. Attend A Rugby Match At Eden Park
New Zealand's national rugby union team, the All Blacks, have achieved brand status on par with the Dallas Cowboys and play around the world all year, but it's easy to attend rugby matches for local teams, including the Blues who play at Eden Park. If you're in Auckland during the season (dates have not yet been announced for the 2023 Super Rugby season) what a wonderful way to spend an afternoon outside with a bunch of amiable and passionate sports fans in the heart of the rugby world.
6. Head To The Puhoi Pub Hotel And Stables And Have A Pint
I've probably visited the Puhoi Pub every time I've traveled to Auckland, starting in 1989. Despite a new sign and a fresh coat of paint, I was thrilled to discover on this last visit that it's still a great authentic Kiwi pub in a bucolic setting. About half an hour north of Auckland, it's an easy escape to the countryside. Inside, the walls and ceilings are covered in dollar bills, memorabilia, and witty "jokes." In the outdoor garden setting, there's plenty of seating for everyone from families to pensioners to bikers to enjoy fish and chips and a pint or two.
This time around, we decided to do a walk up a trail that led to views of the surrounding farmland just behind the pub and felt we had earned our post-hike beer. There's also a cheese factory/store which was not yet re-opened as of August 2022, but the cheese is excellent and is sold in markets in Auckland.
The Puhoi Town Library, built in 1913 and serving many roles before being designated a library, attracts about 6,000 visitors a year despite limited opening hours. The tiny space holds 4,500 books and many for sale. There's a possibility that the rest of the world has discovered Puhoi, but I'm still hopeful that's not necessarily the case as it may factor into my retirement plans!
7. Wine Tasting On Waiheke Island
If you enjoy food and wine, Waiheke Island is an absolute must. The second largest island in the Hauraki Gulf (after Great Barrier Island), Waiheke is home to about 30 boutique wineries as well as award-winning restaurants, beautiful beaches, and scenic walks. Only a 40-minute ferry ride from downtown Auckland, it's easy to just plan a day trip there but there's also plenty of accommodation if you choose to stay longer. Once on land, it's fairly easy to get around on the hop-on/hop-off bus, on the regular bus service, or by rental car.
Wineries are spread out throughout the island, and many have amazing restaurants attached to them with star chefs offering winery lunches and dinners, including the expensive but worth-it Mudbrick Vineyard and Restaurant. Don't forget to enjoy some of the local Te Matuku oysters while on the island. The Oyster Inn, an award-winning beachside bistro is an excellent choice; alternately, the restaurant at the Batch Winery is in a beautiful setting and has a great menu.
Pro Tip: In the winter, some restaurants and wineries have limited hours, and the Hop-On Hop-Off Explorer Bus only operates Friday through Sunday. Make sure you make reservations and plans before you get on the ferry.
I was in Auckland during the heart of New Zealand winter and was prepared for the weather typical for that time — cold and rainy. Lucky me, I had very little rain during my and temperatures were pretty much in the 50s and 60s Fahrenheit. I was able to really get out and enjoy so much in that time.
From trivia nights at neighborhood pubs to strolling through the many parks and greenspaces throughout the city to thrifting on K Road, there's so much more I could tell you about enjoying Auckland from a local's perspective. But I believe if you do enjoy some of the activities I've outlined here, you'll get a taste of the real Auckland and understand why it's been one of my favorite cities to visit — for more than 30 years.
Why Auckland?
Auckland is not often categorized as one of the world's great cities, like Paris or London, or for that matter, Sydney. Most travelers to New Zealand deplane in Auckland but head off quickly to explore what the country is known for — beautiful beaches, mountains, lakes, and stunning vistas. But I once again found Auckland to be a thriving, multicultural mecca, with Māori and Pacific culture stronger than ever, a thriving culinary and arts scene, great restaurants and café culture, and the opportunity to commune with nature while enjoying city life.
I would recommend giving yourself at the very least a few days to acclimate after what has most likely been a long flight and a significant time change and enjoy New Zealand's most populous city before heading off to experience the country's undeniable rural appeal.
Fun Fact
As a result of the Treaty of Waitangi Settlement, in recent years Māori names have been restored to many significant sites throughout New Zealand. You will see dual names in many places, the original in the language of the indigenous Māori, and the English names given by settlers. Auckland is Tāmaki Makaurau, meaning "Tāmaki desired by many," in reference to the desirability of its natural resources and prime location.
Getting There
From the United States, direct flights are available to Auckland from Los Angeles, Houston, San Francisco, and Honolulu. As of September 2022, Air New Zealand has launched non-stop service from New York. Seasonal flights from Chicago and Dallas may be coming back online this year as the country's tourism industry struggles to revive. On my trip in August 2022, Auckland International Airport seemed like a ghost town, with many restaurants and shops still closed and the duty-free shop understocked, but I imagine that will change as international travel resumes.
Getting Around
If you plan on staying in and focusing on the CBD, and most tourism guides will assure you there's plenty to do and see from there, there's no need to rent a car. Walking is great — if a bit hilly — and rideshares like Uber are easy enough, but if you want to really explore and only have a few days, it's a great idea to rent a car. That way you can easily access the North Shore or West Coast beaches. One of the best things about Auckland is how quickly you can get out of the city — great nature walks and stunning beaches are less than an hour away from downtown.