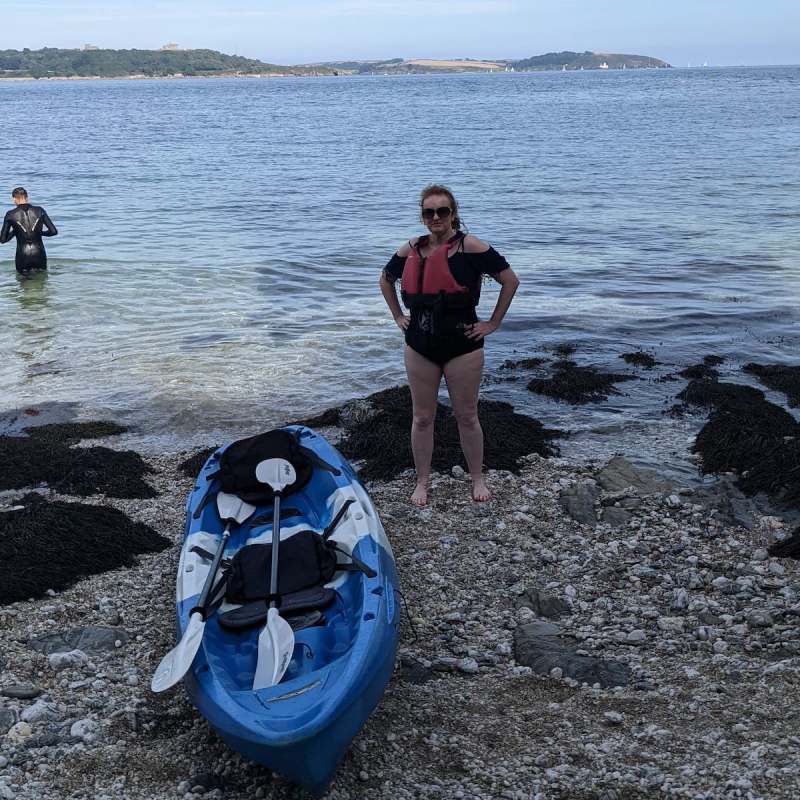 It was my first trip to Cornwall in 20 years, and things had changed. The towns were either more built up or more run down. And there were way more tourists on the streets and on the beaches than there used to be. What hadn't changed was the beauty of the coastline in this southwestern area of England. Dramatic cliffs, rocky shorelines, soft sandy beaches: Cornwall has it all.
The last time I went to Cornwall, my children were still young. They enjoyed getting out on the waves on bodyboards and splashing around in the sea, but as a mother watching her kids, I was the one sitting on the sand with all our belongings. This time, at 51, things would be different — it was my turn to get out on the water.
North Vs. South
The north and south coastlines of Cornwall are very different. While the north coast has soft sandy beaches and crashing waves that are a surfer's dream, the south coast is pebbly and has calm waters that paddle boarders love. Both coasts are beautiful in their own way, but it was on the south coast, with a still sea, that my partner and I saw paddle boards and kayaks lined up on every beach. We began to think about having a go for ourselves.
We didn't fancy surfing on the north coast (maybe next time), and the beaches on the south coast are mostly shingle, so not great for sitting on. It was lovely and calm on the south coast, and we decided to spend some time at Swanpool Beach, but we were looking for something to do. The kayaks looked very inviting, waiting by the shore in bright blue, yellow, and red. As my partner and I watched couples going out on the water and arriving back with big smiles on their faces, we decided to try it out.
A Kayak Convert
The closest I'd ever got to kayaking before was rowing a boat on a river, which has some similarities, but still isn't quite the same. I'll admit I was a bit nervous when I put on the buoyancy aid and listened to the safety demonstration. The man who ran the kayaking hire explained how to use the oars and then told us it's really difficult to get back in a kayak if you fall out of it; "so don't fall out of it," he said.
He told us about some hidden coves along the rocky cliffside and led us down to our kayak. For our first time, my partner and I chose a double kayak so we could go out together. There were plenty of single kayaks but the double ones did seem more popular. My nerves soon dissolved once I was out on the calm sea paddling around the shoreline. I really enjoyed the experience.
It's All About The Technique
Before we get into paddling and steering the kayak in the direction you want to go in, there's the little issue of getting into it in the first place. My first attempt at getting into the kayak was very ungainly! We pushed the kayak down to the edge of the water, so its nose was in the sea, and I stood ankle-deep in the water and tried to step into it. I can tell you how much this does not work. All I did was push the kayak farther away with the foot that was in it, while my other leg was still standing in the water! I soon learned that the way to successfully get into the kayak is to sit in it, bottom first, as if sitting on a chair, and then swing your legs around and into the kayak. Getting out of the kayak is the same in reverse. You swing your legs around to one side and stand up. Simple.
Your kayak guide will show you how to use the oars before you start. It's a very simple case of plunging the oar down into the water in front of you and scooping it back up behind you, and then doing the same on the opposite side. It forms a nice flowing motion that's easy to keep going. To turn left, paddle on the right side, and to turn right, paddle on the left side. This is called opposite-side paddling.
Everything Looks Different From The Water
I've been on river cruises and I've been in a rowing boat on a lake (and a river), and it's true what they say — experiencing a place from the water is very different to the perspective you have on things from land. Being out on the sea brought a whole other dimension to this and I loved kayaking around the rocky coastline, finding caves and hidden coves that no one else could see from the beach.
We stopped off at one of the tiny beaches in an inlet and took some time to just enjoy the beauty of our own quiet little bay. I had a small wobble of nerves when I got back in the kayak at this hidden cove, as I could see how far away the beach was and how far from it we'd traveled. But once I'd got back in the kayak and I was paddling again, I felt secure and safe, and we headed back to the beach.
It Gets Wet In the Kayak
Before we set off, our guide told us we should leave all of our possessions behind. There was a hut with spaces for shoes, bags, and any belongings we had with us. You need to be aware that a fair bit of water does end up in the kayak, so the bottom half of your body is going to get wet.
While we were having a day at the beach, we were already wearing our swimmers, so we just kept a T-shirt on top, but if you aren't prepared, you will end up with wet clothing. I hadn't realized that we would need to leave everything behind. My partner did take his phone onto the kayak with him, even though the guide recommended leaving them behind. If you have a waterproof phone, like my partner does, you can take it with you, though this is obviously at your own risk. It would have been a shame if we weren't able to take any photos while we were out on the kayak.
Tips For Kayaking For The First Time
Choose calm waters for your first kayak, either a gentle sea like we did, or a lake.
Watch out for rocks or anything else that might be in the water, like reeds if you're on a lake. Don't panic if you're heading for some rocks, just use opposite paddling to avoid them.
If you decide on a double kayak like we did, the lightest person goes at the front.
Your paddles need to be held body-width apart with both hands, and your paddle should enter the water with the rounded side away from you. Take a good look at your paddle before you start so you know you're holding it the right way.
If you stop off somewhere, don't try to get back into your kayak while you're in the water; it's incredibly difficult. Take your kayak to an embankment or onto the beach to get back in. You can position the kayak so that you are standing knee-deep in water, but not deeper than that.
Relax and have fun. You're unlikely to fall off the kayak, they are very stable, and if you do, you have your buoyancy aid.
Make sure to take in the scenery as you travel along the water. This is a unique way to view the land.
For more inspiring stories and tips on kayaking, check out these articles: