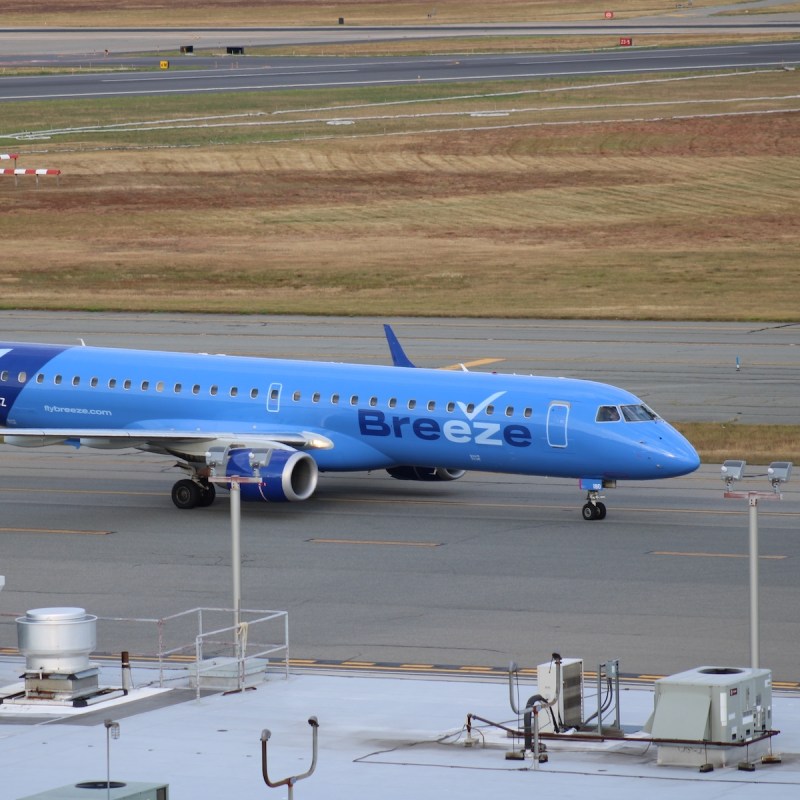 Discount carrier Breeze Airways is continuing its rapid expansion across the United States, adding two new destinations and 15 new nonstop flights to its schedule.
The new flights include fares as low as $29.
Cincinnati and Vero Beach, Florida, are the two new destinations being added to the Breeze roster, giving the airline 33 cities in 19 states since it debuted just 18 months ago.
The airline now offers 99 non-stop domestic flights, primarily on routes not served by other airlines.
"Breeze provides fast, efficient, and affordable air service between underserved city pairs," Breeze president Tom Doxey said in a release. "We're excited to introduce two new cities to our national route network, as we add routes from 15 cities."
Breeze will fly non-stop between Cincinnati and both Charleston, South Carolina, and San Francisco starting February 8, 2023. It will add flights between Vero Beach and both Hartford, Connecticut, and White Plains, New York, beginning February 2.
The new destinations are happy to have Breeze.
"Our strategy over the last several years has been to further diversify airline options for local travelers," Candace McGraw, CEO of Cincinnati/Northern Kentucky International Airport told the Cincinnati Enquirer. "We look forward to working with Breeze and growing their network here at CVG."
Vero Beach has been searching for airlines to fly into the destination since losing American Eagle as a carrier in 1996.
New Nonstop Flights
In addition to the two new cities, Breeze is adding more than a dozen new non-stop flights to locations already served by the airline. These include (with the start date and lowest fare):
Akron-Canton, Ohio to Orlando, Florida (March 1, $39).
Bentonville, Arkansas to Phoenix, Arizona (Feb. 17, $49)
Bentonville, Arkansas to Orlando, Florida (March 3, $49)
Hartford, Connecticut to Phoenix, Arizona (Feb. 9, $99)
Huntsville, Alabama to Orlando, Florida (March 2, $49)
Las Vegas, Nevada to San Bernardino, California (Feb. 16, $29)
Orlando, Florida to Tulsa, Oklahoma (March 1, $39)
Phoenix, Arizona to Richmond, Virginia (Feb. 10, $99)
In addition, the airline is adding seven new flights that the company labels "Breeze thru," which are flights that make one stop, but passengers don't get off the plane before it continues.
Those include Bentonville to Charleston; Charleston to Tulsa; Charleston to Huntsville; Hartford to Provo; Hartford to San Bernardino; Phoenix to New Orleans; and Vero Beach to Norfolk.
Breeze offers three levels of seating on its flights: nice, nicer, and nicest. Although, the latter isn't available on some flights due to the size of the planes.