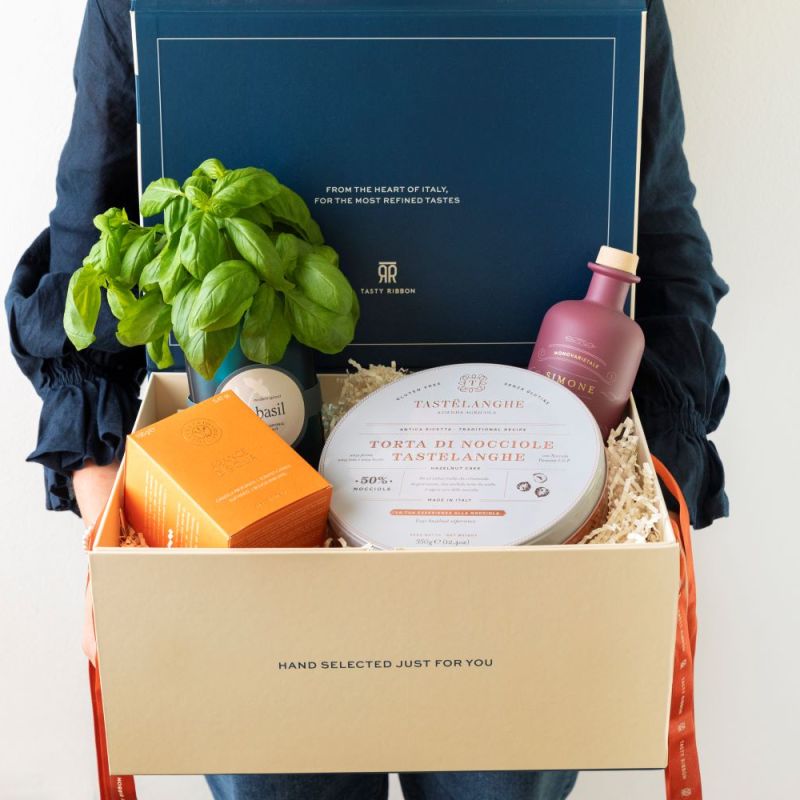 We found the ultimate holiday shopping hack: Check everyone from friends and family to clients and colleagues off your list with a box of authentic Italian artisanal foods.
Whether the folks on your list are into tea, chocolate, pasta, or honey, Tasty Ribbon has a box of Italian treats your family will love! Choose from curated selections of olive oil, vinegar, olives, antipasti, cheese, jams, preserves, honey, chocolates, pantry staples, truffles, tea, cookies, and desserts. Or, hand-select items for a one-of-a-kind gift for that special someone.
Here's why we love Tasty Ribbon as well as a few of our favorite gift boxes for this holiday season.
Why We Love Tasty Ribbon
Woman-Owned
Founded by native Italian Giulia Scargetta, Tasty Ribbon brings the taste of Italy to you and yours.
Carefully Curated
Curated boxes are filled with treats sourced directly from real Italian artisans. Tasty Ribbon hand-picks small artisans and family-owned businesses that offer natural, authentic, and high-quality products so you can expect superb craftsmanship.
Modern And Effortless Gifting
Ordering a Tasty Ribbon box online is easy. Choose the gift of the month, peruse the top 10 gifts, browse all gifts, or add single products like black truffle butter to your cart.
Tasty Ribbon Is The Perfect Gift For Any Occasion
Tasty Ribbon boxes aren't just perfect for the holidays, you can also send one as a birthday gift, as a thank you, or even for an anniversary. The Written in the Stars makes for the perfect birthday gift for the zodiac lover in your life.
Completely Customizable
Choose from curated gift boxes or create your own! Tasty Ribbon is the first food gifting company to offer fully customizable gift boxes. Simply select the size of the box and fill it with savory and sweet Italian treats that will suit your loved one.
Even the boxes themselves can be customized with branding for corporate gifting. Companies such as Bulgari, NBC Universal, PCI Pharma Services, and more have been known to gift Tasty Ribbon.
Beautiful Packaging
Designed in Italy, the gorgeous gift boxes are a feast for the eyes, while their contents are a feast for the tastebuds.
Personal Touch
All Tasty Ribbon boxes come with a handwritten-like note that can also be personalized with branding for corporate gifting. Anniversary, congratulations, birthday, sympathy, thank you, and blank cards are available.
Giving Back
Tasty Ribbon donates 2 percent of its sales to its charity partner, God's Love We Deliver. This organization delivers free nutritious meals to people who are too sick to shop or cook for themselves.
Our Favorite Tasty Ribbon Boxes To Gift In 2022
FALL & Restore Box
Send a package full of wellness to someone who could use some self-care with Tasty Ribbon's FALL & Restore Box. It has everything needed to unwind and recharge: a few caffeine-free herbal teas with an infuser, plus organic orange honey, complete with a wooden honey dipper, and antioxidant-rich dark chocolate. It also has a candle from Tuscany made with natural ingredients to help make them cozy and a citrus spray to keep their home and linens smelling fresh.
Mamma Mia! Box
For the person who loves to travel and cook, Tasty Ribbon's Mamma Mia! box offers pesto for bruschetta, chocolate-dipped candied orange sticks, gourmet chocolate bars, pasta and tomato sauce alla norma, chocolate truffles made with hazelnuts, and extra virgin olive oil and aged balsamic vinegar from Modena.
Pasta 1-O-1
For the aspiring home chef, the Pasta 1-O-1 box is the best starter kit for mastering the art of pasta preparation. It features two types of pasta to pair with three different sauces: pesto, tomato, and arrabbiata, which is tomato sauce with a little kick. It also includes a bottle of extra virgin olive oil which, like the rest of the contents of this pasta box, is the real deal from Italia.
Pasta Master
Pasta lovers have everything they need to create an unforgettable pasta al pomodoro in the Pasta Master box. Ingredients include the finest imported rigatoni, a simple tomato and basil sauce, Parmigiano Reggiano sauce, and aged Parmigiano Reggiano cheese. It also features a self-watering indoor garden kit with organic Genovese basil seeds, so they can grow their own basil year-round. Last but not least, there's an award-winning extra virgin olive oil from the Umbria region, one of the best places to produce EVOO in the world.
Order Tasty Ribbon Today
In Tasty Ribbon's first year of business, it distributed more than 70,000 gourmet products. Last holiday season, the Brooklyn-based company delivered over 5,000 gift boxes with an overall review score of 4.8 out of 5. Just about everyone on your list will be thrilled to receive a box filled with artisan Italian foods this holiday season! Take care of your holiday shopping by ordering Tasty Ribbon today!
Related Reading: