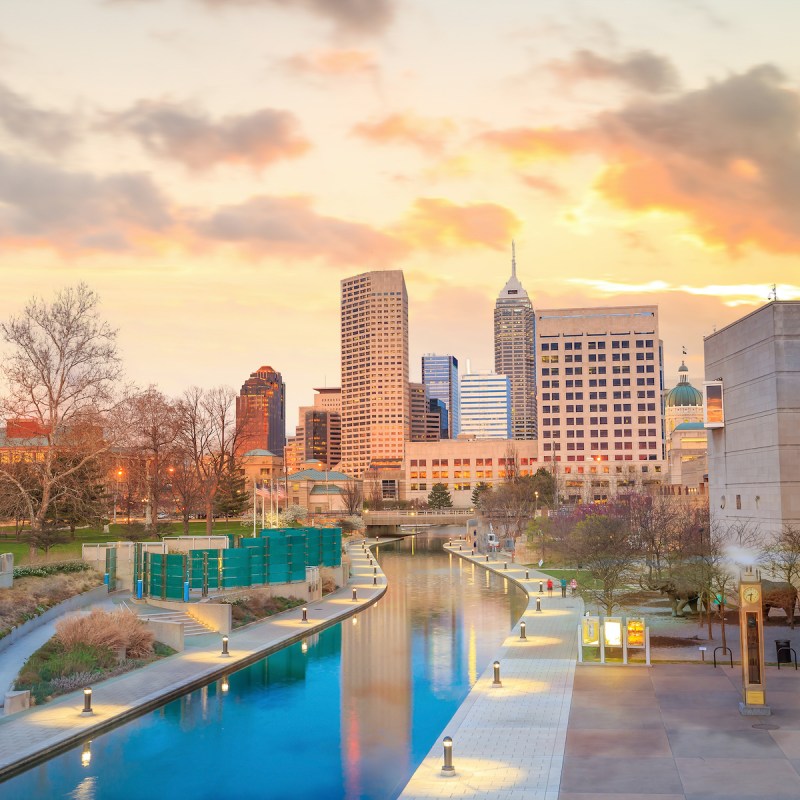 When you hear the city of Indianapolis mentioned, you often think of race cars and the Indy 500. This midwestern city truly has something for everyone. While Indianapolis is home to race cars, it's also a city that offers cultural and outdoor experiences and art. I have explored Indianapolis on several different occasions, and I always found something new. Indy is a walkable city that is rather big, yet small. Indianapolis is spread out, with many things to see and do throughout the metro area. Here are 11 of the best things to do in Indianapolis, Indiana.
Indianapolis is an easy city to drive to and through. Interstate 70 and Interstate 74, are two major interstate highways within Indy. I have driven through and to Indianapolis several times and if you follow the signs to the downtown area, you will get where you need to go. As always, pay attention to any road construction signs and pay attention to your GPS. If you fly into Indianapolis International Airport, make note of the race cars that are in the terminal. It will take you five minutes to realize you are in a city where race cars are popular.
1. Indianapolis Motor Speedway
The Indianapolis Motor Speedway is an incredible venue that is home to the world-famous Indy 500. I would highly recommend taking the Kiss The Bricks Tour, as you will have the opportunity to "Kiss the Bricks" at the end of your tour. There are several tours to choose from at the Indianapolis Motor Speedway. Choose the tour that meets your desire and you will enjoy touring the track in Indy. Several of the tour buses are wheelchair accessible and a limited number of wheelchairs are available on-site, for guest use.
2. Indiana State Capitol
The Indiana State Capitol is a Renaissance Revival-style building with a stained glass dome. You can take a tour of Indiana's State Capitol, which lasts around 40 minutes. If you are like me, you will appreciate a tour of any state capitol and see something that leaves you with your jaw dropped. The beauty in state capitols continues to amaze me. You can take a self-guided tour, but you will not have someone to share the history of areas of the building. If you want a more in-depth tour of the Indiana State Capitol, take the guided tour. I love touring state capitol buildings, and Indiana is another one that I would highly recommend that you visit.
3. Indianapolis Motor Speedway Museum
The Indianapolis Motor Speedway Museum is for everyone, even if you are not interested in race cars. This museum is unique, as it sits inside the 2.5-mile oval racetrack. Motorcycles, cars, trophies, racing records, and other memorabilia can be found in this well-recognized museum. In fact, in 1975, the Indianapolis Motor Speedway Museum was included on the National Register of Historic Places. In 1987, it was designated as a National Historic Landmark. Incorporate a tour of the Indianapolis Speedway with your museum visit for an ultimate day in Indianapolis.
4. Tour Eiteljorg Museum
The Eiteljorg Museum of American Indians and Western Art is a sophisticated contemporary museum featuring West and Native American artifacts and artwork. With two floors of exhibits and galleries, you will find yourself finding new things in every nook and cranny. I am always fascinated by contemporary art and the multi-media pieces in this museum lured me in. As with many museums, the exhibits that are changed out several months at a time give us all a reason to return.
Pro Tip: Free accessible parking is available on the first floor in the White River State Park underground garage when you visit the museum.
5. Explore Newfields
Newfields is a 152-acre community that is home to the Indianapolis Museum of Art, the Virginia B. Fairbanks Art & Nature Park, The Garden Lilly House, and The Garden. You can easily spend one full day in Newfields exploring all that it has to offer. See the most comprehensive collection of neo-impressionist paintings in North America at the Indianapolis Art Museum. There are also several exhibitions that come and go over the year, which gives you a reason to keep returning. The garden is home to more than half a million blooms. Imagine all of the colors that you can view in the thick of summer. As soon as you arrive in or near Indianapolis, you will quickly learn that it is home to a thriving art community.
Pro Tip: Don't try to experience all of Newfields in one day, make it a full 2-day affair.
6. White River State Park
White River State Park is often referred to as Indy's Urban Escape. This state park is an urban park that offers experiences that set it apart from your typical state park. With more than a dozen permanent public art pieces, you will quickly embrace the stunning sculptures that dot the park. Art in the park has a whole new meaning in Indianapolis. The Indianapolis Zoo and numerous other attractions are part of this destination state park that highlights Indianapolis. The greenspaces, trees, and waterways make this an ideal place to spend a lot of your time while in Indianapolis.
7. Visit Lucas Oil Stadium
Lucas Oil Stadium hosts several national and international sporting events each year. You can tour Lucas Oil Stadium with a behind-the-scenes tour. Allow 75 minutes for a tour, which will include an NFL locker room, press box, and numerous other areas that are generally inaccessible to the general public. Anytime I have toured a stadium where an NFL team plays, I left with a new appreciation of the game.
Pro Tip: Wear comfortable walking shoes and do not carry a large bag or purse.
8. Conner Prairie
Conner Prairie is an outdoor museum where you can step away from the hustle and bustle of the city. A short drive Northeast of downtown Indianapolis is where you will find Conner Prairie. This is where history comes to life. A highlight of any visit is to take flight on an 1859 Balloon Voyage. Fly up to 377 feet into the air for an epic view of the area. Symphony on the Prairie is a highlight for many that visit Conner Prairie. After all, who doesn't love music and the great outdoors? Explore 1836 Prairie Town or simply take a nature walk, Conner Prairie is an outdoor adventure you will talk about for hours on end. I have visited Conner Prairie twice over the past three years and I talk about it quite often. Once you visit Conner Prairie, you will learn why this is one of the 11 best things to do in Indianapolis.
9. Lucas Oil Indianapolis Raceway Park
Lucas Oil Indianapolis Raceway Park offers legendary tracks, including a 0.686-mile paved oval; a quarter-mile drag strip; and a 2.5-mile, 15-turn road course. The NHRA U.S. Nationals happen every Labor Day weekend, as well as the night before the legendary Indy 500 on Memorial Day weekend. If you are a race car fan and enjoy cars, this track is where you can see a lot of up-and-coming racers. A full schedule at the track allows you to see some world-class racing in a fun venue in Hendricks County, near the downtown Indianapolis area. I visited the track on a non-event day and it was quite a feeling to see the track and vastness of the stadium.
10. Indianapolis Zoo
I am a fan of zoos and the Indianapolis Zoo provides all of the opportunities that I expect to have when visiting a zoo. Animal feedings are available, which includes feeding a flamingo, a budgie or lorikeet, and a giraffe. The nation's largest shark touch pool is in the ocean exhibit. I love that this zoo is educating visitors on species of animals that many fear. Sharks are often misunderstood and this exhibit helps educate people on why they do what they do.
The Indianapolis Zoo is the only place in the Midwest where you can get in the water with dolphins. This 90-minute adventure will educate you about dolphins. There is also a 30-minute poolside activity with the dolphins. If you want to explore a zoo that offers some extraordinary adventure, the Indianapolis Zoo is a good one. You can plan on spending a full day at the zoo, as there's a lot of ground to cover, along with tons of adventure.
11. Smartphone-Guided Walking Tour Of Downtown Indianapolis
If you like to explore on your own with a little bit of guidance, this tour is for you. Take a smartphone-guided walking tour of downtown Indianapolis sights & stories. How many times have you visited a city and asked yourself, "How did I miss that?" By using this service, you will see the famous fountains, incredible public art, food halls, and all that Indy has to offer.
With these 11 best things to do in Indy as your guide on your next visit, you will not have any time to be bored. Indianapolis is a safe community that offers stunning art experiences in outdoor settings. These top activities offer a variety of things to see and do while providing you with hours of entertainment.
Indy is unique because it is a state park that makes up part of the city and offers several educational and fun experiences. The area is walkable and easy to navigate. I have found Indianapolis easy to navigate while driving and walking. Several counties in and around the Indy area are also considered part of the metro area. With numerous things to see and do, you will most likely find yourself planning a return visit as soon as you head out of town.
For more information on traveling to Indianapolis, check out these articles: