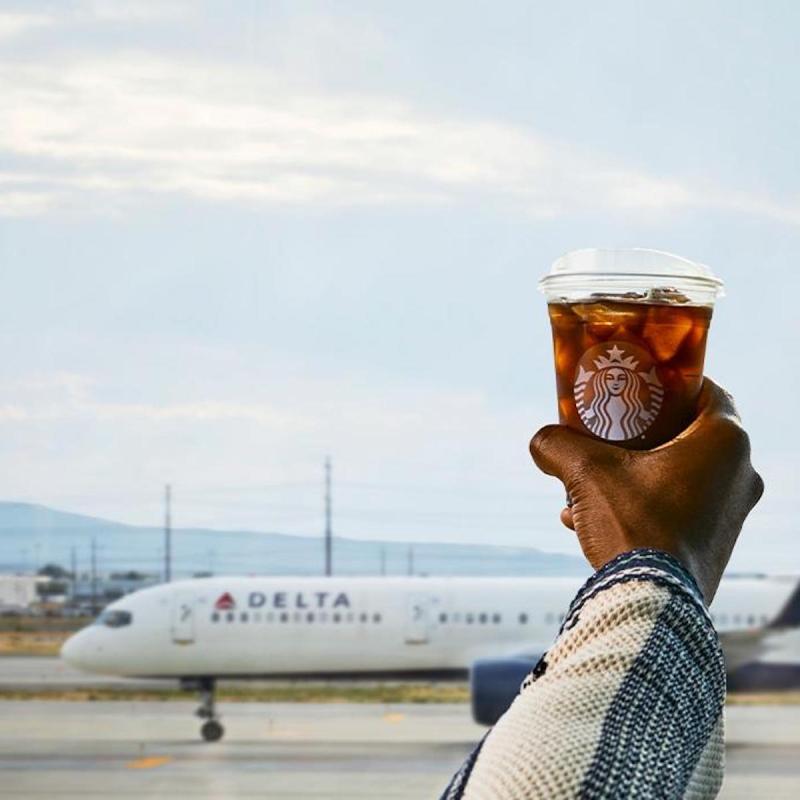 One of the top airlines in the world has joined forces with the top coffee brand in the United States to merge their loyalty programs for a special promotion.
Members of Delta SkyMiles and Starbucks Rewards have announced a new partnership that allows customers to benefit from both programs and unlock rewards.
Customers can link their accounts and begin earning 1 mile in Delta travel for every dollar spent on purchases at Starbucks. On days when members have a scheduled flight, rewards will double.
Open To Everybody
The benefit is available to current members of both programs as well as new members who join.
"We're continuing to evolve Delta's SkyMiles program to give our customers valuable, premium experiences not just on the days they travel, but in their everyday lives as well," Prashant Sharma, Delta's vice president of loyalty, said in a release.
Starbucks is excited about the new partnership as well.
"By bringing together two of the country's most celebrated loyalty programs, we are able to reward our members with more of what they love," said Ryan Butz, vice president of loyalty strategy and marketing at Starbucks. "We are excited to partner with Delta to offer our members even more valuable benefits, as well as invite more customers to join Starbucks Rewards."
Additional Rewards
To encourage members to sign up for the program, customers who do so by the end of the year will get an additional 500 miles on their Delta account and, following a qualifying purchase, an extra 150 Starbucks stars.
To link accounts, customers should visit starbucksdelta.com.
"Through this new partnership with Starbucks, we can deliver more moments and interactions that matter, both in the air and on the ground," Sharma said.
The partnership with Delta is just the latest addition for Starbucks, which has linked with a number of leading brands for their Reward Together program. Delta is the first U.S. partner in the program.
First introduced in 2009, Starbucks Rewards has more than 27 million members.
Delta's SkyMiles program has also linked with other companies, including Instacart, Turo, and Lyft, with purchases earning mileage credits.
For those interested in joining either program, customers can visit starbucks.com/rewards and delta.com/join-skymiles.
And for more of our latest travel news, check out these stories: