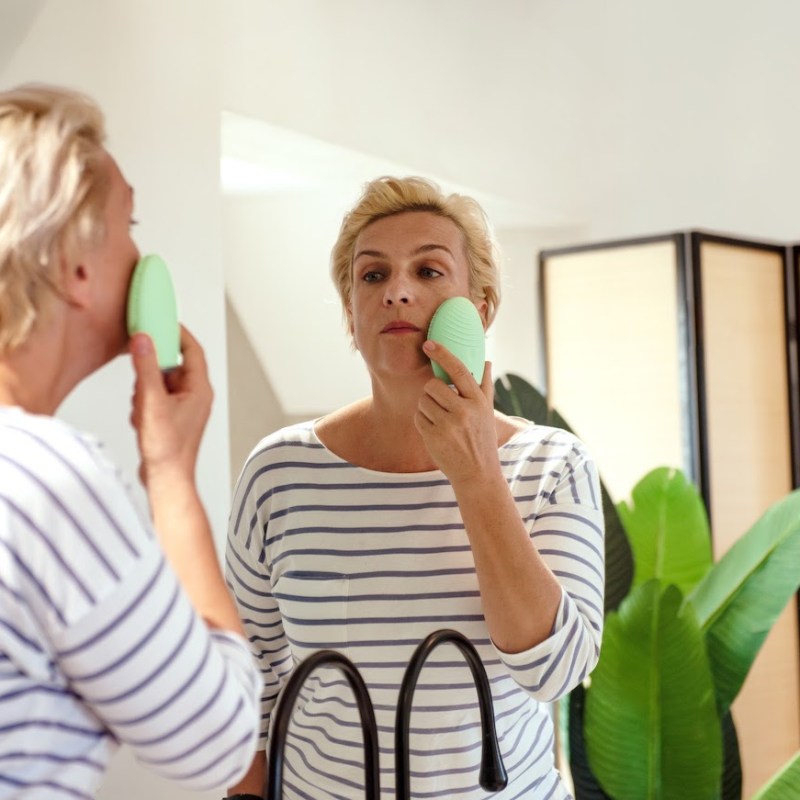 Still cleaning your face with your hands, or have you graduated to the world of skin-cleansing brushes? I thought my Clarisonic Mia was the end-all-be-all of skincare brushes, but recently I discovered something even better. FOREO, a Swedish beauty-tech company, introduced the world's first soft silicone facial cleansing brush. Now, the company, pronounced for-ay-oh, has released its softest and most effective skin-cleansing brush ever, the LUNA 4.
The LUNA 4 is FOREO's latest and greatest version of the most-sold facial cleansing brush in the world. Here's why I love it and why I think you will, too.
Introducing FOREO
Founded in 2013, FOREO is an award-winning beauty-tech company that is recommended by skin care professionals, dermatologists, and estheticians. As I mentioned, FOREO is responsible for making the world's first ultra-hygienic silicone facial cleansing massager. With products in more than 12,000 stores in over 80 countries, one FOREO device is sold every 10 seconds. Its newest two-in-one facial cleansing device is the most advanced skin-cleansing brush yet and it also features firming anti-aging massage technology!
LUNA 4 Features
LUNA 4 cleanses your pores, prevents breakouts, and massages your face. It is clinically proven to remove 99 percent of dirt, oil, and makeup residue. Here's how.
Soft Silicone Touchpoints
LUNA 4 features softer silicone touchpoints than ever before — 17 percent softer to be precise. Silicone may seem like an odd choice until you consider all of the ways it is superior to traditional nylon bristle brush heads:
35x more hygienic than nylon
Easy to clean
Mold and bacteria-resistant
For all skin types
100 percent waterproof
Free of BPA and phthalates
The most gentle yet effective LUNA yet, it effortlessly glides across skin to preserve its natural elasticity.
T-Sonic™ Pulsations
LUNA 4 uses T-Sonic pulsations to help remove impurities that get trapped deep within your pores. What is a T-Sonic pulsation, you ask? Well, it feels like a little vibration, but the T stands for "transdermal." I'll let the experts explain: "Gentle pulsations travel through the outer layers of the skin. They channel a low-frequency massage to help relax facial and neck muscle tension points and improve blood flow." There are 16 adjustable T-Sonic pulsation intensities. Very nice!
Tailored Cleansing Based On Skin Type And Problem Areas
Three brush types are available — balanced, sensitive, and combination — ensuring you get the cleansing that's perfect for your skin. Plus, three different cleansing modes — deep, regular, and gentle — can be used for different areas of the face and neck.
Firming Massages
LUNA 4 is designed to not only cleanse but to firm as well. FOREO's signature massage technology helps "reduce fine lines and sagging, relax facial and neck muscle tension points, and improve lymphatic drainage — targeting visible signs of aging." If you want to get super fancy, you can find firming massage routines in the FOREO app. Five of them boost circulation and improve natural collagen production. In a third-party consumer trial, 86 percent of users reported that their skin looked and felt firmer and more elastic.
Preps Skin For Skincare Products
Want to make your skincare routine more effective? LUNA 4's T-Sonic™ Pulsations help to temporarily dilate pores so that the active ingredients in your creams, serums, and masks can penetrate through the outer layer of your skin without clogging your pores. At 98 percent, nearly all of the users in the third-party consumer trials experienced better absorption of skincare products.
Reduce Blemishes
I'm at that fun age where I get to deal with wrinkles and breakouts. LUNA 4 is made with bacteria-resistant silicone to help reduce blemishes. It also gently exfoliates dead skin cells, revealing fresh, healthy skin below. In third-party consumer trials, 81 percent of users reported a reduction in the appearance of blemishes, while 96 percent reported healthier-looking skin.
Clinically Proven
LUNA facial cleansing devices are clinically proven to remove 99 percent of dirt, oil, and makeup residue. In a consumer trial of 50 people over a 28-day period, participants reported outstanding results:
100 percent of users reported more refreshed and radiant skin.
100 percent more radiant skin
100 percent refreshed skin
100 percent better-feeling skin compared to cleansing by hand
98 percent smoother and softer feeling skin
98 percent brighter and luminous skin
98 percent better absorption of skincare products
98 percent healthier-looking skin
94 percent more toned skin
88 percent more supple skin
85 percent reduced signs of rosacea
Easy To Travel With
LUNA 4 now has a travel lock function so it won't go off in your bag and raise eyebrows when you're going through security. Its compact size is perfect for travel as well as home use. Plus, the battery holds a charge for quite a while, so you won't even have to pack a charger!
How To Use FOREO LUNA 4
Step 1: Unlock the device.
Step 2: Dampen your face and apply the cleanser. (FOREO recommends using its Micro-Foam cleanser for best results.) Wet the LUNA 4 and turn it on by pressing the universal button.
Step 3: Select your preferred cleaning mode using the buttons on the device. Glide it in circular motions around your face and neck. Rinse your face, neck, and the device.
Step 4: Firm. Apply FOREO's Serum. Double press the universal button to activate the firming massage, or open the FOREO app to select your preferred firming massage routine.
FOREO LUNA 4 Vs. Clarisonic Mia
The FOREO LUNA 4 has replaced my Clarisonic Mia. Now I don't have to remember to buy replacement brush heads. I also don't have to charge the LUNA 4 nearly as much as the Clarisonic needed charging. I don't know if it was getting old or what, but it seemed like every other time I used it my Clarisonic needed charging. FOREO devices get up to 600 uses per charge! Unlike Clarisonic Mia's nylon bristle brush head, the Luna 4's silicone brush head is antibacterial. I can rest assured that the thing I'm using to clean my face is actually clean itself! Plus, the LUNA 4 goes beyond cleansing and also firms — my Clarisonic Mia can't make any anti-aging claims! I'm a convert, for sure!
Related Reading: