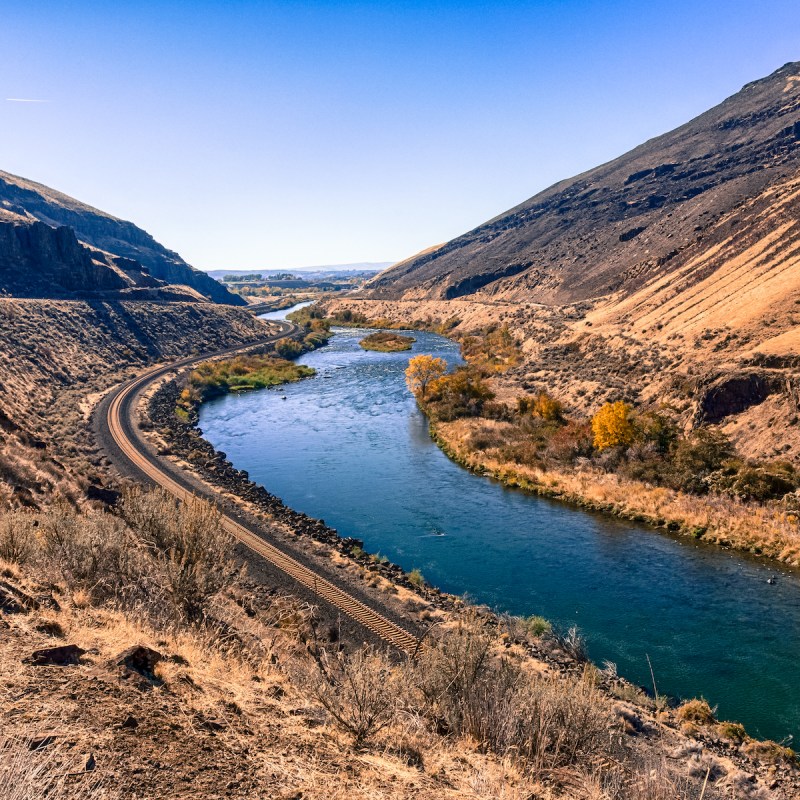 If your mental picture of Washington only includes rain, grunge, or the gum wall, it's time you were introduced to the rest of the state. While I'm not suggesting Seattle doesn't have its place as a travel-worthy spot on your list of places to see, there's a whole lot of Washington outside of Seattle.
Take a drive with me on a sunny day (the Yakima Valley gets 300+ days a year of sunshine, so the odds are in our favor!) and explore the Yakima River Canyon. This drive is beautiful any time of year, but if you want truly stunning scenery, schedule this trip in autumn.
The Yakima River Canyon Scenic Byway runs from Yakima to Ellensburg. The drive is a little over 25 miles each way. Also known as Washington State Route 821, this designated scenic byway offers views of the Yakima River and the rangelands that loom over the sparkling river. It's a gorgeous, peaceful drive on a winding road with a safe guardrail.
Note: I was a guest of Visit Yakima and the city of Union Gap. My lodging, meals, and activities were given to me to facilitate my coverage. All opinions are my own.
The Yakima River Canyon Marathon and Half Marathon take place each April and close off the road for the runners, so if you're planning a spring drive, make sure you check the calendar.
Here's a list of five points of interest, but plan on making more stops. There are several unnamed but well-marked pullouts and rest areas that are perfect for taking pictures and taking in the views.
Pro Tip: Don't depend on cell service. Download maps or go old school and grab that paper map so you'll know where you're going if you lose connectivity.
1. Umtanum Creek Recreation Site
Umtanum Creek Recreation Site is a scenic and pristine spot for hiking, fly fishing, rafting, and scenery. The area is managed by the Bureau of Land Management and has lots of hiking trails, campsites, and boat launches. See the BLM website for info on trails and use fees.
Most of the trails are moderate to difficult, so if you have mobility issues or aren't in great shape, you may not want to venture too far from the trailhead. There are scenic water views from the bridge that is accessible to just about everyone. The bridge is near a put-in area, and it's fun to watch the fly fisherman set out on their adventures.
2. Yakima Skyline Trail
The Yakima Skyline Trail is a moderate hike that offers stunning views from the Canyon Rim. The full trail is 4.4 miles round trip, but this is an out-and-back trail with various points where you can turn around if you prefer a shorter hike. This trail is at its best during spring when the wildflowers are in bloom.
3. Canyon River Grill/Red's Fly Shop
Red's Fly Shop offers boat rentals, guided fishing tours, and boat tours. Lunch and dinner hours at the adjecent Canyon River Grill are fairly limited, but a meal out on the deck might be worth planning your drive around. The menu has a Cajun flair, which is quite unexpected in the Yakima Valley. The chef is from Louisiana and has added his own touches to many of the dishes.
If you don't make it for lunch or dinner on the designated days, there's a breakfast bar with coffee and breakfast sandwiches as well as to-go lunches. There's also an adjacent resort, Canyon River Ranch, if you're seeking an upscale spot for a longer stay.
4. Precision Fruit And Antiques
This part of Washington is farm country. Spring and summer bring a bounty of fresh, local produce. Visitors to Precision Fruit and Antiques will find local asparagus, peaches, apples, cherries, and more, depending on what's in season.
Locally made sauces, glazes, and jellies, as well as unique gifts and antiques are available year-round. Fresh, seasonal produce is always a fun find, but the different products using Washington fruits and vegetables are especially great take-home treats.
5. Gard Vintners
Gard Vintners has several locations in Washington, including one in Ellensburg. Their wine-tasting flight includes six one-ounce pours for $10, which is refundable if you purchase a bottle to take home. They also serve beer and a variety of light bites, such as panini, flatbreads, and salads.
As Active As You Want To Make It
One of the best things about this scenic drive is that it's accessible for just about everyone. If you or someone in your group has mobility restrictions or physical limitations, seeing the gorgeous scenery from a car window is on the low spectrum of physically challenging. Visitors who want to kick the activity level up a notch have many options for walking and more intense hikes along this scenic byway.
Want To See The Sights Without Driving?
The Yakima River Valley is home to a plethora of wineries and breweries. Most of the world's hops for beer brewing come from this area, and the state of Washington in general is known for excellent wines. If you're a fan of craft beer, the phrase "kid in a candy store" will apply… there are a lot of choices. I came away thinking, "So many beers, so little time," which beer lovers can probably relate to.
If you want to combine your scenic drive with some day drinking, hire a driver. Little Hopper Yakima Valley Beer Tours (they do wine tours, too) is a hop-on, hop-off style tour bus, but they are also available for private hires. They know the Yakima River Canyon well and are able to curate a custom tour that includes the stops you want. The folks at Little Hopper are a great resource for things to do and see in the area, so even if you don't want to focus heavily on beer or wine, it's worth contacting them to see if a custom tour is right for you.
The changing of the leaves makes fall the prettiest time to make this, drive but don't count the Yakima River Canyon scenic byway out if an autumn trip doesn't align with your plans. The spring wildflowers are something to see, too.