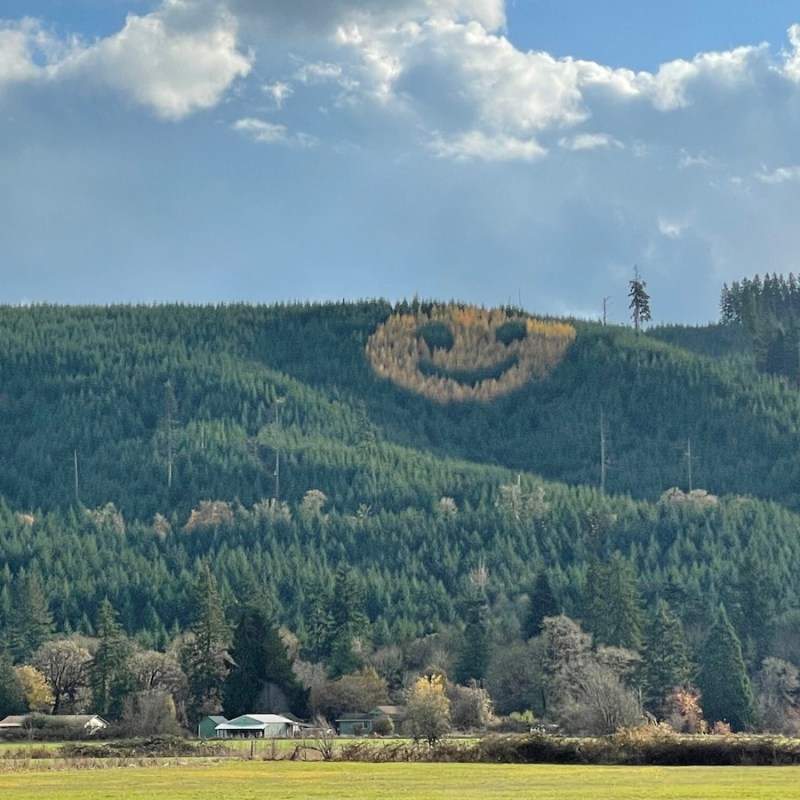 Motorists traveling south on Highway 18 in Oregon are soon to be in store for a surprise.
A giant smiley face stands out on the hillside near mile-marker 25 on Oregon 18, between the towns of Grand Ronde and Willamina. Interestingly, the giant smiley face, which you can see here on land owned by Hampton Lumber, is intentional.
Why There's A Giant Smiley Face
After every harvest, foresters at Hampton Lumber start the reforestation process to ensure a healthy forest regrows in the area, says Kristin Rasmussen, a Hampton Lumber spokesperson, according to Oregon Live. Depending on the location and environment, they typically plant a variety of native species — such as Douglas fir, western hemlock, noble fir, and western red cedar — to suit the elevation and soil conditions.
"The idea for the smiley face started with David Hampton and our former timberland manager, Dennis Creel," said Rasmussen, according to Simple Floors. "When we harvested the site, we knew the area was highly visible to people traveling down Highway 18 so David and Dennis saw an opportunity to have a little fun."
How The Giant Smiley Face Was Created
In 2011, Hampton and Creel "used a rope to measure the circle out, and then the eyes and mouth were triangulated from that point," Rasmussen said. "Douglas fir was planted for the eyes and mouth and the rest of the face was filled out with larch. Both species will eventually be turned into lumber at our sawmills in Willamina and Tillamook."
Here's why the choice of tree species is important.
Douglas fir, while not technically a true fir tree, does have a cone shape like other spruces and it is an evergreen, meaning its needles remain green year-round. The trees, which can reach heights of 80 feet, can grow to be 12 to 20 feet in width, according to The Morton Arboretum.
Meanwhile, larches, which also have the pyramid shape typical of conifers, can reach heights of 65 feet tall. What's different, however, is they are not evergreens.
"Larch needles turn yellow and drop off in the fall, which is why the smiley face is best visible this time of year," Rasmussen said, reports Oregon Live.
How You Can See The Giant Smiley Face
Fortunately, the giant smiley face is easy for motorists to see while driving on Oregon 18 between Willamina and Grand Ronde, about 65 miles from Portland.
The best time to see the giant smiley face is in the fall when the larch needles turn yellow. Don't worry if you can't see the face this year, however.
Rasmussen says the giant smiley face will be visible every fall for the next 30 to 50 years. That's when the area will be harvested again.
While you're thinking about fall colors and road trips, be sure to also read our fall travel content: