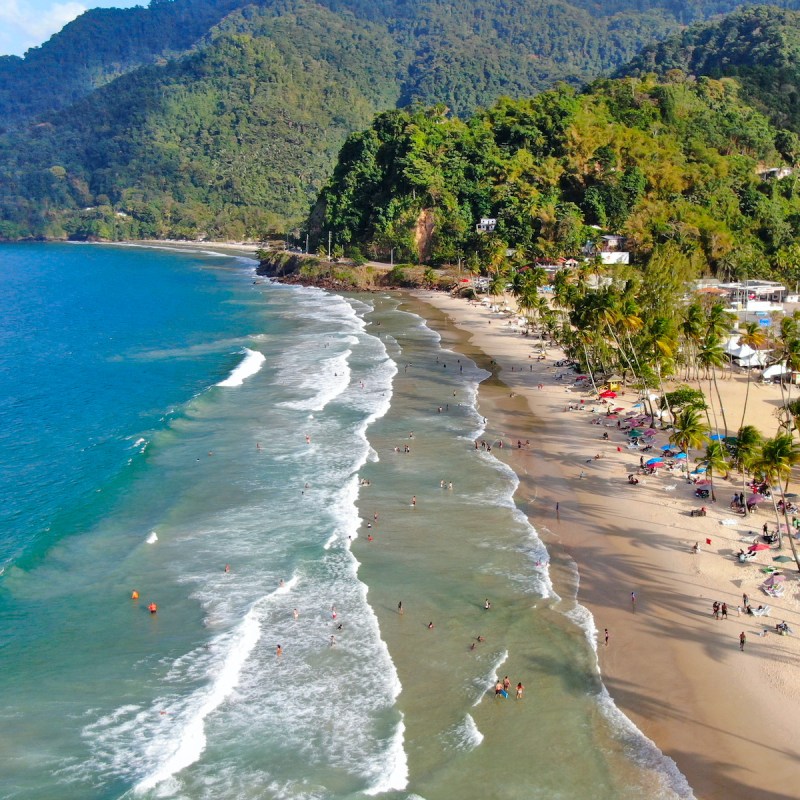 The sunset was a half hour ago, and then the sounds of soca dance music and calypso began. The street was now a dance floor filled with people of various ages talking while waiting to dance. Soon they were moving, gyrating, and dancing in sensual ways. More people joined in as the DJ amped them up with songs: "Thief a Wine," "Wine Up, Wine Up," and "1, 2, 3, Let's Go!"
The revelers began reveling as nearby police officers tapped their feet. Tourists joined in, surprised and excited by the celebration. From the nightclubs and lounges along the street, observers, drink in hand, gyrated in place as the colorful lights highlighted everyone's performance.
This kind of energy is expected during the Carnival, but those official festivities were months away. To my surprise, this was a typical night on Ariapita Avenue in Port of Spain.
Carnival In Trinidad
When asked about Carnival, which began in the late 18th century, Trinidadians often joke that they celebrate every day except Christmas.
Carnival was born out of rebellion. Its roots lie in both African and Indigenous beliefs. "Cannes Brulees" (Canboulay), which was originally celebrated in August, coincided with the burning of sugar cane that was intended for sale, which enslaved Africans purposely set. The formal celebration would later be moved to the Monday and Tuesday prior to Ash Wednesday.
During the original celebration, the revelers wore masks and costumes so they could remain anonymous while both dancing and singing. Since its inception, white settlers, enslaved, free, and indentured would come to celebrate even when these activities were outlawed for black and brown inhabitants.
By the 20th century, Carnival became known for its masquerade or costumes. This would lead to the formalization of characters such as Dame Lorraine, who would mimic popular French dress. Moko Jumbie would stand on stilts 6 feet or higher, Pierrot Grenade made speeches while in colorful rags, and Midnight Robber performed speeches that tended toward dread.
Accompanying the revelry was calypso, a musical style derived from West African Kaiso music while sung in Creole. This enabled slaves to pass along secrets that often consisted of mocking the slave owners and the upper class.
Soca was derived from calypso, and with the inclusion of indentured Indians, chutney soca was added to the mix. Another key component is the pounding of metal drums (steel pans).
Today, Trinidad is known worldwide for its celebrations that flood the streets and beaches with locals and tourists ready for a party.
1. Ariapita Avenue (The Ave)
Most travelers arrive in the capital of Port of Spain, often opting to leave immediately thereafter. Yet this is the ideal place to start if you want to celebrate and feel the spirit of the Carnival. The capital has Carnival bands practicing their routines, people putting together their masks or costumes, and daily events in the public parks.
A stay in town allows you to observe, practice, or learn dance moves before visiting other parts of the island. The best place to start is on Ariapita Avenue, which locals refer to as The Ave.
Obviously, the best nights to visit are on the weekend, but you can still find partygoers throughout the week. Smokey and Bunty serves as the local favorite, while La Habana, Clubhouse, and Frankie's serve as good alternatives.
Do not feel uncomfortable about asking for help in perfecting your moves or learning dance terminology. Once you are feeling more confident, wrap up the evening by visiting a local food cart.
A mix of Caribbean foods — such as jerk chicken and curried goat — is always available, along with specialties such as Doubles (chickpeas between fried flatbread with various sauces) or local fast-food chain favorite Royal Castle. Some of these venues stay open until 4 a.m.
To leave the city, it is best to either have a rental car on hand or hire someone like Marcus, a fun-loving weekend guide, to show you where the following locales are and take you to their best areas.
2. Maracas Bay
Located about an hour from Port of Spain, Maracas Bay is one of the most popular local beaches on the island. Unfortunately, there are no hotels, just a long stretch of sand with groups of people dancing on the beach.
Upon arrival, stroll around to find your spot. Once you are settled, there should be a Johnny's Young Coconut cart roaming the area. Buy yourself a freshly cut coconut filled with milk and rum before you join one of the parties close by.
The immediate first thought of many visitors is that they have aged out of the party atmosphere, but not joining in is what sets travelers apart. Regardless of age, there will be something for everyone from a dance line to full-on Carnival spirit. You can now use the moves you practiced in town. When you have worked up a sweat, jump into the bay and cool down.
Afterward, head over to Richard's Bake and Shark and try a sandwich. The restaurant is easy to find due to the crowd grooving from side to side while getting their meals.
3. Las Cuevas Beach
Further north lies Las Cuevas with a much more adult vibe. Here, you will find more people relaxing in their beach chairs while the music plays nearby. Individuals and families often prefer this beach because of the lack of crowds, so it is not unusual to find children running around while fishermen dock their boats on the far north end.
Bring some Trinidadian dollars since there are no ATMs, and plenty of vendors are ready to sell refreshing drinks. If you are lucky, you might find someone selling some Portugal fruit. Its name came from the small Portuguese community that developed in Trinidad in the 19th century.
The music forms more of the backdrop at this beach, so relax and take a dip. People come early in the morning, park, and spend the day just resting. If you are feeling a bit more active, there are hiking trails to the adjacent rainforest. Reach out to one of the vendors and he or she can point you in the direction of a guide who can help you navigate the terrain.
4. Macquarie Beach
This beach is a bit closed off from the others on this list. An entry fee is required, but the view and locale within the area known as Chaguaramas make it worth your time and money.
A word of caution is needed about this beach due to the sharp drop-off in the ocean not far from the beach.
Similar to Las Cuevas, Macquarie is not crowded, but don't be surprised if someone brings a radio.
A notable local landmark is The Temple in the Sea (Waterloo Temple). This is a re-creation of an older temple constructed in the 1930s by Sewdass Sadhu, a former indentured worker who wanted a place to worship. Unfortunately, it was demolished years later by the government. The current temple is the completed second temple on which construction began in 1947. It was not completed by Sadhu prior to his death in 1970.
The final completed temple is available for all visitors to view, but please take off your shoes before entering. It was reconstructed in 1995 and re-opened to celebrate the anniversary of the first indentured arrivals to Trinidad.
5. Manzanilla Beach
Located on the rural east coast of the island, this beach is a bit far from the other locales. If you have the time to visit, I would make the hike simply to see another part of the country.
This beach is the perfect option to round out your travels within the country. Manzanilla is where you visit to escape everything else. Long stretches of sand, swaying palms, and lack of noise confirm that sentiment. The waters here can get a little rough, so it is better to stay near the beach markers.
The boardwalk provides easy access to vendors selling plenty of drinks to help cool you down. Music will be blasting from the various boom boxes to help keep you on "island time." If you find yourself wanting to explore the area, the Nariva Swamp is parallel to the beach. If you are lucky, you might spot one of the leatherback turtles nesting nearby.
The Spirit Of Carnival
By many, Trinidad is considered a Carnival-only experience or a cruise stop among other destinations. For me, it took about 4 days to finally realize that the Carnival is not a 2- or 3-day event. It is the culmination of the culture of Trinidad and Tobago, which takes a whole year to re-manifest.
Although music and dancing are the most popular aspects of the culture, it also shows itself in the food, the stillness of the beaches, and the setting of the sun. It's the fresh-cut coconut with a shot of rum to local slang such as, "Any time is Trinidad time."