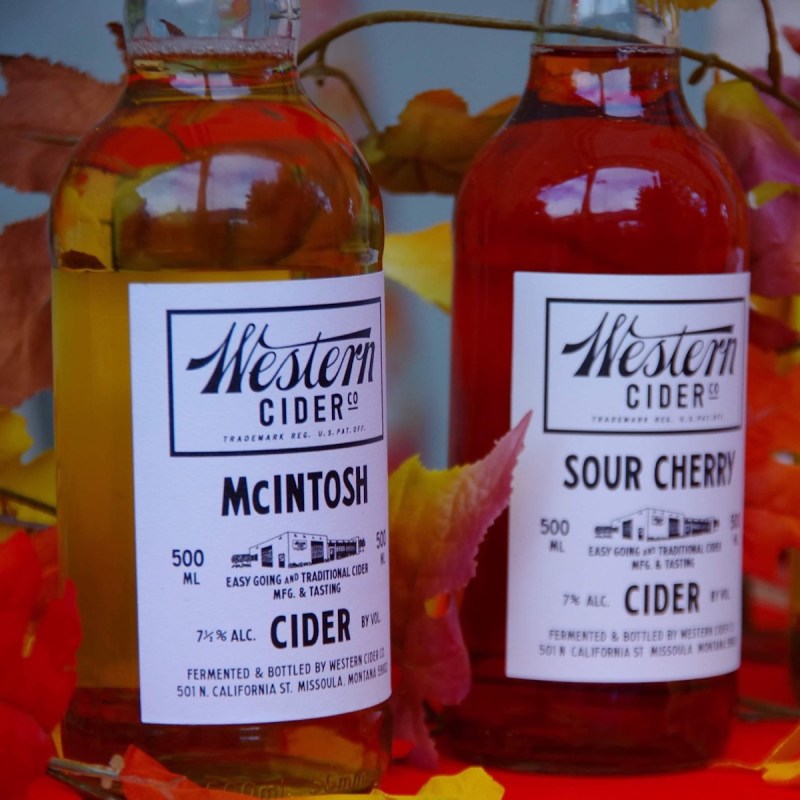 The Northwest offers so much more than a spectacular coastline. When the air turns crisp, your fall visit to this part of the country should leave room for some of these festivals celebrating all things apple:
1. Ravalli Museum McIntosh Apple Day & Liquid Apple Night
Hamilton, Montana
Do you love apple butter, apple pie, and hard apple cider? Then you will love Apple Day and Liquid Apple Night at the Ravalli County Museum!
McIntosh Apple Day
Hailed as the Biggest Bake Sale Under the Big Sky, the 43rd annual McIntosh Apple Day Festival is not to be missed! This time-honored festival was recently named one of the "Top Festivals in the United States" by Flight Network.
This street festival includes hundreds of made-from-scratch apple pies, fresh-bottled apple butter, apple slices with creamy caramel sauce, apple cider, barbecue pork with apple chutney, beef steak kabobs, live music, children's activities, and up to 180 local and out-of-area vendors.
Enjoy arts, crafts, food, and produce from the local Hamilton Farmers Market, as well as new vendors from outside the area. The highlight of the day is the signature bake sale. Hand-picked, locally grown apples are lovingly crafted into apple pies.
Liquid Apple Night
This hard cider festival takes place in the evening following McIntosh Apple Day. Cider companies from all over the Rocky Mountain Northwest are invited in to share their craft. The ticket price includes a commemorative glass for cider sampling.
There are also local food vendors and live music. This event will take place on the museum grounds, in the evening, under the beautiful Montana sky. Burn barrels and propane heaters will be available for keeping warm and toasty!
Dates: Saturday, October 1, 9 a.m. to 3 p.m. and 5 p.m. to 9 p.m.
Admission: Apple Day is free ($5 suggested donation per person), Liquid Apple Night is $30 — purchase tickets here
Parking: Limited handicapped parking on Third Street; parking on adjacent streets is free
Contact: (360) 385-0519
2. Olympic Peninsula Apple And Cider Festival
Port Townsend/Jefferson County, Washington
You are invited to celebrate the season and tastes of the Olympic Peninsula during the sixth annual Apple and Cider Festival. Appreciate the traditions and culture of growing apples and brewing cider with a truly authentic Pacific Northwest, tree-to-glass weekend experience.
The weekend schedule shows all venues and their associated fee. Attendees are welcome to join for one, two, or all three days of feasting, tasting, and celebration. Weekend passes are on sale. A $75 pass includes VIP entry to all events/venues plus a limited edition swag bag for bottles.
Note: There won't be a Friday night tasting event this year. Check back for a possible alternative.
Dates: Friday, October 7 through Sunday, October 9, various locations/hours
Admission: Tickets are available here
Parking: Available at various venues
Contact: (360) 385-0519
3. Onalaska Apple Harvest Festival
Onalaska, Washington
Onalaska's Apple Harvest Festival celebrates and highlights the area's agricultural heritage, rural roots, and small-town living, where virtually everyone has an apple tree in their yard. Apple Harvest is an opportunity to share rural lifestyle and history, showcasing the talents, skills, and values of the local Onalaska community. Come celebrate the fall harvest with activities for the whole family!
Onalaska's Apple Harvest Festival has 70+ vendors, including farm and homestead products, educational booths, and more. The Apple Harvest Parade begins on Saturday, October 1, at 11:30 a.m. at the corner of 5th and Carlisle Avenue.
Events include apple pie baking and eating contests, apple pie auction, farm and homestead tour, farm-to-table dinner, pancake breakfast, live music, corn hole tournament, apple cider pressing, and a beer, cider, and wine garden. Check their website for more information.
4. Lattin's Country Cider Mill And Farm Apple Festival
Olympia, Washington
Since 1976, Lattin's Country Cider Mill & Farm has been known for its award-winning apple cider. Enjoy a day in the country amid the sweet aroma of apples at Lattin's Cider Mill and Farm Apple Festival. Sample fresh picked, crunchy apples, apple fritters, and apple cider. Enjoy wagon rides, visit the farm animals, and ride the train.
Dates: Saturday, September 24, and Sunday, September 25, 9 a.m. to 5:30 p.m.
Admission: Free
Parking: $5
Contact: (360) 491-7328
5. Marcus Ciderfest
Marcus, Washington
Are you all about the apples? CiderFest offers fresh cider, pressed on site. Cider can be purchased at the Cider Booth located in Marcus's Lower Park. Fresh cider is sold by the gallon, half gallon, or cup. You can even enjoy a hot cup of cider on a cold fall morning.
Celebrate the small-town atmosphere with traditional carnival games and prizes galore. Enjoy a front-row seat as the parade travels along Highway 25. The parade begins at 10:30 a.m., with floats, fire engines, and more. In addition, visitors will enjoy the car show, featuring everything from antiques to hot rods. This popular car show offers something for everybody!
There will be more than 100 vendor booths offering local homemade items. Beginning at 11 a.m., musicians fill the stage located in Upper Park, near the food court. Local bands will play all day, offering a variety of musical choices sure to please everyone. When the sun goes down, enjoy the live music offered in the beer garden (open Friday from 4 p.m. to 12 a.m.).
Dates: October 1, 10 a.m. to 2 p.m.; happy hour from 4 p.m. to 6 p.m.
Admission: Free
Parking: Around the park
Contact: octoberciderfest@gmail.com
6. Cider Swig — 9th Annual Greater Peninsula Cider Festival
Tacoma, Washington
Following the pandemic-imposed hiatus, the Cider Swig returns in full fashion with a variety of Northwest ciders to savor, live music, and award-winning curbside cuisine by area chefs and their food trucks/tents. This is a 21+ event.
One of Washington's largest cider-centered festivals, Cider Swig attracts thousands of visitors each year. The tasting event will showcase more than 130 Northwest ciders in addition to wine, mead, beer, and other regionally-crafted libations. Born out of a commitment to community and the environment, and the love for local flavor, Cider Swig connects festival goers directly with the makers. And, the Swig's Pop-up Bottle Shop is back, so you can take your favorites home to enjoy.
The Cider Swig admission fee includes five drink tokens, a 6-ounce festival glass, live music and entertainment, and access to food, a pop-up bottle shop, vendors, and all other festival activities. Additional tokens are available at the event.
Pro Tip: Cider Swig typically sells out about 2 weeks prior to the festival! Advance ticket purchase is required.
Dates: Saturday, September 24, 12 p.m. to 8 p.m.
Admission: Tickets will be available here ($10 to $123)
Parking: Upper and Lower Parks
Contact: (253) 514-6338, ciderswigq@gigharborfoundation.org
7. Fortuna Apple Harvest Festival, Northern California
Fortuna, California
The Fortuna Apple Harvest Festival in Northern California celebrates the historic apple harvest and Fortuna's Clendenen's Cider Works & Orchard.
Individual events typically include A Taste of the Harvest Hard Cider Festival, a cider works tour, narrated tours of the historic apple orchard, applewood barbecue, live music in several venues, artisan and craft booths, a bounce house, and children's games. Visitors can enjoy fan-favorite foods like kettle corn, apple pies, apple crisp, jam, cookies, and more!
The 2022 festival will be held with the Downtown Fortuna Street Fair, and there will be free hayrides to events all over town. It will continue on Sunday with orchard hayrides, live music, and cider at Clendenen's Cider Works.
Dates: Saturday, October 1 through Sunday, October 2
Admission: Free 
Parking: Take Kenmar or Main Street exits from Highway 101, park at one of five venues, then take a free hay wagon ride to your desired event
Contact: (707) 725-9261, fbid@sunnyfortuna.com
8. Bauman's Cider Festival
Gervais, Oregon
Enjoy a day of amazing cider tasting and fun at the sixth annual Bauman's Cider Festival. What better place to enjoy some of the best ciders in the Northwest? The Bauman family has been growing apples and making cider since 1895. This festival attracts some of the top cideries in the Northwest. The event will all be under one roof for your tasting and drinking enjoyment!
Advance admission purchase is not required. You can buy your admission at the festival entrances. Advance ticket purchasing (check the website closer to the festival date) will be offered as a convenience for those customers who prefer to do so online.
Note: Cider festival tickets are only available online and are limited to a total of 1,200. There will be no Cider festival ticket sales at admission booths. These tickets are non-refundable. You must be 21 or older to purchase cider festival admission and participate in tastings. Underage children are permitted in the festival area as long as they are accompanied by their parents or guardians.
The recommendation is to come early and spend a good chunk of the day. At a minimum, plan on spending approximately 3 hours there. Please note that admission booths will stop selling tickets at 4 p.m.
This year, there are more than 25 activities for kids of all ages. These include the animal petting zoo and barn, Bauman's cider sampling, gopher hole tunnels/slide, a jumping pad, nut house, rope maze, dark rope maze, bug train, apple cannon, and corn maze.
Dates: Saturday, October 29, 11 a.m. to 5 p.m.
Admission: See pricing on the Bauman's website
Parking: Parking is always free. Parking on weekends is directed by volunteers from the Marion County Sheriff Cadets.
Contact: (503) 792-3524, baumans@baumanfarms.com
Have room in your schedule for other fall festivals? As you plan your fall vacation, be sure to check out all of our fall festivals at TravelAwaits. For more on the Northwest, explore these articles: