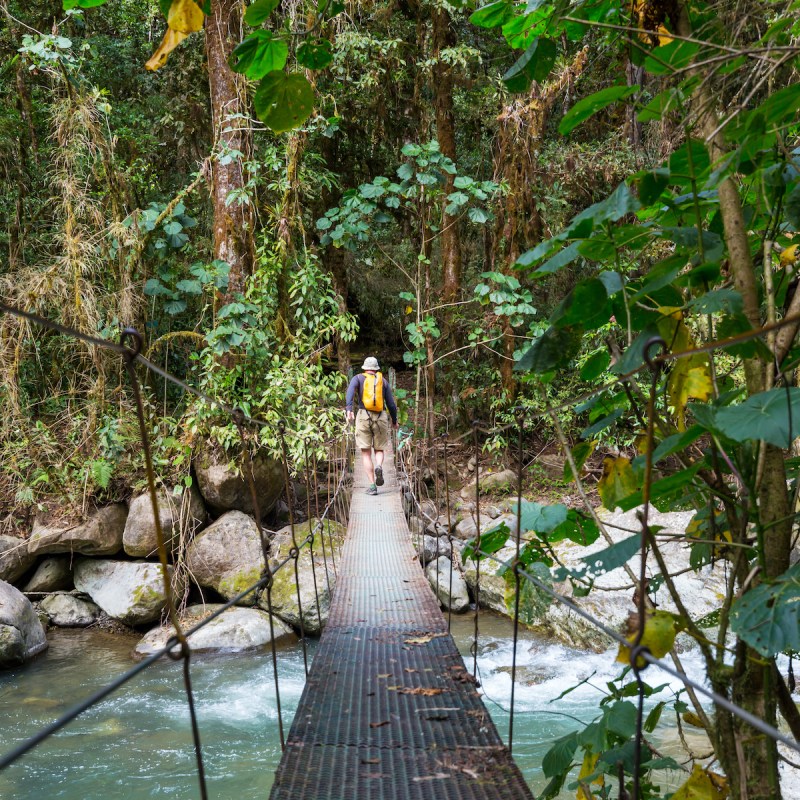 It may be time to make a huge change. Our lives are in a certain place because of our decisions. Many of us are reluctant to follow another path.
For those who have decided to change their ways, to not only uproot, sell their belongings, say "goodbye" to their friends, neighbors, and family, but to move to Costa Rica, this message is for you. Costa Rica Immigration and Moving Experts, the company I work for, has assisted hundreds of individuals and families in their move to Costa Rica for over 15 years. I field many questions and I hear about their fear of starting over in a new country, thousands of miles away from their comfortable reality. I appreciate the courage and bravery of those who have decided to start a new life in one of the happiest countries on the planet!
Let's discuss the things that you'll have to give up. I refer to this step of the process as the "adapt or perish" phase.
Things You Can Give Up
1. Owning A Huge Home
Downsizing one's life! After many years of having space for everything, you're considering a life without any room for your stuff. In Costa Rica, you don't need all of that space. Much of your life is spent outdoors. Many of my friends are always outside in their gardens or on their porches, enjoying a cup of coffee in the morning and watching the sunset with a glass of wine at dusk.
2. All Of Those Toys
A trampoline, two jet skis, three sets of golf clubs, and a boat that has drained your wallet since you first bought it 12 years ago. Toys that have been a part of your family for many years. Are you able to part with these? Sure you are! In Costa Rica, national parks, beaches, volcanoes & wildlife become your "toys" and they don't require upkeep! You're exchanging your possessions for adventures. Visiting the Corcovado National Park, the Manuel Antonio National Park, the Arenal Volcano and the many beaches here will motivate you to spend most of your time outdoors! No need for all that responsibility anymore. It takes time and effort to keep your toys in working order. Your time is better spent enjoying Mother Nature.
3. Life In The Fast Lane
This is difficult for some at first! In today's society, we're used to all that gives us a convenient life. Amazon delivers our purchases to our homes on the same day! We have 24/7 UberEats, GrubHub & Postmates! If we want a stack of pancakes and scrambled eggs at 2:00 a.m., we push a few buttons and it's here! If we don't have time to shop for groceries this week, click here and click there, and an hour or so later, it's at our doorstep. My point is that we are all used to the fast-paced, I-need-it-right-now attitude. The stress of not having "convenience" at our fingertips anymore is hard to get used to for some. It takes a mindset of, "Do I need it that quickly?" Once you do get used to the slower pace, it energizes you and allows you to rework your priorities. You can get into a much-needed position to stop and smell the roses.
4. Spending Hours On Social Media Or Watching TV
When our clients are finally settled, they tend to not spend their free time watching television anymore. They don't waste hours on the internet as they did before. The internet reception is very strong in many areas of Costa Rica, by the way. The things that were important to them are now exchanged for more time spent outdoors, meeting new people, learning Spanish, and enjoying a new way of life. It is refreshing and allows one to grow as a person, take up new hobbies and reboot their creativity!
5. The Days Of Preparing Huge, Unhealthy Meals
Steak and potatoes, barbecue ribs, and red meat to name a few. How many years could you add to your life if you decided to not make these "main courses" the norm? When people move to Costa Rica and they begin to frequent the farmers' market when they see all of the juicy, colorful, and heart-healthy tropical fruits such as mangos, soursop, and papayas, they begin losing a lot of weight. Many of my friends have lost over 30 pounds each. A frequent question that we are asked is how to plant a garden! Those who had not one smidgeon of interest in growing their own fruits and veggies all of a sudden have a strong desire to do so. It does not take having a green thumb to be successful in growing here. The soil is full of nutrients and contains everything one needs to grow healthy, hearty plants. If you replace your fatty meats with green, leafy veggies and life-giving fruits, the weight is going to fall off quickly! All that you ate before you started your new life is easily given up and is not missed whatsoever!
Let's talk about some important things that you will gain when living here in Costa Rica. This is the fun part!
Things You'll Gain
1. Peace Of Mind That You Made The Right Decision
There's a period of time that you are thinking about the decision that you made in moving to Costa Rica. Will I be happy here? Did I make a terrible mistake? So many questions. You may even miss your old way of life for a short time. However, once you're here for a while, everything seems to fall into place. You finally realize that the life ahead of you is full of opportunities that you never would have had if you didn't make your move!
2. The Regeneration Of Your Spirit And A New Outlook On Your Future
We've all been in a rut. In fact, I heard some statistics while doing research for this article that 84 percent of those who live in the USA suffer stress-related feelings of woe and despair. Because of the simplicity of life here in Costa Rica, our spirits and our souls seem to reboot. This generates feelings of happiness and joy every day. It is refreshing to not have so many things in our lives about which to worry. This new freedom creates room in our minds to think more about how to have a wonderful life.
3. Time For What Is Important
If your life is full of "things," then there's no room to store the memories that are made when enjoying yourself! Keeping your life simple and rearranging priorities are something that you will cherish. Once you know exactly what is important to you and how you will get there every day, you will see just how deep you were in the "complexities" of your old ways of living.
4. A Life Lived To The Fullest
Creating lasting friendships and being excited about living in your new country that you now lovingly call, "home" will give you something that you never had before. This is an overwhelming feeling of euphoria. Living life to its fullest is certainly on the bucket list of everyone I know. Because of the vast expanse that Costa Rica and Mother Nature offer those of us who are fortunate enough to have found her, we get up every morning with that excitable edge and the need to explore and grow as a person. This is the most important thing that you gain when moving here!
5. A New Language And New Friends
This is perhaps the most important item on our list. You are going to feel so proud of yourself. You're going to go through some tough times learning the Spanish language, but it will challenge you and force you to grow as a person and step out of your comfort zone throughout the entire process. There are many informative websites, such as Duolingo, Babbel, and Busuu.
Whether it takes you a few months or 3 years to master the language, once you do, you'll feel on top of the world. You will double your pool of potential friends here in Costa Rica when you learn to communicate with those who only speak the native language. You'll open yourself up to new relationships that you would have never had if you didn't take the time and effort to learn Spanish.
Those new friends will have an impact on your life. I have a good friend who met his wife in Costa Rica while he was on vacation. He didn't know too much Spanish and she did not speak any English. But, he tried hard to communicate with her that first day and the rest is history. In fact, a year or so later, he finally learned how to say, "Will you marry me?" Apparently, she understood him perfectly because, after almost 20 years, they are still married and madly in love!
When you retire to Costa Rica, what you will gain will surely surpass anything that you would have had in your home country. If you do decide to live here, keep in mind that I have only scratched the surface of the benefits that you will experience here in one of the happiest countries on the planet, Costa Rica!
For more information on retirement locations, check out these articles: