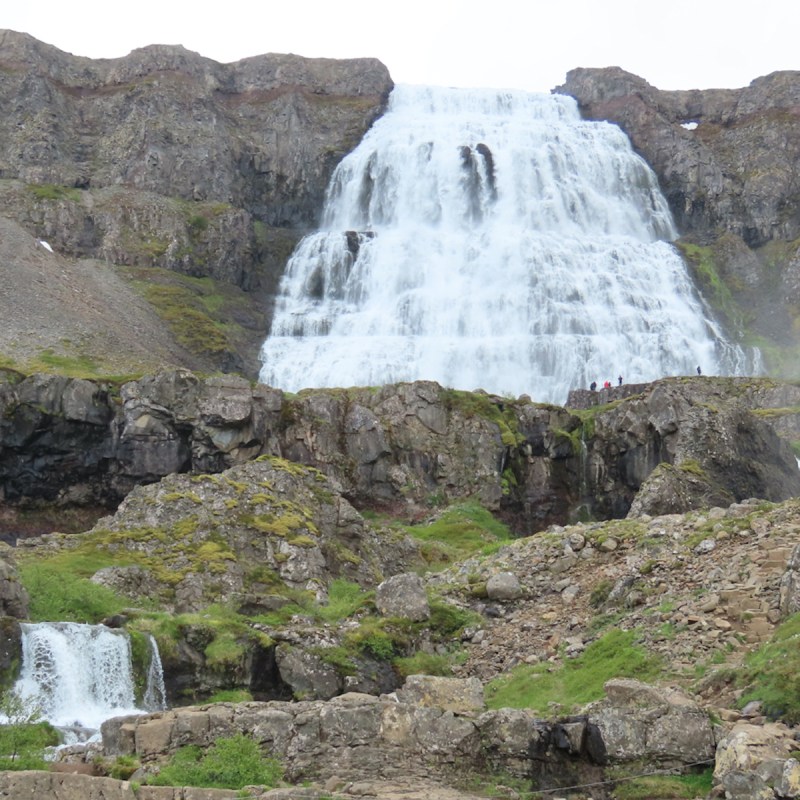 Many visitors to Iceland limit themselves to Reykjavík and the "Golden Circle" of well-known tourist locations. However, by taking a road trip along the West Coast, you can enjoy these sights as well as some of the country's lesser visited places. With this itinerary, you will take in dramatic changes in scenery, often experiencing coastlines, mountains, waterfalls, and lava fields all in one day.
Much of your drive will be along the Iceland Ring Road. Elsewhere the roads are mostly good, but you will encounter a few unpaved sections. All of the places in this itinerary can be reached with a normal rental car. It is only necessary to hire a 4-by-4 if you are planning to travel further inland or to drive on the less accessible F-roads.
This trip can really only be done in the summer months (May to October), as it takes in the remote Westfjords region which can sometimes be inaccessible in the winter due to snowfall and road closures. Visiting in the summer gives the advantage of long hours of daylight, especially in the north. However, if you want a chance of seeing the northern lights, you will need to travel in September or October.
You will need to pack clothing for a range of weather conditions. In the south, summer temperatures can vary from hot to cool, and you always need to be prepared for rain. Whereas in the north (almost, but not quite, in the Arctic Circle), a sunny day may be followed by one in which you are glad of a scarf and gloves.
You will become immersed in Icelandic culture and customs as you visit the small towns and villages along the coast. There will be lots of opportunities for hiking and birdwatching.
1. Reykjavík
You are likely to start and finish your trip at Reykjavík, around 30 kilometers from Keflavík International Airport. Iceland's capital city is small and walkable, and you can explore it comfortably in a couple of days.
A good place to start is with a walk along Laugavegur, the main street which is lined with shops, restaurants, and bars. Features of this street include traditional Icelandic townhouses, street art, and games such as snakes and ladders painted onto the road. Elsewhere look out for Hallgrimskirkja, the distinctive church that dominates the city skyline, and the old harbor, with its restaurants and boat trips.
You could spend your entire time in Reykjavík exploring the city's many museums. In particular, I would recommend the Settlement Exhibition, located on Reykjavík's oldest street, and the Maritime Museum, close to the old harbor. Finally, there is the scenic 3-mile Sculpture and Shore Walk, where you can stroll around the waterfront and enjoy the sea views and artwork.
A good place for dinner is Kopar on the old harbor, which serves traditional Icelandic dishes.
Pro Tip: A popular day trip from Reykjavík is the famous Blue Lagoon, 50 kilometers away. This is a geothermal spa where you can bathe and experience the healing power of silica mud. Note that tickets need to be booked well in advance.
2. Snæfellsjökull National Park
Snæfellsjökull National Park is at the western end of the Snæfellsnes Peninsula, north of Reykjavík. Its main feature is the dramatic glacier-topped volcano Snæfellsjökull. It was from here that Jules Verne's intrepid explorers made their fictional journey to the center of the earth.
The volcano is surrounded by a massive lava field, where you can enjoy the scenery, hiking, and birdwatching. Close to the national park, on the north of the peninsula, you could make brief stops at a series of small towns. These include Hellissandur (the "street art capital of Iceland") and the pretty town of Stykkishólmur, where excellent fish and chips are available from a harbourside stand.
Pro Tip: It is possible to visit the Snæfellsjökull glacier itself, although — unlike Jules Verne's characters — you cannot go inside the volcano! However, getting to the top requires a 4-by-4 vehicle, so you may wish to book a guided tour. Save a lot of driving by taking the 2.5-hour ferry crossing from Stykkishólmur to Brjánslækur. The ferry runs twice a day, and you are advised to book in advance.
3. Dynjandi
As you carry on north, you will come to Dynjandi, a magnificent series of waterfalls. The main waterfall is 100 meters high, with six smaller falls beneath it. There is no need to walk very far, as you can enjoy the spectacle from the bottom, but an uphill path gives you a closer view.
Dynjandi is a popular excursion for day-trippers and cruise ship passengers. However, it has a large car park and does not feel overcrowded. Note that you are unlikely to find anywhere to eat on the way and you should bring a picnic or arrange to eat in your hotel later.
4. Ísafjörður
Ísafjörður is a small town in the Westfjords region and has a spectacular setting at the head of a fjord surrounded by mountains. The town itself is small but interesting — look out for the colorful houses, harbor area, and the Westfjords Heritage Museum. There are hiking trails at the back of the town.
Ísafjörður is an ideal base for exploring the Westfjords. If you spend 2-3 days here, you could drive up to the fishing village of Bolungarvík, the Ósvör Maritime Museum, and then carry on to the spectacular viewpoint at Bolafjall (the latter is not recommended if you suffer from vertigo). You could also take a boat trip to spot birds, whales, or just enjoy the scenery.
Dining options in Ísafjörður are limited, although the hotels have restaurants. The fish buffet at Tjöruhúsið looks interesting, but it gets very busy. It might be worth a try if you can get a booking.
Pro Tip: Boat trips available vary according to the day of the week and the weather conditions. I particularly recommend the half-day tour to the privately-owned island of Vigur. Here, you can learn about the harvesting of eiderdown and get up close to lots of birds, including a puffin colony. Just remember to wear warm clothes, even in summer!
5. Reykholt
By European standards, Iceland doesn't have a lot of historic sites, but Reykholt is considered one of the most important. This was the home of the 13th-century poet and politician Snorri Sturluson and the Cultural Centre includes an exhibition of Snorri's life and times. A short trail around the village takes you past some archaeological remains in the churchyard and to Snorralaug, a 10th-century pool fed by a hot spring and perhaps one of the oldest man-made structures in Iceland.
You could explore Reykholt itself in half a day. However, a longer stay would allow a diversion to the geothermal area at Deildartunguhver and the underground lava cave of Víðgelmir. The only place to eat in Reykholt is at the Fosshotel, but you will find one or two roadside restaurants on the way to Deildartunguhver.
6. Þingvellir
Þingvellir (also spelt Thingvellir) is one of Iceland's main tourist attractions. This is where the Icelandic parliament — the oldest parliament in Europe — once met, from medieval times until the end of the 18th century. It was an open-air assembly, so there are no buildings to be seen, but a flagpole marks the spot where leaders addressed the crowds below.
The Þingvellir National Park is remarkable for its natural environment as well as its historical significance. This is where the European and North American tectonic plates meet and a giant rift runs through the park. It is a landscape of rivers, lakes, and hills, with abundant plant and bird life. You could easily spend a whole day here, exploring the history, hiking the many miles of trails, and climbing up to the Öxarárfoss waterfall.
The visitor center has a café and an excellent exhibition about the history and natural environment. The national park has several car parks. However, note that exploring the site will involve a certain amount of walking, some of it on slopes.
Pro Tip: Þingvellir is on the "Golden Circle", the road that connects some of the country's most popular tourist sites. You might wish to make a diversion to visit Gullfoss, one of Iceland's most beautiful waterfalls, and Geysir, the mighty spring that gave its name to all geysers worldwide.
7. Hveragerði
Hveragerði is sometimes known as the "Hot Springs Town" because of all the geothermal energy in the area. There is a geothermal park in the center of town, where you can watch a geyser erupting, soak your feet in Icelandic mud, and even boil an egg in one of the hot pools.
You could explore the town in half a day, but a longer stay will allow you to walk in the hills behind Hveragerði. A 3.5-kilometer walk (mostly uphill, and a bit rough underfoot) will take you past gently puffing springs and to a river where you can bathe in the hot water.
If you stay overnight, a recommended place to eat is Ölverk, a friendly pizza restaurant that cooks its food using geothermal energy.
Pro Tip: Hveragerði is just over 50 miles from Keflavík Airport, making it a convenient place to end your road trip if you do not wish to return to Reykjavík.
For more information on traveling to Iceland, check out these articles: