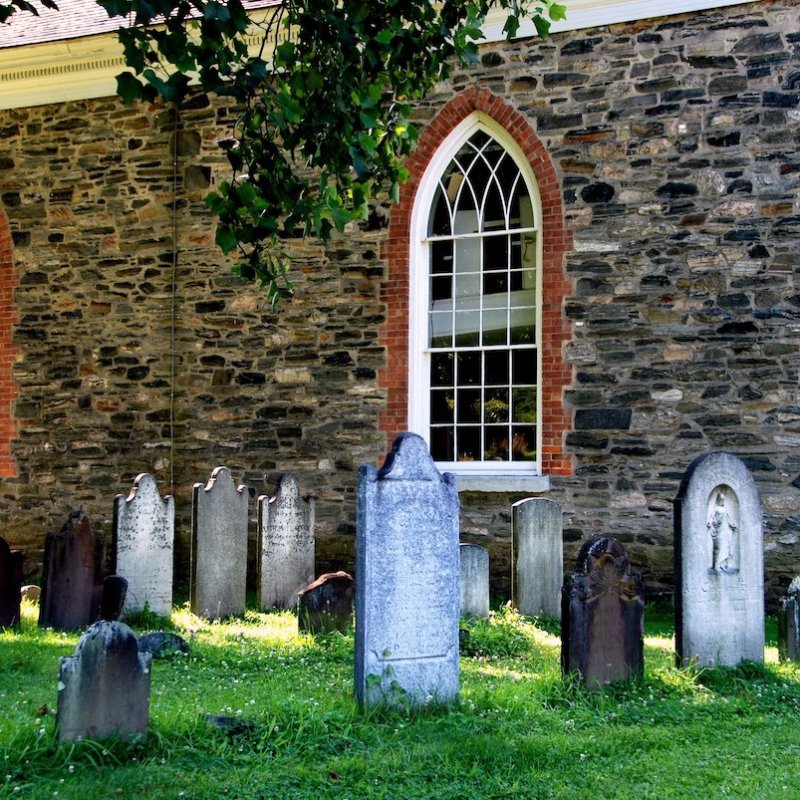 From the ghoulish events and lantern lights of Halloween to tours of historic estates and lazy summer day picnics in the park to experiencing The Legend of Sleepy Hollow by Washington Irving, Sleepy Hollow is full of things to do any time of the year. If you love history, food, architecture, and nature, you'll want to put Sleepy Hollow on your list of places to go.
We've been to Sleepy Hollow many times and we never fail to find something new and interesting to do. Not many charming small U.S. towns have that many attractions as Sleepy Hollow.
This is why we recommend going more than once: first for Halloween, and then again as part of a visit to the Hudson Valley to enjoy the charm and historic sites at a less crowded and more leisurely pace. Or do as we have done, go often and in every season.
Since Washington Irving and The Legend of Sleepy Hollow are so important to the town — once called North Tarrytown, the town changed its name to Sleepy Hollow in 1996 — we'll start with the sites related to the story.
10 Memorable Things To Do In Sleepy Hollow and Places to Visit
1. Sleepy Hollow Cemetery
Let's begin with the Sleepy Hollow Cemetery. The cemetery is a prominent feature in The Legend of Sleepy Hollow and it's a good place to begin your orientation to the town. Irving is buried in the cemetery, but don't expect to get too close to his grave, though — it is protected by a fence. If you visit during the month of October, you will likely find throngs of young people in costumes in the cemetery.
In addition to Irving, the cemetery is the final resting place for a number of historical figures, including Andrew Carnegie, Samuel Gompers, Elizabeth Arden, and Brooke and Vincent Astor. You'll also find memorials for Civil War soldiers. The cemetery is open Monday through Friday from 8 a.m. to 4:30 p.m., and Saturday and Sunday from 8:30 a.m. to 4:30 p.m.
The Sleepy Hollow Cemetary adjoins the Rockefeller State Park Preserve which is another popular place to visit while in Sleepy Hollow.
Pro Tip
The cemetery is very large, approximately 90 acres. It's best to pick up a map so that you're not wandering aimlessly. There are also guided tours, especially in October.
2. Dutch Reform Church
Founded around 1685, the Dutch Reform Church is also featured in The Legend of Sleepy Hollow. Ichabod Crane was in a mad dash to get to the church before the headless horseman got to him. Still, with an active congregation, the church has been in continuous operation since the late 1600s. The cemetery is the burial ground for the church. The grounds close at 4:30 p.m.

As for the history of the Dutch Reformed (Sleepy Hollow) Church, it is a lasting reminder of Dutch influence in the times of colonial America when Frederick Philipse I, Lord of Philipsburg Manor, built the church for his tenant's religious services.
Pro Tip
The church is open for very limited hours on the weekends. If you are there when the church is closed, it's still beautiful to see it from the outside, right before you walk into the cemetery.
3. Headless Horseman Bridge
Another must-see location in Sleepy Hollow is the Headless Horseman Bridge. If you're walking through the cemetery, take a detour to the bridge. The bridge over the Pocantico River where Ichabod Crane falls off his horse no longer exists. Despite the lack of historical accuracy, this bridge is still a picturesque spot for a picture or selfie.
Pro Tip
If you're short on time or not a diehard Irving fan, we recommend skipping this stop.
4. Headless Horseman Sculpture
Spend a few minutes taking a photo of the Headless Horseman Sculpture. It's a depiction of the moment in Irving's book when the headless horseman throws the pumpkin at Ichabod Crane. It's on Route 9 right across from the Philipsburg Manor.
So, what is the significance of the Headless Horseman in Sleepy Hollow story? To answer this, we'll travel back in time all the way to the Gothic times (Early Gothic (1150-1250), High Gothic (1250-1375), and International Gothic (1375-1450)) when the headless horseman was believed to be a supernatural entity that was continuously seeking revenge on people and haunted them, much like the past that never dies, but perpetually haunts the living. This belief was the inspiration for Washington Irving's "The Legend of Sleepy Hollow".
5. Philipsburg Manor
Stop by the Philipsburg Manor which also makes an appearance in Irving's story and is right next to the Hudson River. Frederick Philipse came to the Hudson Valley in 1653 as a carpenter. His family ended up owning more than 50,000 acres in the Hudson Valley.
In 1750, the manor was a working farm that relied on the labor of 23 slaves, making the Philipses one of the largest slaveholding families in the northern colonies. The museum now depicts the history of the slaves during that period. Tours are available Friday through Sunday between 10:30 a.m. and 3:30 p.m.
6. Washington Irving's Sunnyside Estate
Washington Irving's Sunnyside Estate is an important stop in Sleepy Hollow. He bought the two-room Dutch house in 1835 and extensively remodeled it. Make sure to wander the grounds to admire the landscaping. You'll see guides in period costumes and experience what Irving's life would've been like.
The estate is wheelchair accessible. Guided tours are available on Thursdays through Nov. 9 between 10:30 a.m. and 3:30 p.m. and from November 18 to December 18, they're available on Saturdays and Sundays between 10 a.m. and 3 p.m.
Pro Tip
While not officially in Sleepy Hollow, Lyndhurst Castle (Mansion) is just 2 miles away. One of the best examples of Gothic Revival architecture, the mansion has 19 rooms and 67 acres of gardens. There are many more historic mansions to see in the Hudson Valley.
7. Kykuit
Kykuit was formerly the estate of the Rockefellers and is part of the Rockrfeller State Park Preserve. If you like architecture, landscapes, art, gardens, or just seeing how the wealthiest people lived, Kykuit is a must-see. You could spend almost a whole day wandering the grounds of Kykuit. The gardens and sculptures are impressive. Make sure to see the table that had water floating in the middle for passing dinner dishes. Guided tours available between May 12 and November 12. This is just one of the many beautiful historic mansions you can visit in Hudson Valley.
Pro Tips
We recommend good walking shoes for this excursion. You cannot go into the grounds of Kykuit without booking a guided tour and it is best to book in advance. If you have a chance, we recommend the tour that includes the art galleries. It is an amazing collection. There are other tours that bring you into the main house and the gardens.
8. Rockefeller State Park Preserve
The Rockefeller State Park Preserve, located in Westchester County, is a wonderful spot for a picnic, a hike, or even a ride on a horse. Interestingly, the use of horse carriage is also allowed as long as you have the permit issued by the Preserve Office (for a fee.)

There are wetlands and a lake. If you are a bird lover, it's a great place for birdwatching.
It's also a great place for fishing provided that you have a New York state fishing license and Rockefeller Park permit.
Fun fact: most of the 55 miles of trails were personally laid out by John D. Rockefeller, Sr., and other members of the family.
Pro Tip
Most of the trails are easy but you still want to have a pair of walking shoes.
9. Armour-Stiner (Octagon) House
Make sure to stop by the octagon house to at least take a picture from the outside. It's a private residence now, though there are some tours that you can book in advance. The octagon house is unique in that … It's an octagon. Built in the 1860s, it's like an ancient classical temple. It's worth seeing from the outside and inside.
10. The Union Church Of Pocantico Hills
When we are in the Hudson Valley, we always try to stop by the Union Church of Pocantico Hills. Technically, it's in Tarrytown, but it is a mere stone's throw away from Sleepy Hollow. It's such a hidden gem that we must include it. Henri Matisse created the rose window — it was his last work before he died. Marc Chagall created the remaining stained-glass windows. The church was commissioned by the Rockefeller family, and many have worshipped there over the years. It's open Thursday through Saturday from 10 a.m. to 3:30 p.m., and Sundays from noon to 3:30 p.m.
Pro Tip
They don't allow photographs to be taken inside, so you'll just need to enjoy the experience.
Sleepy Hollow Restaurants
There are a lot of places to eat in Sleepy Hollow much like in all quaint towns in the Hudson Valley, including neighboring Tarrytown. For farm-to-table and local food, we recommend these four restaurants.
Hudson Farm & The Fish
If you are looking for a restaurant with great food and wonderful views of the Hudson River in Sleepy Hollow, go no further than Hudson Farm & the Fish. It features farm-to-table (with Purdy's Farm and the restaurant being owned by the same people), and they also have a full raw bar, excellent pizza, and many craft beers on tap to enjoy the Hudson River on.
J.P Doyle's Restaurant & Public House
J.P Doyle's is a local hangout. It's an Irish pub with comfort food galore. During warm weather, there's an outdoor beer garden. It's also a sports bar, so if you must watch a game while in Sleepy Hollow, this is the place to go. J.P.'s is within walking distance from Sleepy Hollow Cemetery and Philipsburg Manor.
Blue Hill At Stone Barns
For an upscale farm-to-table experience, try Blue Hill at Stone Barns (in 2019, Michelin gave it two stars). Don't expect to see a menu. Instead, you'll experience a multi-course feast chosen by the chef based on what produce is currently in season. We recommend taking a tour of the farm while you're there. You'll need to make a reservation well in advance to get a table. Also on site, the Blue Hill Café and Grain Bar is less expensive and much easier to get into.
Goosefeather
Technically in Tarrytown, Goosefeather is a short drive from Sleepy Hollow. Chef Dale Talde created Goosefeather as a place for upscale Cantonese food with a modern twist. He uses Hudson Valley produce to create a unique dining experience. It is a great setting for a romantic dinner. Goosefeather is located within Tarrytown House Estate, a very nice place to stay if you are in the area.
Full of history, drama and intrigue, literary references, parks, and dining experiences, there's something for everyone and every season in Sleepy Hollow.
For more Halloween-related places and activities, check out these articles:
FAQs
Is Sleepy Hollow A Walkable Town?
Running just 5 miles from north to south, Sleepy Hollow is a small town that can be walked within a weekend, or even a day or two. And with so many historical attractions, visitors will have plenty to do on foot — not unlike the other New York towns in the surrounding area.
What Are The Important Locations In Sleepy Hollow?
While looking at the small area that Sleepy Hollow occupies, Philipsburg Manor sticks out as one of the most notable locations in town. Dating back to the 1700s, the property is home to years of history and directly connects to Irving's iconic story.
How to Get To Sleepy Hollow From New York City by Train?
You can take the Metro-North Railroad – Hudson Line from New York City Grand Central Station to Sleepy Hollow's Philipse Manor station. The train ride is about 55-60 minutes long and costs $9 – $21.
Alternatively, you can take the express service to Tarrytown Station which is about 35 minutes ride.
Why Is it Called Sleepy Hollow?
It is called Sleepy Hollow because Adriaen Van der Donck, a Dutch colonist, lawyer, translator, and land owner first referred to the Pocantico River as "Slapershaven" or Sleepers' Haven when translated into English. That was way back in the 1650s. Sleepy Hollow got its current name as an Anglicized version of the original translation and is now applied to the valley of the Pocantico River.
Is Sleepy Hollow's Ichabod Crane Real?
Yes, Ichabod Bennet Crane (July 18, 1787 – October 5, 1857) was a real person. He was an American military officer for 48 years and the most probable namesake of the main character in Washington Irving's "The Legend of Sleepy Hollow".
How Long Is the Tour in Sleepy Hollow?
The Sleepy Hollow Cemetery Lantern Tour is two hours long. This hugely popular tour is organized under the dark veil of the evening with old-fashioned lanterns adding to a fairytale atmosphere.

You get to walk along the narrow paths of the Sleepy Hollow Cemetery to visit the final resting places of Andrew Carnegie, William Rockefeller, and the early 19th-century writer, Washington Irving, the author of the short stories "Rip Van Winkle" and "The Legend of Sleepy Hollow".