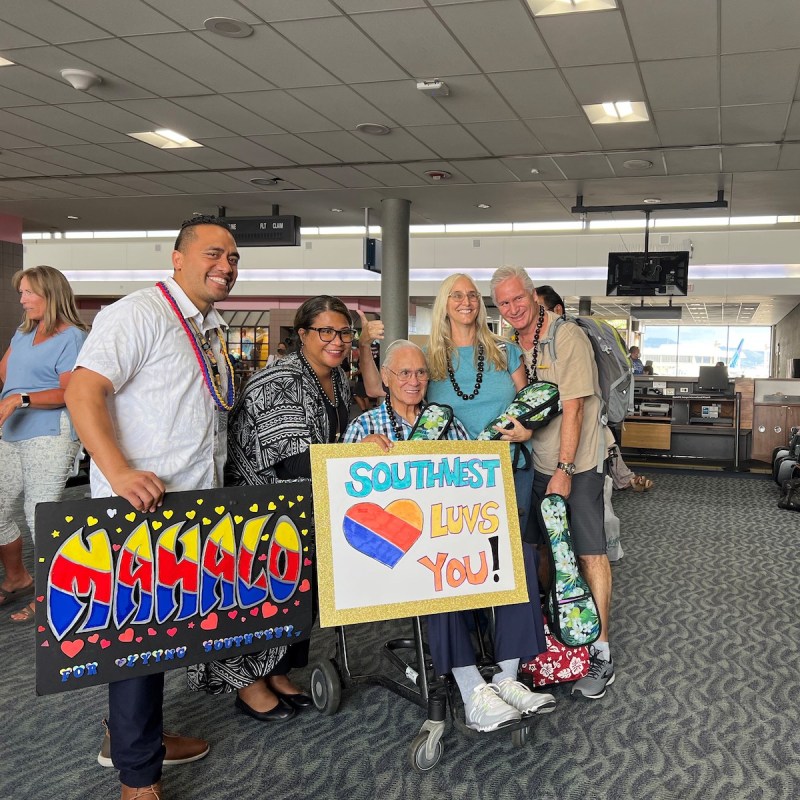 Passengers flying to Hawaii on a recent Southwest Airlines flight were put in the Aloha mood thanks to an on-board surprise.
Southwest teamed up with Guitar Center to gift all 175 passengers on the flight a Mitchell MU40 Soprano ukulele, a Road Runner carrying case, and a lesson in the sky from a group of instructors.
Passengers discovered that the instrument isn't difficult to play, and they were able to learn the song "Hello Aloha, How Are You?" during the flight.
Alexandra Windsor, an educational affairs specialist with Guitar Center Lessons, joined two instructors — Ryan Miyashiro and Ryan Imata — from the Guitar Center store in Pearl City, Hawaii, to provide the ukulele lessons on-board.
"I've taught students through Guitar Center lessons since 2014, but never in an airplane," Windsor said in a release. "It was inspiring to see how quickly passengers of all ages picked up the ukulele, many with no musical background."
Windsor noted the ukulele is one of the best instruments to pick up for a beginner.
"It shows just how fun and easy learning something new can be," Windsor said.
The instruments and lessons were a complete surprise to the passengers, who were traveling September 16 from Long Beach, California, to Honolulu.
It's the latest in what Southwest dubs surprise and delight events aboard certain flights.
"Our customers anticipate warm Southwest hospitality throughout their journeys with us, and these surprise and delight events are a unique way to create memorable experiences," said Brandy King, senior director of public relations for the airline. "Today's celebration of Hawaiian culture and Southwest hospitality underscore our everyday commitment to serve and celebrate the spirit of Aloha."
Those who weren't lucky enough to be on-board the flight can still have a shot at the celebration. Southwest and Guitar Center have teamed up for a sweepstakes for one lucky winner to earn two round-trip tickets and two ukuleles just like those handed out on the flight.
"Playing music is our passion at Guitar Center," said Danny Gruendler, vice president of music education for the company. "We offer Guitar Center lessons in almost any instrument online and in our stores across the country, and for this one-time special flight, above the clouds."
The company was happy to be involved in the event.
"Not many people can say they learned to play a song on a Southwest flight to Hawaii," Gruendler added.
For more timely travel news, check out these stories: