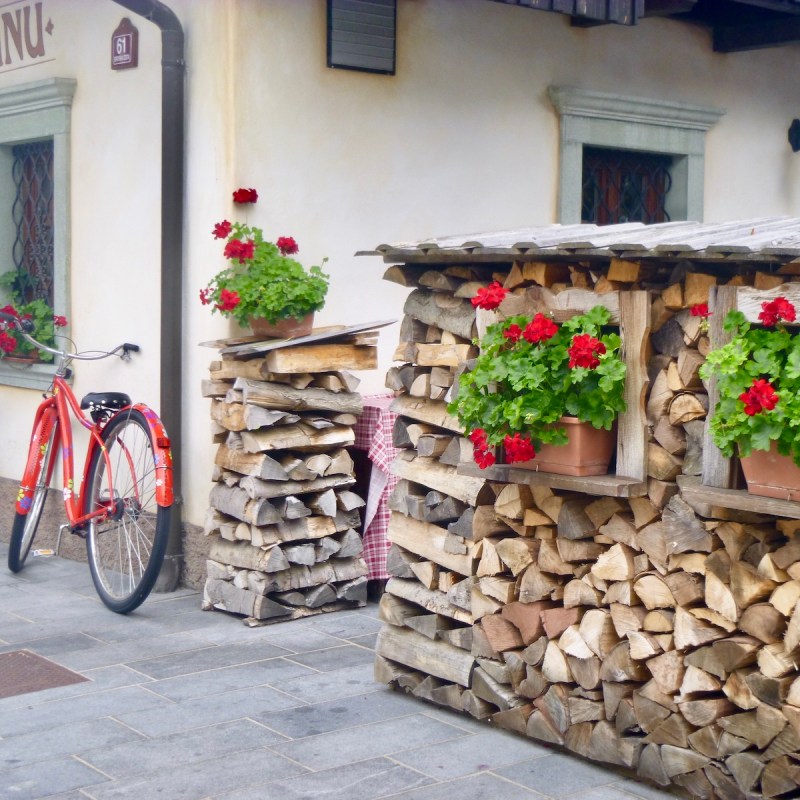 I know. I've already written two articles about our amazing bike tour through Slovenia, Austria, and Italy (one about biking in the pouring rain and one about biking three countries in a single morning). But, my heart will always be tender for one special night that combined local stories and customs with the unbridled joy of someone who felt like everyone's long-lost Slovenian grandmother.
My husband Dean and I love to bike, and we signed up for VBT's seven-day guided bike tour through Slovenia, Austria, and Italy. Even better — we were able to enjoy this trip with Dean's brother, Kevin, and our sister-in-law, Cheryl.
The itinerary promised a "special Slovenian evening in Kranjska Gora. Learn about local folklore, song and dance, plus enjoy a cooking demonstration in the village's oldest house, followed by a dinner of traditional Slovenian fare."
What VBT didn't tell us was that they had the sweetest, kindest little grandma who hosted us and loved us like we were her own, because I think we were. I think everyone who crosses her doorstep would be.
Here are six reasons why this was my favorite excursion on the bike tour.
1. Music To Our Ears
We took a bus from our hotel in Podkoren, Slovenia, to the little town of Kranjska Gora (trip change: VBT lodging is now right in Kranjska Gora). As we got off the bus and headed toward what is apparently the oldest house in the village, we heard the bright and happy melodies of an accordion. It set the stage for all the delights to come.
2. Everyone's Grandma And A Salt Greeting
A sweet little "grandma" in a patterned dress, big white apron, and red kerchief stood outside and warmly welcomed us. According to tradition, guests to a Slovenian home are greeted by a woman in national dress with bread and a bowl of salt.
Sure enough, she was holding pieces of hearty bread in a large bowl with a decorative towel and a smaller bowl of salt on top. With guidance, we took a piece of bread, dipped it in the salt, and ate it. This greeting meant that a friendship had been forged between us, but at the time, I had no idea how deep and lasting these feelings would be.
Our VBT guide, Ajda, greeted the little grandma with a kiss on the cheek. They must be good friends; they were so kind to each other. It was endearing.
Note that I'm just going to refer to this darling older woman as Grandma. I assure you, I mean it affectionately. She was a delight.
After our salt greeting, we went into the old Slovenian house — now a museum. Grandma welcomed us in Slovenian, the only language she spoke (although I think she was fluent in kindness and hospitality), and Ajda easily translated. Grandma exuded so much love and joy as she proudly told us about her country and heritage.
3. Helping To Prepare Slovenian Dumplings
Through Ajda's translation, Grandma talked about making a traditional Slovenian dumpling with cheese inside. Then, she asked us to come up, one at a time, and "help" her make it (I'm sure she could make it in her sleep). The tender dough was eventually shaped into half moons, and the tops were crimped like pie crust.
4. The House/Museum Tour
After the cooking demonstration, an older man took us room by room and explained the history of the home, the families who lived there, and their way of life. We went into a small room that had been used for smoking and drying meats — it had a very black ceiling, with thick sausages hanging from the beams.
Krampus
In the corner of one room, I couldn't help but notice a rather stuffed, rather scary looking creature. According to Slovenian custom, Krampus is a horned, half-goat, half-devil figure. As the legend goes, at Christmastime, he punishes children who have misbehaved. I guess he's the alter-ego to good old St. Nick!
5. The Barn
Next, we were led to a small barn on the property. It was a big, open room with wooden benches along the sides and a large floor in the middle (suitable for music and merry-making, games, jigs, and come what may).
The Cowbells
We were each handed a large or small cowbell decorated in alpine flowers and patterns. Accompanied by the accordion player, Grandma led us in song and actions. When she raised her right hand, those with large cowbells rang them. When she raised her left hand, those with small cowbells rang those. Chaos? No, it was wonderful!
The Hat Game
Our other VBT biking guide, Matija, invited the men to play a hat game. Four volunteers stepped forward: Dean and Kevin were brothers in a competitive game — what could go wrong? George from California and Scott from Connecticut participated as well.
Matija passed out black hats, and he explained how the game was played. The men stood in a circle — their left arm on the shoulder of the man to their left. As the accordion player provided music, they reached over with their right hand to remove the hat from the man to their right and put it on their own head.
Like musical chairs, when the music stopped, the man with no hat on his head was out. As the game progressed, Scott, George, and Matija were out.
Then there were two: the competitive brothers! The accordion player started to play, and there may or may not have been a brotherly shove and a desperate grab at a brother's hat. The music stopped and somehow, Dean had two hats on his head and Kevin had none. They announced Dean as the winner. Grandma stepped up, Dean kissed her hand, and they did a little jig together. Adorable!
The National Anthem And Firewater
A little background: we started this vacation with a pre-trip in Ljubljana, which included a tour by VBT guide, Samo. During that tour, someone asked him if he'd sing the Slovenian national anthem for us. He suggested we ask our biking guides (Ajda and Matija) whom we would meet when the cycling portion of the trip began (I think, in a good-natured way, he was setting them up).
Throughout the trip, we had asked Ajda about singing the national anthem, and she said she would. Now, the time had come. As part of this salute, we were offered a shot of strong liquor — another Slovenian hospitality. We held the shot glasses while they sang and would toast at the end.
The accordion player played the music, and Ajda and Grandma sang their national anthem for us. Their eyes were shining, and they sang out strong and true. Don't tell anyone, but I'm pretty sure I saw Matija, as he stood in the doorway, singing too. They are proud of this country they call home, and it was heart-warming.
When they finished singing, we lifted our shot glasses. The Slovenian word for cheers is živjo or na zdravje. What was this liquor? Firewater! It burned on the way down. Thanks to a web search, I'd guess it was slivovka.
6. A Slovenian Feast
Then it was time to eat! We walked to a nearby restaurant and the first course was soup — a beef soup with thin noodles and garlic soup. The main course included kielbasa, chicken, beef, onions and mushrooms, bread, buckwheat salad, cheesy potatoes, and a green salad. The food was delicious.
For dessert, we enjoyed light and dark blintzes, one filled with cheese and the other with a hazelnut spread, served with a big wave of whipped cream and jams on either side. Very sweet and very good!
Friends, Family, And The People I Met Along The Way
Of course, by now it's obvious that the biggest reason this was my favorite excursion was the special people I shared it with. My wonderful husband, Dean. Our always-up-for-adventure relatives, Kevin and Cheryl. Our 14 fellow bikers who chose a cycling vacation over all the other options available, and the quick comradery that formed when we spent a week together. Our impeccable VBT guides who seemed to genuinely love what they did and were good at it. The delightful accordion player and especially, a priceless little Slovenian grandma with sparkling eyes who shared her hospitality and heart with us. In my mind, she'll be eternally young.
Dean and I have had many wonderful domestic and international vacations and many wonderful moments along the way, big and small, but this special night in Slovenia — this little slice of culture and laughter and love — will forever be etched in my heart.