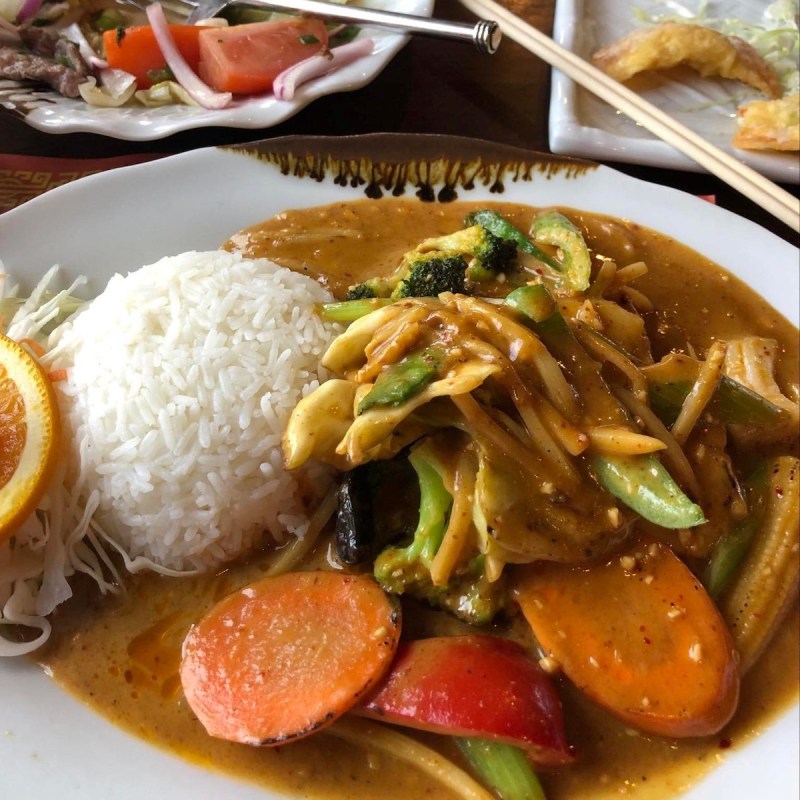 Whether you are planning a trip to North Carolina's Crystal Coast, driving on US Highway 17 between Wilmington and New Bern, or visiting loved ones at Camp Lejeune, eating in Jacksonville is a must, and it just got even better with the launching of the new Jacksonville International Food Trail. Jacksonville is a true melting pot of people, culture, and food and is an exceptional hidden culinary gem.
Note: Thank you to Visit Jacksonville for hosting our visit. The opinions offered are my own (and a bit of my husband's).
Origins Of The Food Trail
Jacksonville wanted a way to reflect and showcase the diversity of its community. They found a way through an abundance of authentic cuisine in and around Jacksonville. The various restaurant owners here have great passion for their culture, traditions, and food — and it shows. Hailing from countries and regions like Jamaica, South America, Taiwan, the Mediterranean, and the Philippines, just to name a few, they bring their cultural ties (and family recipes) with them.
Home to Marine Corps Base Camp Lejeune, military forces from around the world come on a regular basis for training and military exercises. Because of the area's coastal location, great weather, and abundance of activities, many personnel choose to retire in Jacksonville and make it their home. Many of the restaurants on the International Food Trail are veteran-owned.
What Is Jacksonville's International Food Trail?
The tourism development authority has recently launched its International Food Trail, not only to make it easier for visitors to find an abundance of hidden culinary gems, but to give foodies like me a handy checklist to "eat around the world" in one fantastic small city. Truly authentic cuisine, and a huge variety of it, is rarely found in cities the size of Jacksonville.
Phase I of the trail showcases 13 restaurants:
Agave Azul Modern Mex & Cantina in Sneads Ferry
Elsa's Place
Filipino Cuisine
Havana 58 Cafe
Liliana's Columbian Restaurant and Bakery
Marrakesh Mediterranean Cuisine
Mi Cabana Mexican Restaurant (three locations)
The Milk Road
The Old Siam
Olea Mediterranean Kitchen in Swansboro
Ice Cream Shop Paleteria Deya
Pho 7
Pollos Tete
More will be added later in the year with Phase II.
My Favorite Stops On The Jacksonville International Food Trail
With so many fantastic eateries, some not even on the trail yet, it is hard to name just a few of my favorites. On my most recent trip to Jacksonville, I tried foods that I never have tasted before. I decided to include three places here based on the dishes that I felt had exceptional flavors, ones that prompted me to say, "oooh" and "aaah" with every bite.
Filipino Cuisine
What To Order: Beefsteak adobo, chicken curry, pork sinigang (sour soup)
Honestly, you can't go wrong with anything on Filipino Cuisine's menu — lumpia, chicken curry, pancit bihon. Oh, and try the taro Snow Bubble Boba. So good!
I was not familiar with any of these dishes. Behind the counter, Charles patiently answered all my questions and even let me taste a few things before I ordered.
The Old Siam
What to Order: Vegetable panang curry (or choice of beef, chicken, pork, shrimp), tom yum (sweet and sour) or tom kha (coconut milk) soup, beef peppers steak
Watcharin Thaveevittayarak (Chef Eddie), owner and head chef of The Old Siam for almost 20 years, was trained in Thailand and knows his stuff. Our server, Sand ("like San with a d"), is a hoot and very sweet. I would almost go back just to visit with her. I'll also do my best to eat my way through their eight-page menu.
Marrakesh Mediterranean Cuisine
What to Order: Stuffed grape leaves, falafel, hummus, shawarma, kabobs, or a sampler platter to try everything
Ahmad Rahman and his family have owned and operated Marrakesh since 2010. You won't find better, more authentic Mediterranean food anywhere.
Pro Tip: Some Food Trail restaurants may not have websites or social media pages. It's recommended to call ahead to confirm days and hours of operation. Refer to the map above or this list for addresses and phone numbers.
Unexpected Big City Cuisine In Jacksonville
Some of the restaurants on Jacksonville's International Food Trail are located in strip malls with non-assuming storefronts. You won't find white-linen tablecloths and black-clad waiters in these places, but don't let appearances fool you.
What you will find are adult children happily taking food orders and patiently explaining particular dishes. Mom and Pop will poke their heads out of the kitchen, come over to say hello, and ask how your meal is. At every place, you will feel as though you are their most important customer of the day — and you are.