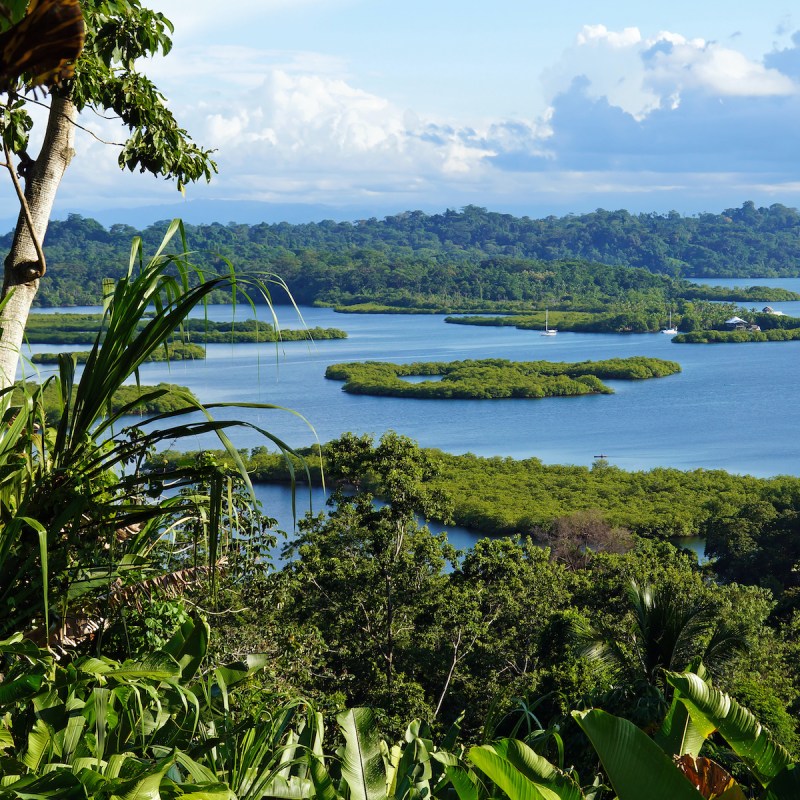 It's imperative to feel comfortable and safe while traveling.
Medjet
provides premier air medical transport, travel security, and crisis response memberships, providing peace of mind for an affordable price.
Watching the sunrise paint the sky a brilliant kaleidoscope of colors, my wife, Beverley, and I embraced, speechless, on the big-leaf mahogany deck at our rainforest treehouse. The beauty of the sun's vibrant ascent, backlighting clusters of dew-covered palm fronds, was complemented by the lush, emerald green forest spreading out toward the horizon.
Although coyly hiding from view, the croaks of toucans, the throaty growls of howler monkeys, and the metallic orchestra of tree frogs revealed their presence from the jungle canopy high above us — providing a Jurassic Park-like soundtrack (and for good reason: The howler's thunderous vocals doubled as monstrous T-rexes in the movies!). Blue morphos butterflies, along with clusters of orange-and-black monarchs, fluttered amongst metallic green hummingbirds – busily pollinating clusters of scarlet red zinnias. Behind us, warm, turquoise waves kissed the shell-covered shores, as though eager to blanket the golden sand beaches.
Not a word had to be spoken to know exactly how the other felt: If this wasn't paradise, then something was trying awfully hard to fool us.
Our Search For Paradise
Beverley and I have spent years searching for our perfect retirement paradise. We've visited the limestone cliffs of the Algarve in Portugal as well as the mountainous villages and beach towns of the Costa del Sol in Spain. We've climbed the Rock of Gibraltar, blazed trails through the sands of the Sahara Desert on camels, trekked through countless Maya ruins in Belize, and picked coffee beans in the volcanic hills of Guatemala.
That's just the tip of the iceberg. But nothing quite compares to here.
Twenty-nine countries later, our hearts remain captivated by this small tropical enclave, where pristine jungle kisses the sea: the province of Bocas del Toro in the northwest corner of Panama, bordering Costa Rica.
Of course, we always keep a checklist and scorecard. And I'll explain why this gem ticks most of our boxes — and where it falls a wee bit short.
Bocas Del Toro: The Caribbean's Best-Kept Secret
Surprisingly, Bocas, comprising a chunk of the mainland along with an archipelago of nine gorgeous islands and hundreds of uninhabited, or sparsely populated, islets, is often overlooked by sun-worshipping tourists. Which is fine by Beverley and me.
The packed, raucous beaches blasting loud, pounding beats in places like Cancun, Playa del Carmen, and Cabo San Lucas — inundated with those pesky beach hawkers — are a sharp contrast to Bocas's quiet, secluded beaches teeming with starfish and seahorses. To those who've found it, this haven is regarded as the Caribbean's best-kept secret.
Beverley and I enjoy busting a groove from time to time (there are a few places to partake in live music and a chill party atmosphere around Bocas Town's central park), but more often we prefer peaceful solitude. That's what we've found here.
Getting There
So, if you yearn to feel like a castaway on a more civilized version of Gilligan's Island, hop on an Air Panama puddle jumper from Panama City (where airlines fly non-stop to cities worldwide — another of our must-have checklist items) and head for Isla Colon International Airport, on Bocas's busiest island. Within an hour, you'll be landing at this, ahem, "charming" airport — where boys kick around a deflated soccer ball just a few feet from the landing strip.
Just don't leave it to the last minute to book your flight, or you'll get stuck taking the overnight bus like we did. The 8-hour bus ride isn't for the faint of heart: Most of the journey's along a two-lane, pothole-riddled road with plenty of hairpin turns on winding mountainous ridges of the Continental Divide. Rain and fog are common, and you won't spare yourself agony by trying to dose off since the driver routinely leans on his horn to scare oncoming traffic back into their lanes.
Oh, and he'll probably try to beat his best time too (tempted by no posted speed limits). Once you've reached the mainland town of Almirante, you'll then need to board a 30-minute water taxi or ferry to take you to Isla Colon. It's much better to fly. Trust us!
Your first impression upon arriving by air or sea isn't likely to be postcard-perfect, but take some time to explore, and your opinion should change. Bocas Town, the island's main hub, is a charming, Bohemian-style seaside community of brightly painted buildings — many adorned with colorful murals. Others rest on stilts overlooking the Caribbean Sea, with some "floating restaurants" accessible only by boat.
A Healthy And Chill Hideaway — Another Strong Selling Point
Healthy, stress-free living is important to us — and there are many opportunities to achieve that around Bocas. There's a bevy of tasty and hip restaurants, serving fresh seafood ("catch of the day" isn't a misnomer here), locally grown produce, and a wide range of international cuisine — including Thai and Indian food. Coconut milk is a staple, and healthy fruit juices and banana-mango smoothies sell at kiosks around town for a couple bucks.
The street food here is incredible — a large portion of wood-fired chicken or pork with two sides is just $5! (But don't worry, there's also pizza and pancakes to satisfy those decadent cravings!)
Fitness options abound — whether it's trail walking, swimming, beachcombing, bicycling, snorkeling, or surfing, there's no reason to laze about — unless, of course, you want to! And stress is just a nasty word here. Grab a late-night table under a palapa, watch the sun set in a blaze of glory over the clear ocean waters, and you'll see exactly what I mean.
Interesting People And A Vibrant, Supportive Expat Base In Bocas
We met travelers from around the world walking the streets. There are plenty of retired expats and locals, too, selling everything from fruits and veggies to nuts and freshly squeezed juices, all at prices unheard of in North America. Hand-painted murals and inspiring slogans — such as Marley's "One Love" — decorate the walls of rustic buildings, and numerous "flower power" Volkswagen Beetles add to this nostalgic aura.
Despite being a Spanish-speaking country with a sizable number of Afro-Panamanians, English is widely spoken here. You'll meet friendly expats — many from North America and Europe — faster than you can shake a fistful of palm fronds. Their advice comes freely, and it's often the same: Slow down, take your time, and enjoy exploring the beauty of the islands and their people. (Mixing and mingling with locals is important to us, as is being part of a strong and supportive expat community — like the one here in Bocas!)
Easy To Get Around, Plus Fun And Adventurous Accommodations
Transportation's a cinch. While the bus service is largely unreliable, taxis to anywhere on the island rarely cost more than $5. And, since many of Bocas's best beaches and accommodations are scattered throughout the islands, be sure to hop a water taxi to explore them. It only costs a few bucks.
Beverley and I stayed in The Cabin in the Trees at the Monkey Tree Ocean Retreat, a couple miles outside of Bocas Town. Situated amidst a tropical rainforest, with more sloths, snakes, and monkeys than people, this rustic jungle lodge is operated by brave Canadian expat Heather (now celebrating 20 years here), Ava, her teenage daughter, and their three rescue pups.
They welcomed us to their jungle paradise with a trayful of coffee and homemade organic fudge before escorting us to our treehouse — nestled amidst luscious orchids, dangling bromeliads, and gardens filled with ginger and herbs. It felt like we were visiting Nim's Island.
A stone hearth pizza shop, Ciao, just beyond the lodge's wooden gate, contrasts the sense of being lost in the Amazon. Across the street is Skully's, a bar and hostel run by California expat Steve, who embodies a real-life pirate — complete with a real peg leg! (Certain to scare small children — and anyone who's already enjoyed a few shots of rum!). Steve also runs Flying Pirates, renting bikes and 4x4s for trekking along the shoreline — or through the jungle — to search for hidden treasure.
Five minutes down the beach is the tranquil Bocas Surf Club at Paki Point, a tiki bar offering comfy lounge chairs, plenty of wood decor, an elevated yoga platform, and a great view of crashing waves. Enjoy tasty piña coladas sitting next to a statue of Buddha, watching surfers master the waves. It doesn't get much more zen than this, folks! Kiss those blood pressure meds goodbye!
A Brand-New, Modern Hospital Affords Excellent Local Healthcare
Speaking of which, quality health care is another of our must-haves. At the time of our last visit, Bocas' prime medical facility was an 80-year-old building that resembled a derelict schoolhouse. But thankfully, this is changing quickly. A brand-new, $28 million, 44-bed hospital just opened on Isla Colon, sporting modern medical equipment, with live-in accommodations for doctors and staff.
"Medical care is good and inexpensive here," Cheryl Scott, a resident expat from Dallas, told us. "I'm very impressed with the care I've received from the doctors on the island. We have an amazing community here working tirelessly to improve the quality of life — from caring for stray animals to recycling to after-school enrichment programs and protecting the environment."
Rentals Are Inexpensive (But It's Not All Perfect!)
While there's plenty of natural, pristine beauty, and the climate's often sunny and hot, Bocas is still a rainforest — receiving about 130 inches of rain annually. Real estate can also be a problem since, unlike most of Panama, land ownership here is governed by "Right of Possession" (ROP) laws, essentially deeming that whoever occupies a property owns it. Since such a system is wrought with abuse — often involving liens and litigation — it's best to avoid it. Instead of buying, renting is the way to go. Rentals are plentiful and cheap — most one- or two-bedroom apartments run between $550 and $890 per month (depending upon whether utilities are included). Higher-end units run pretentiously higher, at about $1,200 monthly.
A Strong And Enduring Contender For Our Paradise
Bocas is a place where you can walk barefoot in the sand, prepare supper watching macaws soar overhead, and awaken to the sounds of the ocean. And with its low cost of living (compared to North America), tropical climate, healthy lifestyle options, friendly locals, supportive expats, and safe, laidback, and carefree vibe, it simply feels right to us.
"My husband and I absolutely love it here!" Cheryl said. "We live much cheaper than we did in the States. But, most importantly, we live much, much better."
Although our search remains far from over (traveling is way too much fun!), Beverley and I also agree that, so far, Bocas has rocked our hearts. It's hard to imagine any better place to retire.
On the hunt for your own retirement paradise? Consider