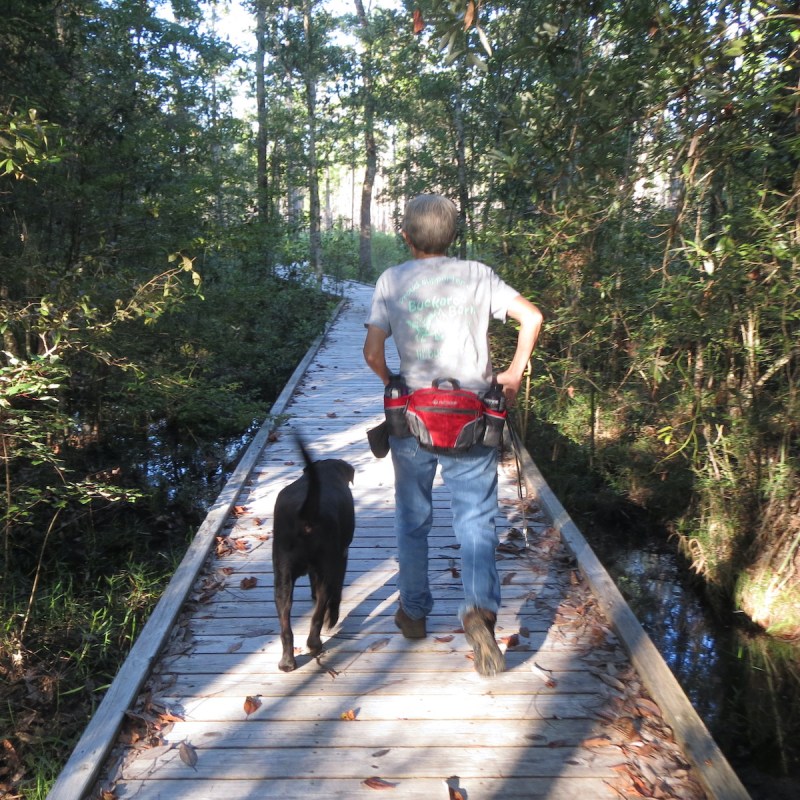 Are you a dog owner, or thinking of adopting a new pup, and want to take them on your next hike?
You would think that man's best friend is a natural-born hiker. It might seem like they're always ready to jump in the car, tail wagging, ready to hit the trail. That may be, but there are some things you need to consider and prepare for before hitting your first trail of the season with fido.
Even experienced, older dogs need to get ready for hiking season — they need to build up their stamina for the adventure, especially if they have been sedentary over the summer. You need to know how much water to bring for them and what gear you need. You need to know the signs of the most dreaded affliction they could encounter on the trail – heat-related illness.
Knowing and following a few simple tips can mean the difference between a happy and successful hike and disaster. Here are eight basic tips that you should know before taking your dog on that next hiking adventure.
1. Start With A Vet Visit
Your vet is the best source of information when it comes to hiking with your dog. If you have a a small puppy, they will tell you if their bones and muscles are developed enough to hit the trail — and how best to build them up. It's the same if you have an older dog. They could be experiencing a touch of arthritis or have other hidden physical ailments.
Your vet will also give you the best advice on preventive medicines, such as heartworm, flea, and tick medicine, to help keep your dog healthy on the trail.
2. Getting In Shape
If it has been a while since you and your dog have been hiking or if they are new to hiking, start them off slow. Begin with walks around the neighborhood and gradually build up the length of the walks. Then you can move to walks in local parks or state parks, gradually building up the degree of difficulty and length of the walk.
3. Obedience Is Everything
The best advice I can give you for hiking with your dog is to make sure they know the three basic obedience commands and can perform them reliably: come, stay, and wait.
Sooner or later, your dog will get away from you, so they need to reliably come to your call. And trails can be crowded with other hikers and cyclists, so they should be able to stay and wait at your command when others pass.
4. Gear Up
The discussion about what hiking gear is best for your dog can get pretty deep, and if you are talking about overnight backpacking, the conversation gets even deeper.
Let's keep it simple and discuss the basic gear you should have for a simple day hike of anywhere between an hour to a full day.
Shop Now
The only thing a collar is good for is to have a place to hang your dog's identification tags. Use a harness instead to avoid the serious damage to their throat that a collar can cause with excessive pulling or sudden lunges.
Shop Now
Most every national forest, state park, and national park these days requires you to keep your dog on a 6-foot leash when visiting. They are not allowed to run free for their safety and the safety of other guests.
People hate it when I tell them not to use a retractable leash on the trail. Your dog is basically out of control at 10 or more feet away. A serious accident can happen if a hiker or mountain bike suddenly appears from around a corner.
Shop Now
Dogs actually love to do work, so let them! Head to your nearest outfitter and fit them with a backpack and put some basic items in it for them to carry — think a small water bottle or their snack. Plus, many work as a harness.
Shop Now
Don't forget to have your dog's ID tags on them or have them microchipped in case they get lost.
Shop Now
These lightweight food and water bowls are the easiest for you (or your dog, in their backpack) to carry. Be sure to try the bowl out at home before you leave on your trip. Depending on the material it's made of, they may not want to use it. My rescue lab, Archer T. Dog, refused to drink out of any bowl when hiking — only from our water bottles.
Shop Now
Dog excrement is not healthy for the environment, especially if it is left near water sources, where it can cause outbreaks of E Coli. And it's not fun to unexpectedly step in dog mess when you're hiking down the trail. Keep the trail clean and the natural environment healthy by picking up after your dog and disposing of it properly when you leave the trail.
Other Gear
Besides the basics mentioned above, the American Hiking Society has an excellent resource page with even more gear tips.
5. Bring At Least 8 Ounces Of Water Per Hour
Water is a hiker's (and dog's) best friend but also their worst enemy. You both need enough water to keep hydrated, especially on hot days and full-day hikes, but it can be heavy to carry.
There are no firm guidelines for providing water for your dog. It's all subjective. Every dog is different according to its weight, stamina, and so on. The general rule is to provide 8 ounces of water per dog, per hour of hiking — but keep in mind, that number changes with trail difficulty, length of the hike, and temperature.
Try your best not to let your dog drink from untreated water sources like ponds and streams. It could contain all sorts of nasty germs, like giardia. Filter it before you or your dog drink from it.
6. Know When To Say When
When hiking, you may be fine continuing on an extra 4 or 5 miles farther than you anticipated, or feel you're able to stand the heat and continue on your way, but what about your dog?
Keep an eye on your dog's physical status while hiking. They will tell you if something is wrong and you need to cut the hike short. Maybe there is a limp. There could be burrs or thorns caught in their paws. Maybe they are slowing down or even laying down on the trail. It could be they are too tired or could be feeling the effects of heat.
Watch them carefully and heed the warning signs.
One of the most common and serious injuries that your dog can face is heat exhaustion. Hikers often fail to see the warning signs until it is too late and becomes heat stroke.
Know the warning signs of heat exhaustion:
Excessive panting or difficulty breathing
Dehydration
Excessive drooling
Fever
Bright red, gray, purple, or bluish gums
Lack of urine
Muscle tremors
Lethargy
Vomiting or diarrhea
Dizziness
If you see one or more of these symptoms:
Take them to a cooler area — shade or an air-conditioned building
Wet them with cool (not cold) water
Apply more cool water around their ears and paws
As they cool down, offer them lukewarm or cool (not cold) water
Take them to a vet as soon as possible
7. Bring Food And Snacks
Just like with water, there are no hard and fast rules. Every dog is different weight-wise and has different dietary needs, energy levels, and so on.
The general rule is this: If you are thirsty and hungry, they are, too.
If you are doing a full-day hike, feed them their normal ration when you take a lunch break. Pack along an extra cupful for added energy. If you are doing a shorter hike of an hour or two or half, snacks may be all they need.
There are some excellent dog snack recipes at the Mom On Timeout blog and Backpacker magazine that are really healthy for them. Archer really loved the peanut butter dog bone the Food Network's Giada De Laurentis cooked up.
8. Follow Trail Etiquette
As I mentioned earlier, I have not encountered any parks or national forests that allow controlled off-leash trails. That doesn't mean they don't exist. Please check with the park you plan on hiking at for their rules regarding dogs. Some areas, such as national wildlife management areas, may not even allow dogs on their trails.
Yield the right of way to oncoming hikers, bikers, and equestrians. Move off the trail as far as you can — preferably on the uphill side, especially for horses — and wait patiently.
And I'll mention it one more time, please practice Leave No Trace and clean up after your dog so that everyone will have a pleasant time on the trail.