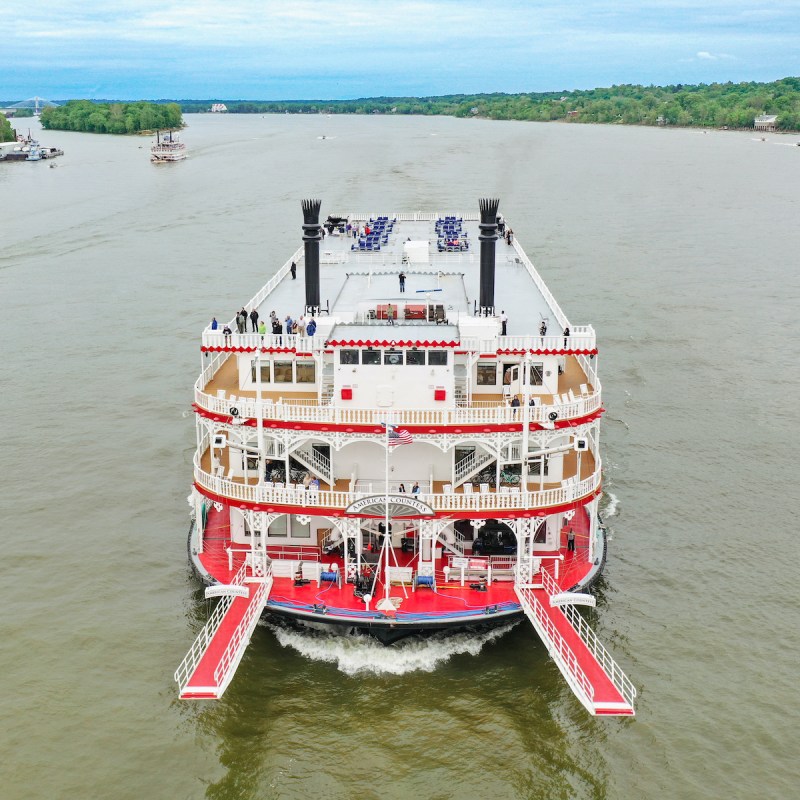 Horse racing fans who want to spend some time on the river before and after the Kentucky Derby have an option thanks to American Queen Voyages.
The nine-day cruise begins on May 1, 2023, in Louisville and concludes on May 9 in Cincinnati. Guests aboard the 245-passenger American Countess have the option to exit the boat on May 6 to spend the day at Churchill Downs.
The add-on VIP package includes deluxe transfers to the track and back, fast pass access to the racetrack, premium seating, plus an open food and bar lounge.
"The Kentucky Derby Cruise is one of my favorite sailings as it captures the magical energy of Louisville during race week," said John Waggoner, founder, and chairman of American Queen Voyages.
The side trip to the Kentucky Derby is only a small part of the itinerary. Another standout of the journey is the Great American Steamboat Race, which will take place on May 3 in downtown Louisville.
The American Countess, as well as the Belle of Louisville and Belle of Cincinnati riverboats, will take part in the event that brings thousands of visitors to the river and the Clark Memorial Bridge.
There will also be concerts, fireworks, parades, a hot air balloon event, bed races, and more during the days leading up to the Kentucky Derby.
There's also the river cruise itself, which includes stops in Madison, Brandenburg, and Augusta before finishing in Cincinnati.
Delicious Dining Aboard The Cruise
The cruise will also include special treats for your taste buds, thanks to culinary ambassador Regina Charboneau. She will prepare regional favorites along the way, including Cincinnati Skyline chili, Louisville hot browns, and Pittsburgh pierogies.
Charboneau promises bountiful cuisine and some interesting storytelling to go along with the food. Staff will also serve mint juleps, a standard at the Kentucky Derby, during the cruise.
How Much It Costs
Reservations for the all-inclusive cruise begin at $2,999 per person. The VIP Kentucky Derby package can be added on for an additional $1,999 per person.
Certain perks may be available for the cruise as American Queen sometimes offers items such as free one-way airfares for some of their itineraries.