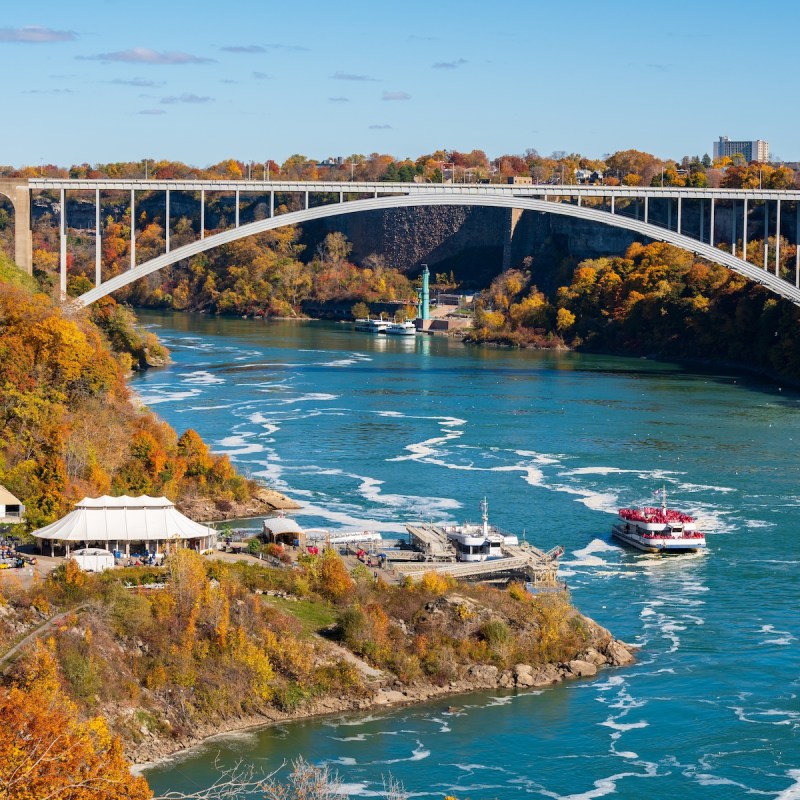 When it comes to fall vacation destinations, New England seems to get all of the glory. While there is nothing wrong with this classic and charming leaf-peeping locale, it's not exactly groundbreaking. That's why TravelAwaits turned to our writers to find out about their favorite fall vacation destinations. From Mississippi to Zambia (you'll see), here are the best places to go this autumn, according to our travel experts — whether you're after fall foliage or beachy vibes.
1. Brewery Park At Tumwater Falls, Washington
"One of my favorite fall activities is to watch the salmon run in the Pacific Northwest. I like to observe this epic battle of life and death at Brewery Park at Tumwater Falls (formerly Tumwater Falls Park) just south of Olympia, Washington. Thousands of salmon migrate up the Deschutes River to spawn.
"In my opinion, this is one of the best places to experience this for several reasons. The first is the fish hatchery on site with lots of interpretive signs that explain what you are seeing. Second, the fall foliage surrounding the river is incredible. Third, there is a loop trail that has two bridges allowing you great views of the salmon attempting to climb the waterfalls. There is nothing like hearing the cheers from observers as one makes it to the top.
"Brewery Park at Tumwater Falls is easily reached from Interstate 5. It is so close you can see the highway from the parking lot. It is an easy stop and is worth the slight detour if you are heading to Olympic National Park or Tacoma or Seattle to the north." — Peggy Cleveland
2. Billings, Montana
"Start exploring Billings, Montana, with a view from The Rimrocks or Four Dances recreation area. Fall colors and the glistening Yellowstone River highlight the views.
"Downtown Billings is filled with live music venues and Montana's only walkable brewery district. Choose at least two locations to win prizes from the Billings Brew Trail. Visit art galleries and the Yellowstone Art Museum during ArtWalk Friday.
"ZooMontana's animals prefer cooler weather, and they become more active as the temperatures become cooler. [You can also] savor nature at Bighorn Canyon National Recreation Area two hours southeast of Billings. Rent a boat at Ok-A-Beh Marina or bring your own. Anglers will enjoy world-class trout fishing on the Yellowstone River below Afterbay Dam.
"After the canyon excursion, eat pizza at the 3 Brothers Bistro in Hardin. Stay at The Northern Hotel and eat at TEN. You'll be stuffed after breakfast at Bernie's Diner." — Roxie Yonkey
3. Durango, Colorado
"For changing autumn colors, fascinating Southwestern culture, and a fun mountain train ride, I love to visit Durango, Colorado in the fall. Located in the Four-Corners area near where Colorado, Utah, New Mexico, and Arizona come together, Durango offers the best of several worlds. Not only does it enjoy a mild Southwest U.S. climate, but it also boasts the beautiful Animas River running right through town, the towering San Juan Mountains that rise all around, and the Durango & Silverton Narrow Gauge Railroad that heads into the mountains toward the scenic little town of Silverton.
"I last visited in September a few years back, and I was blown away by the beautiful yellow/green/gold patchwork along the railroad route. Although the train has had a few setbacks and shutdowns since then, it is back up and running. In addition, Durango is a great spot to visit for its craft breweries, Old West history, and, in the winter, skiing at the nearby Purgatory Resort." — Cindy Barks
4. Bay St. Louis, Mississippi
"In the fall, Bay St. Louis has fewer tourists and less heat than it does in the summer. And no place does seafood like Coastal Mississippi. [You can even] catch some of your own!
"Reserve a second-floor bayside view at the Pearl Hotel and then eat the Thorny Oyster's bouillabaisse. Don't bother to set an alarm; sunrise above the beach will do that. Eat a breakfast muffin at the Mockingbird Cafe.
"Walkable Old Town Bay St. Louis is full of murals and quirky shops. Hancock County Tourism & Visitor Center shares the former L&N Depot with the Alice Moseley Folk Art Museum and the BSL Mardi Gras Museum. You must watch Miss Alice's video. Mardi Gras crew royalty's costumes are so heavy that wearers had to strengthen their necks.
"The Gulf Coast turns into a giant car show during Cruisin' The Coast in the first week of October." — Roxie Yonkey
5. Mackinac Island, Michigan
"Mackinac Island sits in Lake Huron near Michigan's Straits of Mackinac. While most people think summer is the perfect time to visit Mackinac Island, Michigan, I enjoy visiting in the fall, when September ushers in a quieter season bursting with color. With fewer tourists, you'll find special stay-and-play packages that make touring this timeless National Landmark a bargain.
"They filmed the movie Somewhere in Time on Mackinac Island, and each October, the Grand Hotel hosts a Somewhere in Time weekend that's perfect for those who want to learn the secrets of the romantic classic and have a chance to meet people who played a role in the movie.
"Discover Halloween weekend's fun festivities that come a week early on the island. Finally, through late October, you can admire the scenic fall foliage, indulge in pumpkin-flavored fudge, and explore the island's history on a carriage tour that makes Mackinac Island a signature fall destination in the United States." — Amy Piper
6. Niagara Falls, Ontario
"A trip to Niagara Falls might sound like the ultimate travel cliche. But there are so many great new things to do, including visiting the fascinating, newly restored Niagara Parks Power Station, the first hydroelectric plant in Canada, which provided power for the falls and Buffalo for over a century; great hikes including hikes behind the falls, wine tastings at innovative wineries, and leaf peeping. The falls in fall are amazing!" — Karen Burshtein
7. Nova Scotia
"I highly recommend an autumn trip to southern Nova Scotia. The area is dotted with small towns and teeny fishing villages, and that means lots of beautiful driving routes, wonderful opportunities for leaf peeping, and gorgeous photography by the water.
"There are many historic lighthouses in and around the town of Yarmouth and a trip to the Cape Forchu Lighthouse is a must-do. It's a rare example of a lighthouse you can actually climb, and the views from the top are just lovely. In addition to fresh seafood, the region is also well known for produce, and you can find fresh apples at every farmers' market, perfect for autumn snacking. Whale watching, visiting community museums, and church suppers round out the list of fun activities. Many churches and community centers host autumn fundraisers, and it's often a delicious experience — think turkey dinners, bake sales, and homemade goodies like fudge." — Vanessa Chiasson
8. Aruba
"Aruba is a great idea any time of year. The weather is balmy, the beaches are beautiful, and the food is amazing. One of my favorite spots on the island is Palm Beach, home to high-rise hotels like the Aruba Marriott Resort and Stellaris Casino. You can really lean into your zen vacation mode while relaxing at their H2Oasis adult-exclusive outdoor pool. After a day of tanning, enjoy a toes-in-the-sand dinner at Atardi, their romantic on-the-beach dinner spot. Finally, drop into the Stellaris Casino and try your luck at a game or two.
"If you are looking for a more family-friendly or lets-get-the-gang-together spot, the Divi Aruba all-inclusive resort makes vacationing with a group easy and carefree. Situated on the beautiful Druif Beach, the wonderful Divi staff is known for their hospitality. Guests return year after year to enjoy the simplicity of the all-inclusive vacation style and the fun, party atmosphere.
"Enjoying the 'Aruba Effect' is one of my favorite fall destination getaways." — Sandi Barrett
9. Turks And Caicos
"Turks and Caicos is having a moment. Until a few years ago, TCI was a bit under the radar. But more recently, with the island's beautiful beaches and ever-evolving cuisine scene, you might spot Drake, Justin Bieber, Kevin Durant, or the Kardashians among the A-listers on vacay in Turks and Caicos. [It is] home to 40 low-lying coral islands, only nine of which are inhabited. Much of the action is in Providenciales, 'Provo.' This fall is a good time for a getaway to check out some of the new additions to Provo. I was just there a few weeks ago to see for myself.
"New to Provo is the stunning Rock House, a boutique hotel perched on high along rugged coastline built into cliff sides. The feel is Mediterranean, à la the south of France, perhaps. It's glam, with an intimate beach, great food, and … views of the sea from your private plunge pool of the sea [that] are simply amazing. So yes, that's just two good reasons to go to TCI." — Sheryl Nance-Nash
10. Scotland
"Scotland is less touristy, and the autumn air and fog create a mystical experience that perfectly highlights the gorgeous landscape. If said fog covers much of the landscape, it's the only place in the world I've been where the fog becomes essential to the scene rather than making me wish it were a sunny day.
"There is so much to do, from hiking (I recommend the Cairngorms and Ben Nevis) to exploring old castles, visiting nearby islands like Isle of Muck and The Orkneys, seeing Highland cows, and obviously, following the whiskey trail!
"Check out Scotland.org for a list of autumn festivals throughout the country." — Heather Markel
11. Iceland
"Iceland is in Northern Europe. I love it because it's like landing on the moon, but still on Earth. The landscapes are fantastic, and the northern lights are one of the most magical experiences I've ever had.
"There are a lot of outdoor experiences, like hiking, horseback riding, and, of course, hunting the northern lights! You can also ride a sled pulled by dogs and try some of the most amazing fish you'll ever eat. In early November, look out for the Iceland Airwaves festival, which is when you'll find local musicians in concert for 3 days." — Heather Markel
12. Island Of Rhodes, Greece
"As I'm a Greece aficionado, [my autumn recommendation will] naturally be a place in this diverse and beautiful country. It's hard to choose, but I'd have to say the island of Rhodes [is best] because in October, it's still warm enough to swim in the sea, plus all the crowds have gone.
"Beyond the beaches, there're walks and hikes in the inland mountains, plus a visit to the Acropolis of Lindos on the coast is a must. Personally, I love wandering through the cobbled streets of the UNESCO Old Town minus the crowds.
"If you visit on October 28, you'll be sure to experience an Ohi Day parade — commemorating the day in 1940 when the then Greek Prime Minister said 'No' to the Italian Occupying Forces. People proudly gather in the streets to watch the military parade." — Rebecca Hall
13. Zambia
"Living in the Southern Hemisphere means that while all you 'Northerners' are all going into fall, spring is just unfolding here in Zambia. But that doesn't mean that I don't get some of the beautiful autumnal colors that you in the Northern Hemisphere are experiencing right now.
"One of Zambia's most distinctive trees is the native Brachystegia, a genus of tree dominant in the miombo woodlands of Central and Southern Africa. Brachystegia trees produce a profusion of rich 'autumnal' colors in early spring (September), with their leaves beginning life a rich burgundy color, before gradually turning yellow, then green, as our dry season approaches.
"Whilst this phenomenon happens all over Zambia (and much of Southern Africa), I don't even have to leave home to see it! Living on a cattle ranch in the middle of Zambia, my house is currently by these beautiful colors, and I regularly take my dogs out on a hike in the nearby hills, just to enjoy it all for the few weeks it lasts, until all is green again." — Sarah Kingdom