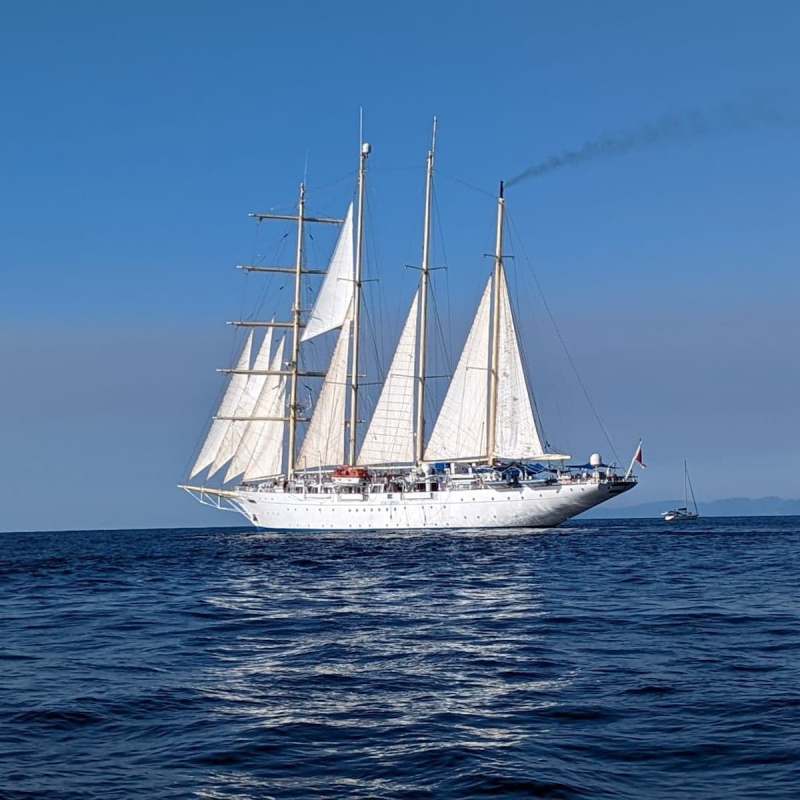 The French Riviera in summertime delivers a dreamy, romantic string of uninterrupted days filled with blue skies and mid-80s temps. When the sun sets, the skies take on shades of pink and purple before yielding to starry nights and warm gentle breezes.
This idyllic setting is why travelers flock to the south of France, and we're enthralled, too, as we sit on a teak deck below the billowing sails of Star Clipper, our four-masted sailing ship. Star Clipper is a three-ship boutique cruise line that sails all over the world on Star Clipper (170 passengers), Royal Clipper (227 passengers), and Star Flyer (also 170 passengers).
This is small-ship cruising at its finest. While Star Clipper carries up to 170 guests, we're sailing with just 122 during our weeklong journey. This beautiful ship feels like a new home, our private yacht for the week as we create new friendships and countless memories.
It's intimate. It's romantic. It's a carefree way to enjoy your vacation.
Star Clipper offers a program that fits travelers who enjoy options but aren't too thrilled about following a strict schedule. This is your cruise to enjoy your day, your way.
Our fellow passengers came from a variety of places, with American and British passengers trailing in numbers behind the French and Germans. It's a delightful mix that gives quite the international flavor.
Read on to learn what we loved about small-ship cruising off the coast of France.
1. Blissing Out On Beach Days
Star Clipper stopped in a port every day on our round-trip voyage from Cannes, and at each destination, cruisers had the option of hitting the beach for some swimming, sun worshipping, snorkeling, or enjoying a range of water sports.
The ship visited Portofino, Italy. Then, L'Ile Rousse, Calvi, and Plage Saint Antoine, Corsica, as well as Cavalaire sur Mer and Saint Tropez. We wandered the marina and followed the coastline to find beautiful beach spots at L'Ile Rousse and Calvi.
After time swimming and snorkeling in the blazing hot conditions, we found relief at a beachside tavern on L'Ile Rousse with cold beer. The days at Plage Saint Antoine and Cavalaire Sur Mer were also designed around getting ashore for time at a beach — or your own leisure near the marina at Cavalaire Sur Mer.
The Star Clipper activities staff bring ashore the toys from the ship, such as kayaks, sailboats and paddle boards, soccer balls, volleyballs, and a football. So there are all kinds of ways to be active at these beach outings. Or, as many did, you can simply enjoy the views, take refreshing little dips in the surf, and nap under an umbrella.
Pro Tip: To get ashore, you'll take tender boats from the ship, which requires some agility. Pack lightly when going ashore, wear solid footwear, and keep your hands free so you can grab onto the tender boat and helping hands from crew members.
2. Exploring Enchanting Port Towns
In Portofino, we were charmed by the bustling horseshoe-shaped marina. Little restaurants and pizza eateries lined the area, which has centuries-old stone walkways. Passengers are tendered ashore to all but one of the port stops during this cruise, and at Portofino, we had not taken more than 20 steps from our drop-off point before we spotted rock and roll legend Rod Stewart and his wife making their way through the crowd (almost unnoticed by all except my sharp-eyed wife) to a megayacht. Turns out, Sir Rod and his wife, Penny Lancaster, wed on the island years ago and often return for summer visits.
A few of our new friends from the ship set out for a hike to the lighthouse at Portofino, while we decided we would get a pizza and beer for lunch. When in Italy, I have to get a Margherita pie, of course. A little lunch, people watching, a stroll for some window shopping, a nice gelato, and a celebrity sighting. Not a bad day in Portofino.
We had no bad days, in fact, at any of these stops, with each charming historic town offering a few fun things to do.
3. Enjoying On-Shore Experiences With Fellow Passengers
At Calvi, we hiked to the Citadel before heading to town, where we bumped into a couple from our ship, Brooke and Tyler Sellhorn from Fort Wayne, Indiana, who gave us a heads up about a pub serving craft beers.
Colleen and I ducked into the busy cobblestone alleyway, passed the long line of people getting gelato, and found tables outside Loch Ness Pub, where the friendly bartender appreciated my fumbled attempts at ordering in French and suggested a couple of fine brews to quench our thirst.
We made our visit to Cavalaire-sur-Mer into a fun lunch date with new friends. Our group found a nice spot among the various dining options at the pretty marina. Our walk into town took us past a Ferris wheel and a group of residents engaged in a lively game of petanque, the popular game of Provence that is most similar to lawn bowling or bocce.
Our crew found a restaurant with open-air seating, a nice view of the yachts and fishing boats at the marina, and a diverse menu to suit all of our preferences. A couple of us chose pizzas, Colleen nabbed a big bucket of fresh mussels, and others picked fresh seafood and an appetizer of foie gras.
Again, it was quite warm, so we needed gelato to refresh. Can you really say that you've been sailing in France and Italy without your daily gelato serving?
4. Boutique Experiences In Larger Ports Of Call
While most ports on this itinerary are remote and quite serene, passengers did enjoy the chance to see Portofino and Saint Tropez, both of which ensured a great variety of beach time, shopping, sightseeing, and gourmet cuisine.
Saint Tropez offers a marvelous coastal trail, Sentier du Littoral, that goes for miles and takes you through a stunning and huge marine cemetery. The modern area of the city has nice parks and stores, while the Old Town area winds into a hillside with narrow cobbled streets.
We went off the ship for a dinner, and our group of five lucked into seats on a busy Friday night. We chose the popular Thai restaurant Koh Petrie and settled in for appetizers, bellinis, and beef, shrimp, and chicken curries.
The cooler night temps and gentle breezes didn't deter us from having a gelato night cap, obviously, as we strolled the lively street scene and gawked at the massive yachts in port.
Pro Tip: If you're planning to eat dinner off the ship in busier towns like Saint Tropez or Portofino, do some research and make a reservation online ahead of time so you aren't left disappointed — and hungry!
5. Diving Right In For Water Sports
Star Clipper cruises feature a number of included water sports activities for passengers to take on. The activities team brought the equipment to the beach a few times but also dropped it in the water just off the side of the vessel so that we could spend a good portion of the afternoon tooling around in the shadow of our picturesque sailing ship.
Snorkeling masks were provided at the start of the trip and are yours to keep for use at your leisure during time ashore (the masks are returned at the end of the voyage).
When the paddle boards, kayaks, and sailing boats are put in the water, cruisers donned life jackets and descended the gangway to hop on their toy of choice to navigate the waters around Star Clipper.
Many simply wanted to hop in for a swim in the pleasant blue waters, and you could often look over the side of the ship during these times to see your fellow cruisers blissfully bobbing in the ocean like the happiest little corks you can imagine.
6. Unleashing My Inner Sailor
One of the distinct charms of a sailing ship like Star Clipper is the chance to be on the decks amid the massive white sails and what seems like miles and miles of ropes.
The rigging and pulleys are all around you, and cruisers can even have a go at hoisting the mainsail during the late-afternoon sail away.
Grab the big wheel and make like you're steering the ship for the perfect photo op to make your friends at home envious and to bring out that sailor spirit in you.
I was especially looking forward to climbing the mast up to the crow's nest. Star Clipper has a steep rope ladder that starts at the edge of the deck and rises more than 50 feet above the deck for the most incredible panoramic views.
Brave wannabe pirates are harnessed in before they boldly scale the heights to crawl through a small opening and emerge onto a viewing platform. This is the spot to grab a picture with a bird's-eye view of the ship's deck below.
Pro Tip: If you have your heart set on climbing the mast, show up early — at least 30 minutes before the scheduled signup time — so you can guarantee a timeslot for that day.
7. Dancing The Night Away
The sun goes down, but things keep on cooking onboard Star Clipper, with theme parties that flow right into disco and line-dancing marathons. On our sailing, a core group of passengers gathered each evening after dinner on the teak floor of the Tropical Bar at the top of the ship.
The bartenders served up Champagne, beers, and drinks of the day, like powerful rum punches, to fuel the activities. We thoroughly enjoyed participating in the Pirate Challenge and music-themed trivia contests. Select cruisers and crew members even wowed us during the talent show at the end of the week. The tender drivers from Goa, India, performed a traditional dance routine; our bartender Robert belted out a powerful song from his homeland in the Philippines; and we saw a magic act and a couple from Austria who tore up the dance floor with a steamy tango performance.
Even our yoga instructor Astrid put her beautiful voice on display when she teamed up with resident DJ and musician Kirby for a fantastic version of the hit song "Shallow."
Nights typically lasted until 1:30 a.m., when the last few people finally left the dance floor.
8. Savoring The Sun Deck
Star Clipper represents a style of small-ship sailing or yacht-style cruising that is designed to get you outdoors in the sunshine and fresh air. The ship has two small swimming pools and loungers splashed all around the top of the ship. When not ashore, cruisers scatter around the decks to relax and get plenty of sun.
I alternated dips in the pool with time on a lounger under one of the shaded canopied areas.
The ship also has a masseuse, and the treatments were reasonably priced at 60 euros for an hour-long massage. The massage therapist Abigail did such a nice job that many of the cruisers, Colleen and myself included, went two times. The location of the treatment tent on the very top of the ship allowed us to escape with the gentle sounds of the ocean and refreshing breezes entering through the flap.
Star Clipper also was cruising during our week with a guest yoga instructor, and Astrid, from Belgium, led well-attended morning and afternoon classes. We attended almost every day, and it was a brilliant way to get our minds and bodies right for the day's activities.
The activities team also offered fitness classes outside on the sun deck by the Tropical Bar.
Star Clipper Captain Dominique Rollin also offered a talk about the sailing life and how the ship performs.
Indeed, the outdoor space on a sailing ship is always a highlight and a prime reason travelers book this type of boutique cruise experience.
Captivated? Read up on: