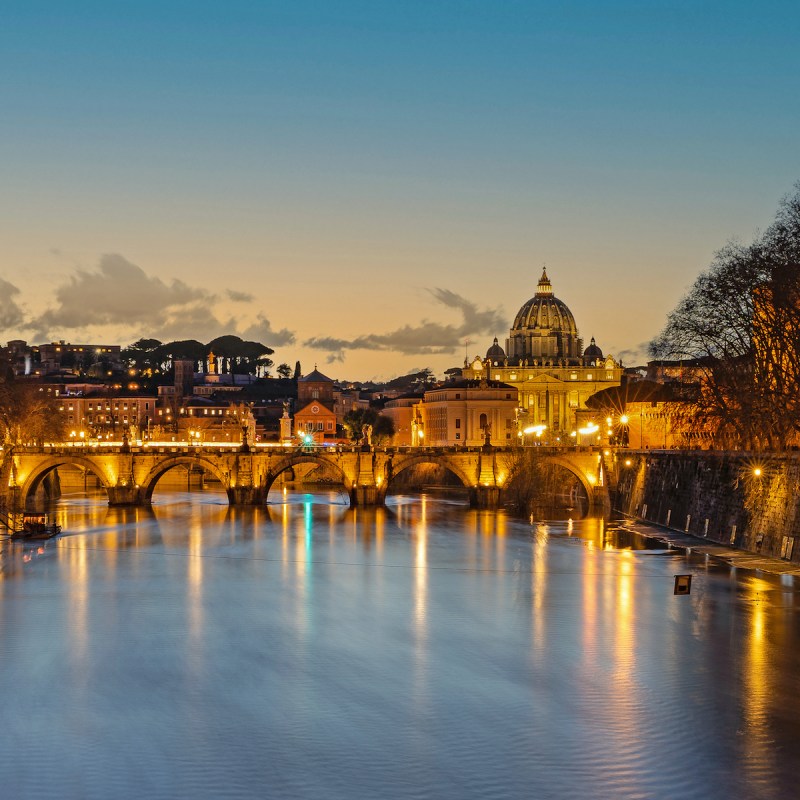 Italy is in the midst of the worst drought it has experienced in 70 years. As a result of those conditions, the water level of Rome's river Tiber has fallen about 5 feet.
Consequently, the usually submerged ruins of an ancient bridge built by Roman Emperor Nero are now visible. The two piers of Pons Neronianus (Latin for the "Bridge of Nero") can be seen near the Vittorio Emmanuele II bridge in the center of Rome, near Castel Sant'Angelo and the Vatican.
It is generally believed that the bridge originally had four piers. Two of those piers were then removed in the 19th century to improve the flow of river traffic, explains historian Anthony Majanlahti, according to the Associated Press.
In normal years, one of the bridge's fallen piers may be seen during the dry season, but this isn't a normal year.
"Because the water level of the river is so low now due to widespread drought across Italy, we're able to see a lot more of the piers of the bridge than we usually could," Majanlahti said.
An Emperor Nero Refresher
Nero Claudius Caesar (37–68 AD) wouldn't have actually "fiddled" while Rome burned during the great fire of 64 AD because fiddles hadn't been invented yet. He was, however, certainly known for political murders, the ongoing persecution of Christians, and his great love for chariot races, arts, and, of course, music. Nero was even known for his talent at playing the lyre.
Nero's father died when he was 2 years old. His mother later married emperor Claudius, who adopted Nero. Then, when Claudius died suddenly, perhaps poisoned by Nero's mother, Nero became emperor at the age of 17, History.com explains.
Although the Roman Empire experienced a string of military victories during Nero's rule, things took a different turn in later years. First, Nero depleted the Roman treasury that was rebuilding Rome after the great fire, leading to revolts in Britain and Judea, another revolt in Gaul, and additional uprisings in Africa and Spain.
Finally, after the Roman Senate declared Nero "an enemy of the people" in 68 AD, he committed suicide at the age of 30.
The Bridge Of Nero
Considering its location in Rome, the Bridge of Nero was probably a reconstruction of an earlier bridge, says Nicholas Temple, professor of architectural history at London Metropolitan University, according to Live Science.
"It's true that Nero had extensive gardens and properties in the area of the Vatican, and so a bridge at this point would have given easy access to these," says Robert Coates-Stephens, an archaeologist at the British School at Rome.
The bridge's location likely also served two key functions.
First, it would have served as a crossing point for triumphant armies to cross the river Tiber on their return to Rome in a procession viewed by Rome's citizens and Senate.
The other purpose is less cheerful. That's because the bridge may have also been used to parade high-profile prisoners on their way to execution before Rome's citizens and Senate. For instance, according to Temple, the bridge "may have been used by St. Peter when he was taken in chains after his trial" to be crucified around 64 AD.
To learn more about similar topics, be sure to read our ruins and archaeology content, including: