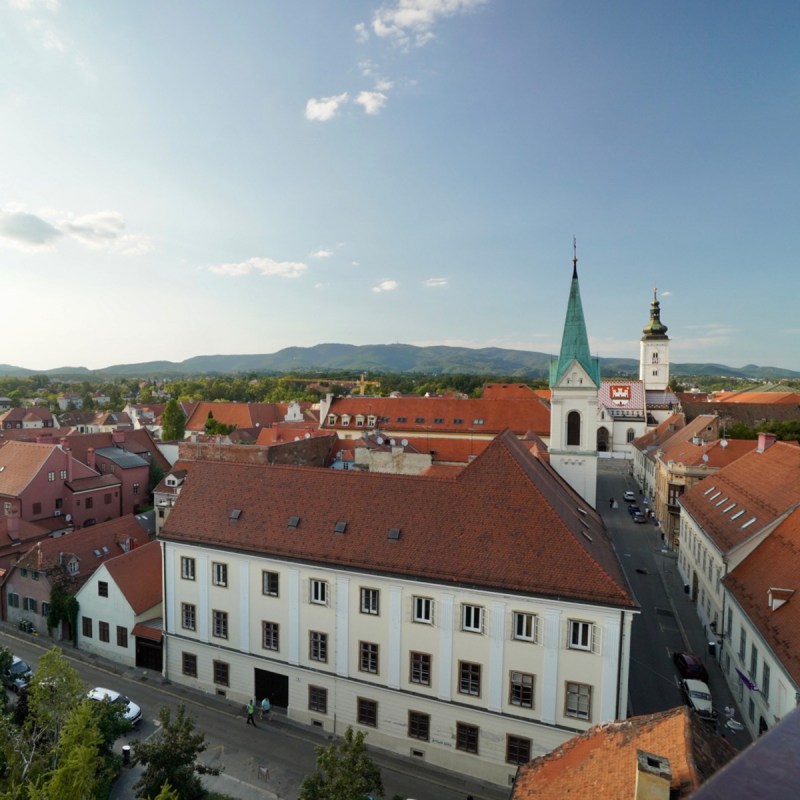 It's imperative to feel comfortable and safe while traveling.
Medjet
provides premier air medical transport, travel security, and crisis response memberships, providing peace of mind for an affordable price.
Apart from a visit to Prague in 1991, I haven't spent any time in Eastern Europe before now. Ironically, my family's heritage is Eastern European, and as I've gotten older, I've become more curious about the region. This was my first time in Zagreb, and I found it a wonderful city with a lot to do.
As an added bonus, because most tourists go to Split and Dubrovnik, Zagreb is delightfully less crowded and less expensive, even in the summer.
Here are 20 things to do in Zagreb, Croatia.
1. Take A Free Walking Tour
I strongly recommend doing a free walking tour on your first day in Zagreb. I used Free Spirit Tours — Luka was my guide — and I loved it. It's a great introduction to Zagreb and its history, a chance to ask questions you have, get restaurant and activity tips, and see where things are located.
Pro Tip: Seeing the old town requires walking up a moderately steep hill.
2. Experience A War History Tour
Though I was alive during the Yugoslav war, I didn't learn much about it. It's striking to have a fairly young guide tell stories of living through a war and take you to specific sites where he witnessed events when the city was under siege. This tour is not to be missed, whether you're a war buff or not.
3. Taste Local Delicacies For Free At Crosara
Go to Crosara, a store at the top of the main street in the Old Town, and treat yourself to a taste of local brandy, stunning olive oil, and truffles. In fact, you can taste a plain truffle and a cheese made with truffles. It's a good thing I didn't have room in my luggage, or I'd have come away with one of everything!
4. Eat Ćevapi
Croatian cuisine won't help your diet, and it's mostly meat. There are vegetarian options in Zagreb, but local cuisine is heavily meat-based. A ćevapi is a delightful mix of meat sausages in a type of pita bread. Have them add the kajmac cream and you'll have a perfect lunch. You can have large and small cevapi, which relates to the number of sausages: five or ten. If you're not too hungry, the small size will be perfect. I ate my first one at Kitchen and Grill Plac, and it was delicious.
Another restaurant that gets great reviews for trying local cuisine is Heritage Croatian Food. It's a hole-in-the-wall sized restaurant and is usually packed. I, unfortunately, didn't get to try it, but found out they take reservations, so next time!
5. Climb Lotrščak Tower And See The Grički Cannon Fire
Since January 1, 1877, this cannon has been fired at noon to let everyone in Zagreb know it's mid-day. The cannon is on the fourth floor of the tower, which you can visit at noon. Most tourists stand on the ground and video the cannon firing, but you can also pay to go inside the tower and watch it being fired from the inside.
Pro Tip: The cannon is extremely loud. Bring a pair of earplugs or know that your ears may ring for a few minutes afterward. Also, go up the tower at sunset for a beautiful 360-degree view of the city with the setting sun.
6. Explore Zagreb Museums
The Museum Of Broken Relationships
This is one of the most original museums I've ever been to! What's really intriguing is how some people took the concept of relationships and got creative. I won't spoil it for you, but inside you'll find people's discarded belongings and the relevance of the object for that person.
And, better yet, they accept submissions from around the world; if you've suffered a break-up and don't know what to do with an item from your ex, send it to the museum, and you might find it on exhibit in the future!
Pro Tip: To avoid waiting in line to enter, arrive when the museum opens. This is true for all of the themed museums.
The Museum Of Illusions
This is another fun museum, and it's great for kids. You can take some very funny photos, for instance, one where you look like a head atop a table. Enjoy figuring out the various illusions and even spend time figuring out puzzles. Everything is interactive, so it's highly engaging, and several of the exhibits will leave you laughing!
The Museum Of Mushrooms
There's also a museum of mushrooms (yep, every species of mushroom), where you can learn which are edible and which are poisonous. Unfortunately, it's only open a few days of the week, so make sure to look on their website to plan your visit.
There are other themed museums — like the 80s and The Hangover Museum — so when you visit, you might even find others. Use Google or ask your free walking tour guide about them.
7. Hang Out In The Main Square And Old Town
In the center of Zagreb is Ban Josip Jelaĉić Square. You'll find a monument dedicated to the man who ended serfdom in Croatia. At night, you'll find everyone strolling the square, enjoying some music or a drink at a nearby restaurant. It's also the place you'll find pretty much any tram line you need to go anywhere in Zagreb. The square is next to the wonderful streets of Zagreb's Old Town which you can stroll for great photos, souvenirs, and views.
8. Shop The Market Dolac
The local market is open daily until 2 p.m. Downstairs is a covered market where you'll find meats, bread, cheese, and pastries. Just outside it is a flower market where you can get plants and floral arrangements. Upstairs is a fruit and souvenir market. I enjoyed strolling along the stalls taking in the produce and colorful flowers.
9. Relax And Swim At Jarun Lake
Take tram line 17 to Jarun and head towards the water. Across the lake, you'll find a small cafe where you can enjoy a lounge chair with some coffee or a refreshing drink. Though you won't find sand, you can enjoy a nice swim and a relaxing day by the water. In the summer heat, I found it relaxing to get out of the city center and enjoy an afternoon here with friends. It's the perfect way to break up sightseeing with some downtime.
10. Walk The Griĉ Tunnel
Throughout the city is a system of tunnels that provided politicians with shelter when bombs were dropped in WWII. The only part of the tunnel system opened to the public is the Griĉ Tunnel. You can walk through them and explore the city underground. If you go on the war tour, you'll learn the significance of the tunnels and even hear an interesting story about a concert that was held in them!
Pro Tip: On a hot day, the tunnels provide cooler temperatures.
11. View Zagreb Cathedral
The main church is in the city center and is a beautiful site up close, as well as from the Lotrščak Tower. The church suffered damage from the earthquake and is currently closed to the public. The gold cross that used to adorn the top is now placed in front of the church.
At certain times of the day, the barriers are open. Though you can't enter the church, you can walk around it and see the damage it suffered. It's interesting to note that a Croatian family gifted the church with a chandelier that used to be in a hotel in Las Vegas!
12. Take The Zagreb Gondola
I was surprised that Zagreb has a gondola. Perhaps what surprised me the most is how long it is. It took about 20 minutes each way. At the top, you can enjoy a coffee or beer as you admire the view, or explore the nearby nature. You can also opt to walk one way if you prefer to get some exercise.
13. Go Up In The Zagreb Funicular
The funicular in the city center is 63 seconds long and transports you from street level to Lotrščak Tower. You can also walk up and down, but it's worth taking the funicular at least once for the view. Also, if you want to avoid walking that steep street to see the upper part of the old town, you'll love the funicular.
14. Walk The U-Shaped Gardens
In the center of the city are a number of gardens, joined together in the shape of a U. Enjoy a stroll from one end to the other. You might just want to sit and enjoy the grass or take photos of some of the beautiful buildings you'll see along your walk. One of those buildings is the Croatian National Theater.
15. See The National Archives
Get a tour of Croatia's national archives and reading room, built in 1911 and opened in 1913. You'll learn the history of the building, which was very expensive at the time. Furniture inside is from the museum opening and still used, and its construction survived both of the 2020 earthquakes. One of the highlights of the tour is seeing the Great Reading room which has its original furniture, two incredible chandeliers, and a wall mural by Vlaho Bukovac, a beloved Croatian artist.
16. Stroll Through The Botanical Gardens
A few minutes' walk from the archives, you'll find the Botanical Gardens. While not huge or full of lush vegetation, I loved the stroll through nature and even caught someone enjoying a nap lying on a bench. It's part park, part plant-life, and even has a small pond with turtles.
17. Go Back In Time At Medvedgrad
This is a medieval town with a castle and offers enough activities to keep you busy for at least half a day or more. I wasn't able to make it (there were so many other things to do in Zagreb, as you can see!) but would put this one on my list for my next trip to Zagreb.
18. Escape To Mirogoj Cemetery
Though not the usual tourist activity, the cemetery is beautiful. The entrance is stunning, and walking along the rows of graves of all religions is a peaceful escape from the center of Zagreb.
19. Discover Restaurant Row
Above the old town is a row of restaurants where you can enjoy a drink or a meal and people-watch.
Pro Tip: These restaurants tend to be more touristy and can have long waits for service.
20. Enjoy Escape Rooms And Other Fun Activities
I was surprised to learn that Zagreb has a huge amount of escape rooms. If you enjoy them, simply Google Zagreb escape rooms and take your pick! You can also participate in a themed activity with Secret Zagreb for a blend of sightseeing and gameplay.
As you can see, while it may not have a view of the sea, there are plenty of things to do in Zagreb. Its kind people and its absence of throngs of tourists make it a place I will definitely return to.
Pro Tips
During the pandemic in 2020, Zagreb was hit by two strong earthquakes (it sits above the meeting of two tectonic plates). Many buildings were damaged and are under construction, so you won't be able to enter them. Check whether sites are open before going.
Croatia's currency is currently the kuna, but in 2023, they'll move to the euro. Go sooner than later as prices are likely to increase after the conversion.