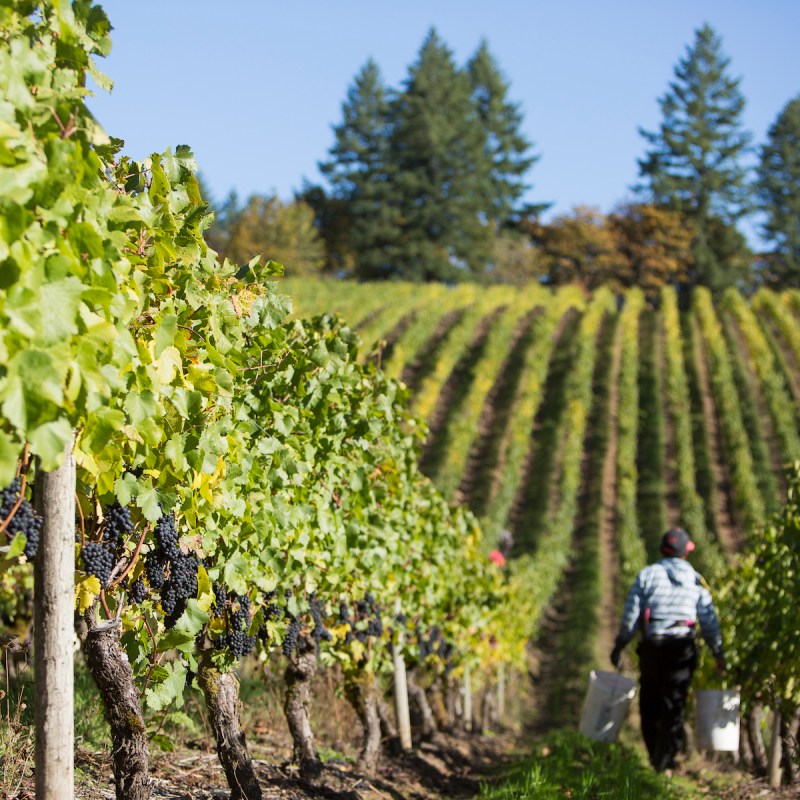 My love affair with wine began in elementary school. Before you jump to any conclusions, let me explain…
When I was in 2nd grade, our apartment in the beautiful Bavarian town of Kitzingen, Germany, stood on a hill overlooking a small farm and vineyard. In a time before 24/7 television and cell phones, my 7-year-old self could spend hours sitting at the window observing the farmer, his farmhands, and the animals.
But the best time to watch the vineyard was in the early fall, when workers armed with clipping shears and with long, woven baskets strapped to their backs scaled the steep incline. Winding their way through the rows of grapes, they'd snip a cluster of ripe fruit and toss it over their shoulders into the waiting baskets in one fluid motion.
Red or white, bubbly or not, there's a lot to love about wine. So whether it's harvesting grapes at Nearwood Winery & Vineyard, stomping them at Yellowstone Cellars & Winery, or enjoying a harvest hike at Elk Cove Vineyards, I'm all about crush season!
Pro Tip: Looking for a crush season outside of the most popular wine regions? Check out one of these underrated U.S. wineries.
What Is Wine Crush Season?
Also known as harvest season or simply "crush," wine crush season is when winemakers determine that the grapes are ready to be picked. Timing varies based on the grape variety and its growing zone. Weather conditions during the growing season — like the amount of rain and average temperature — also impact when the crop is ready. But in the United States and in Europe, wine grapes are usually picked in late summer through early fall — typically early August through late October.
So why should you participate in wine crush season? Here is why I recommend that every wine lover give it a try!
Learn More About The Winemaking Process
Have you ever thought about the work that goes into creating your favorite wine? Participating in crush season helps you learn more about the winemaking process and appreciate the effort behind each bottle, whether it's Trader Joe's Two Buck Chuck, Nearwood Winery's Chateau Nouveau, or a perfectly aged Château Lafite Rothschild.
Grape Harvest
Most grape varieties begin to change color and soften during mid–late summer. This transformation indicates that it's time to harvest the grapes, either by picking the fruit by hand or with machines. While mechanical harvesters are faster, they can damage the fruit. At Nearwood Winery, we got up at sunrise to hand pick grapes ahead of the heat.
Pro Tip: As with any outdoor activity in the late summer or early fall, be sure to apply sunscreen before you head out to the vineyard. And because the juice of freshly crushed grapes attracts bees and other flying, hopping, and crawling creatures, I recommend using insect repellent when harvesting grapes.
Sorting, Crushing, And Pressing
Once the grapes are snipped from the vines, they are sorted to remove any rotten or underripe fruit. The sorting process also eliminates any undesirable items inadvertently collected along the way, like errant pieces of netting that protected the ripening fruit from hungry birds or a bird's nest built into the vines.
The remaining grapes are then rinsed, crushed, and pressed. Although grapes are now pressed with mechanical crushers rather than with bare feet, some vineyards still hold grape stomps during crush season (more on that below).
Fermentation, Clarification, And Aging/Bottling
Although crush season is focused on the first two steps in the wine-making process — picking the fruit and then crushing and pressing the grapes — participating in harvest activities typically gives you a glimpse into the remaining three steps in the process: fermenting, clarifying, and aging/bottling.
Pro Tip: While the Napa, Sonoma, and Santa Barbara wine regions are household names, here's why you should consider Livermore for your next California wine getaway.
Appreciate What Goes Into Each Bottle
While it's easy to enjoy a glass of sparkling wine at Sunday brunch without giving it much thought, you'll have a greater appreciation for all that goes into a bottle of wine once you've participated in crush season. After hitting the vineyard at sunrise, picking grapes, and crushing the fruit, I now understand each time I uncork a bottle all that must happen for the planted vine to produce fruit that becomes wine.
Other Ways To Experience Crush Season
If rising at the crack of dawn to pick grapes isn't your thing, you can still celebrate crush season in other ways. While I helped pick grapes at a small, family-owned winery in Iowa, I've also enjoyed other crush season experiences across the country. So look for crush season opportunities like the ones listed below throughout the U.S. and Canada at a vineyard near you.
Grape Stomp
Whether or not you help harvest the grapes, you may be able to participate in a grape stomp during wine crush season. As in the hilarious scene from I Love Lucy, participants typically hop into a large wooden barrel and crush fresh grapes with their bare feet to release the juice and initiate the fermentation process.
Where To Stomp Grapes
Harvest Parties
Many vineyards host harvest parties during crush season. These events can range from casual gatherings to formal balls. Whether it's a laid-back, barbeque-style event or a black-tie affair, most harvest parties pair wine with locally sourced, harvest-inspired food. And in the Napa Valley town of St. Helena, the whole town celebrates the harvest with a festival.
Where To Party During Harvest
Vineyard Walks And Harvest Hikes
Usher in the fall season with a vineyard walk or harvest hike. Typically an hour or two long, these harvest-season experiences wind through vineyards surrounded by fall colors. Harvest hikes are typically guided and include an overview of the history of the vineyard, the wines it produces, and more as you enjoy the great outdoors. Some vineyard walks conclude with a special tasting and appetizers.
Where To Join A Harvest Hike
In-Depth, Participatory Winery Tours
Some wineries offer in-depth tours during crush season. These experiences allow visitors to walk through the vineyard, pick a few clusters of grapes, and follow the freshly harvested crop from the vineyard to the winery. There, the winemaking team walks guests through the winemaking process and often conducts a small wine tasting.
Other vineyards allow guests the opportunity to be a winemaker. These day-long experiences typically start with bottle blending (which allows you to create your own wine blend) and conclude with labeling and bottling your special wine.
Where To Play Winemaker For A Day
Whether it's a chilled glass of Chardonnay on the patio on a warm summer day or a full-bodied cabernet served with a perfectly grilled steak to celebrate a milestone, wine lovers know that wine adds a little something extra to everyday moments and momentous occasions. And when you participate in crush season, you'll get a front-row seat to how wine is made, helping you appreciate each sip just a little more.
Related Reading: