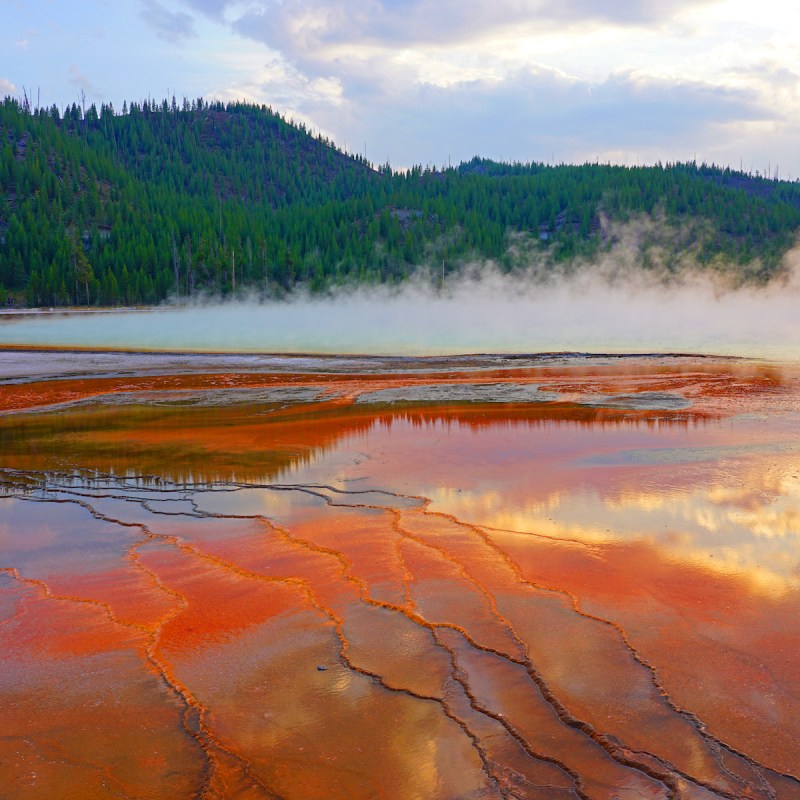 The national park may not have been established until 1872, but people have been in the area now known as Yellowstone for more than 11,000 years.
For example, the most well-known group of Native Americans to use the area were the Tukudika, also known as "Sheep Eaters," according to the National Park Service (NPS). However, ancestors to contemporary Kiowa as well as ancestors to contemporary Blackfeet, Cayuse, Coeur d'Alene Nez, Shoshone, and Perce lived in and traveled through what is now Yellowstone National Park.
Now, to recognize those peoples while the park commemorates what the NPS calls "150 Years of Yellowstone," Yellowstone National Park is hosting Yellowstone Revealed, a collaborative effort with Mountain Time Arts and numerous Tribal Nations. The place-based projects and artwork created by an intertribal group of artists and scholars were created so visitors can learn more about the historic — and continued — presence of American Indian Tribes in the Yellowstone region, the NPS explains.
"We're pleased to work with Mountain Time Arts on Yellowstone Revealed," Yellowstone Superintendent Cam Sholly said in a statement. "This partnership continues our major Tribal engagement efforts and will allow thousands of visitors to directly engage with members of American Indian Tribes in Yellowstone."
The series of events, which began August 17, will run through August 28.
A Place Used By Historic Tribes
"Greater Yellowstone's location at the convergence of the Great Plains, Great Basin, and Plateau Indian cultures means that many tribes have a traditional connection to the land and its resources," the NPS explains. "For thousands of years before Yellowstone became a national park, it was a place where people hunted, fished, gathered plants, quarried obsidian, and used the thermal waters for religious and medicinal purposes."
For instance, the Shoshone report that family groups came to Yellowstone to gather obsidian, which they used to field dress bison. The Shoshone, Bannock, and other tribes of the plateaus to the west also traversed the park annually to hunt on the plains to the east. Meanwhile, Blackfeet groups hunted in open areas west and south of Yellowstone, according to the NPS.
What's more, the Crow lived in the area east of the park and the Umatilla lived in the area north of what is now Yellowstone.
Yellowstone Revealed Projects And Artwork
Yellowstone Revealed features a number of events. Here's a schedule of what's happening.
August 17–28
Seven teepees will be illuminated at sunset near the Roosevelt Arch in Gardiner, Montana.
August 23–27
Interpretive hikes, demonstrations, and storytelling will take place at locations throughout Yellowstone so visitors can "gain insight into diverse Indigenous ways of knowing."
A free reservation is required to attend each hike. All of the reservations have been taken, however, if you are interested, you can join a waitlist.
A teepee village representative of the park's 27 associated Tribes will be at Madison Junction.
You can learn more about the 27 current tribes that have historic connections to the lands and resources now found within Yellowstone National Park here.
August 24
Visitors can see artwork featuring seven moving buffalo sculptures brought to life by 14 dancers and 10 drummers during sunset at Madison Junction.
August 25
Like the previous day's event, visitors can see artwork featuring seven moving buffalo sculptures brought to life by 14 dancers and 10 drummers during sunset at Old Faithful.
You can learn more about the free events here.
Other Ways To Commemorate 150 Years Of Yellowstone
Yellowstone, the nation's oldest national park, was established on March 1, 1872, when President Ulysses Grant signed legislation to set aside and protect the land. Although the 150th anniversary of Yellowstone's establishment was actually March 1, the park will host a number of virtual and in-person activities throughout the year in celebration.
You can learn more about "150 Years of Yellowstone" here.
While you're thinking of it, be sure to read all of our Yellowstone content, including: