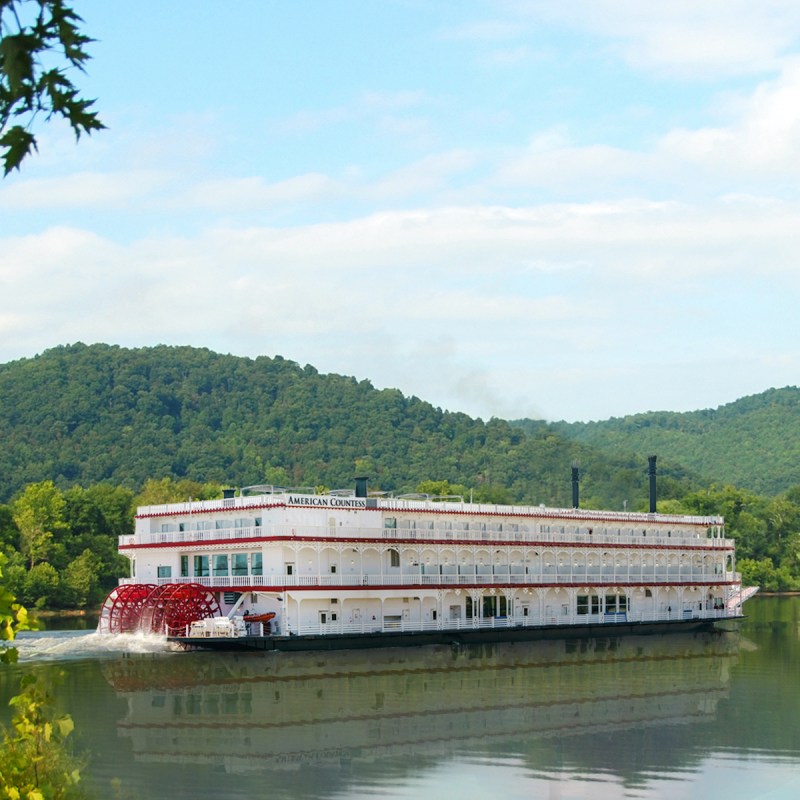 American Queen Voyages is going big — really big — with its latest offering.
Its American Countess riverboat will be used for a 23-day journey on the Mississippi and Ohio rivers, taking guests from just outside the Twin Cities in Minnesota to Pittsburgh. A reverse trip is also available.
The 1,772-mile journey will take place July 24, 2023, aboard the 417-passenger paddlewheel. The reverse trip, leaving from Pittsburgh, will set sail on Aug. 14, 2023.
"Guests have made the 16-day Mighty Mississippi voyage between Minneapolis and New Orleans one of our most popular itineraries, and we are pleased to reveal an even more immersive itinerary sailing to Pittsburgh that now incorporates the Mississippi and Ohio rivers," Isis Ruiz, chief commercial officer of American Queen Voyages, said in a release. "Pittsburgh has such a rich riverboat and sports history."
The sailings, the longest in the company's history, will take passengers through 10 states along the two rivers.
Starting in Red Wing, Minnesota, the itinerary includes stops in:
Wisconsin: La Crosse
Iowa: Dubuque, Bettendorf, and Burlington
Missouri: Hannibal, St. Louis, Kimmswick, and Cape Girardeau
Kentucky: Paducah, Henderson, Owensboro, Brandenburg, Louisville, and Maysville
Indiana: Madison
Ohio: Cincinnati and Marietta
West Virginia: Point Pleasant
Pennsylvania: Pittsburgh
Shore Excursions
There will be numerous shore excursions available during the trip, some included and some premium. Among the highlights:
A trip to the Field of Dreams location in Dyersville, Iowa, during the stop in nearby Dubuque.
The National Quilt Museum in Paducah, Kentucky, which features more than 600 pieces of art highlighting modern quilting.
Trail of Tears State Park, with guests visiting the 3,415-acre park outside of Cape Girardeau, Missouri.
The Mark Payton Glass Center in Louisville, where guests will learn all about the art of glass blowing, watch artists in action, and view some spectacular designs.
Gateway Arch in St. Louis, where visitors can scale one of the most iconic landmarks in the country, and visit the neighboring Old Courthouse.
Anheuser Museum and Estate in Kimmswick, Missouri, where guests can tour the 1867 home and view the family library and heirlooms.
Western Kentucky Botanical Gardens, which is much more than the famous rose gardens. Guests will also view koi ponds, wind sculptures, woven baskets, and more.
Madison Scenic Jet Boat, where guests can hop aboard a Coast Guard-approved jet boat in Madison, Indiana, and explore the river in a manner very few are able to do.
American Countess
Although much smaller than a traditional cruise boat, the American Countess offers many of the same perks guests would find on the big ships.
It includes a grand dining room, grand lobby, theater, fitness center, self-service coffee and snacks, an excursion desk, and more.
There are four styles of rooms, ranging from 153-square-foot inside staterooms to 226-square-foot outside staterooms with private verandas.
Dining features menus inspired by America's Heartland and Southern cuisine, including Cajun and Creole offerings.
Reservations for these cruises are available now. Those who book by the end of August will receive a discounted price starting at $7,197 per person.