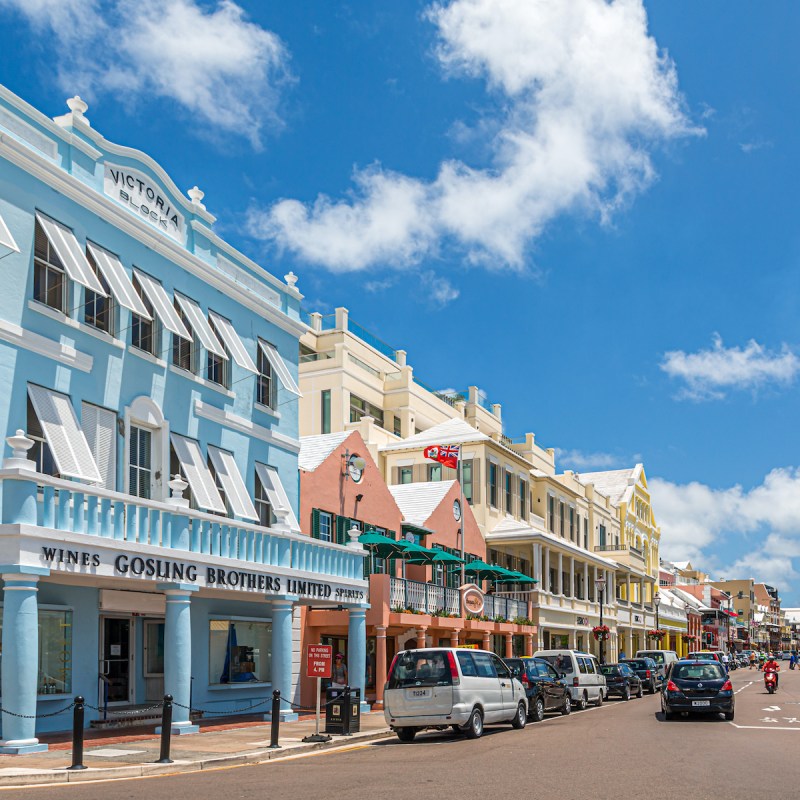 Looking for an island getaway for just the right price? Everything you enjoy in the Caribbean is available in Bermuda, and it's closer than you think. Now, with Bermuda's new Endless Summer promotion, you can save up to 50 percent on stays at some of the most luxurious hotels and resorts — and enjoy a range of other amenities. Take advantage of this offer from now until October 31, 2022, for travel from September 6, 2022, to March 31, 2023.
While many believe Bermuda to be part of the Caribbean, the island is actually hundreds of miles north of the Bahamas and just 650 miles east of North Carolina. The beautiful vacation spot, with its pink sand beaches and 75 miles of coastline, is less than a 3-hour flight from most East Coast U.S. travel hubs.
You Can Choose From A Large Selection Of Participating hotels
The Reefs Resort & Club
Save up to 40 percent at The Reefs, an award-winning and intimate hotel. Perched on limestone cliffs overlooking its own private beach, The Reefs offers spectacular ocean views from every room.
Starting at $297.50 per night
Azura Bermuda
Azura Bermuda is nestled on a cliff overlooking a private beach just minutes from Hamilton. The hotel is located near some of the island's best restaurants, bars, and award-winning beaches. The offer includes a $25 food and beverage credit per room every night.
Starting at $340 per night
Cambridge Beaches Resort
The expansive Cambridge Beaches Resort & Spa is situated on a narrow and private peninsula surrounded by glittering ocean and bay waters; the peninsula itself has been a vacation destination since 1923. Throughout the estate, architectural details date back to 1663. The offer includes a $25 food and beverage credit per room every night.
Starting at $261 per night
Grotto Bay Beach Resort
Save up to 50 percent off your stay here. The Grotto Bay Beach Resort, on 21 acres of tropical property, features two private beaches and dramatic caves along the water's edge in Bailey's Bay.
Starting at $145 per night
Hamilton Princess
The Hamilton Princess, where you can save 30 percent off your stay, is just steps from downtown Hamilton and near shopping boutiques, restaurants, and nightlife. It offers both a saltwater and a freshwater pool. The hotel is a 20-minute shuttle ride to the exclusive private Princess Beach Club on South Shore.
Starting at $335 per night
Newstead Belmont Hills
This golf resort and spa offers savings of 25 percent. The boutique resort features 60 waterfront suites with views of Hamilton Harbour and downtown Hamilton.
Starting at $386.25 per night
Pompano Beach Club
Located on Bermuda's southwest coast, the 75-room Pompano Beach Club offers breathtaking ocean views from every guest room. With the Bermuda Endless Summer offer, guests receive every fourth night free.
Starting at $290 per night
Rosewood Bermuda
Stay three consecutive nights at Rosewood Bermuda and get a fourth night free. The hotel offers pink sand beaches, world-class golf, and amazing views of Castle Harbour coastline.
Starting at $980 per night
The St. Regis Bermuda Resort
Stay at least three nights and receive a 10-percent discount and $100 resort credit per stay. The St. Regis Bermuda Resort, located in St. George's, Bermuda, is just steps away from the beautiful sands of St. Catherine's Beach. The resort has two swimming pools and offers private cabanas for its guests.
Starting at $535 per night
Coral Beach & Tennis Club
The Coral Beach & Tennis Club, a private, members-only facility, is located on 26 acres of subtropical ground overlooking the south shore in Paget Parish. Rates include full breakfast and afternoon tea daily, and use of amenities at the club — tennis and squash courts, gym, spa and beach facilities.
Starting at $270 per night
Pro Tip: Blackout dates and restrictions apply. Please see individual hotels for terms and conditions. All prices are in U.S. dollars.
Get There By Air
Direct flights from New York and other eastern U.S. cities are typically under 2 hours. Connecting flights are offered from most major cities. Bermuda is served by American Airlines (New York, Miami, and Philadelphia), Delta Airlines (New York, Boston, and Atlanta), JetBlue (JFK and Boston), United Airlines (seasonal), British Airways (London), and Air Canada and Westjet (Toronto). Seasonal flights from Charlotte, Newark, Philadelphia, and Washington, D.C. are also available.
Climate
Bermuda doesn't experience the heat of the Caribbean. Bermuda is an outdoor destination year-round. In January, you'll enjoy a 65-degree Fahrenheit average, in April it's 67, and in July and October it's 80 and 75, respectively. June through August brings southerly breezes and cooler evenings. The difference between water and air temperatures averages just 2 degrees.
What about rain and hurricanes? Unlike other island destinations, Bermuda has no rainy season. Heavier downpours (typically at night in the summer) don't usually last longer than a couple of hours. Big hurricanes are rare, averaging just over one per decade. The hurricane season officially runs from June 1 through November 30. Most hotels have "hurricane guarantees" that provide refunds or future complimentary stays.
Travel Tips To Make Your Visit Easier
Currency
The Bermuda dollar (BD$) is fixed to the U.S. dollar through the gold standard. U.S. dollars are accepted by all merchants, and most stores and hotels will accept major credit cards.
COVID-19 Requirements
Current protocols, including an online travel authorization form, are provided on Bermuda's tourism site. Face masks are no longer mandatory in Bermuda except for specific locations. These include the airport, public transportation, healthcare facilities, and various institutions.
Getting Around The Island
There are a variety of transportation choices for exploring Bermuda, including electric cars, scooters and bicycles, public transportation, and taxis.
Accessibility
All of the properties offering Endless Summer deals are accessible. There are wheelchair-accessible taxis, tours, beaches, and major attractions.
Clearing U.S. Customs
Returning home is a breeze for visitors from the U.S., as Bermuda has Global Entry, and travelers clear U.S. Customs while still on the island.
There has never been a better time to visit Bermuda! Relax on iconic pink-sand beaches, enjoy crystal-clear water, and explore the island's unique natural wonders. Whatever you're looking for, you'll find it in Bermuda.