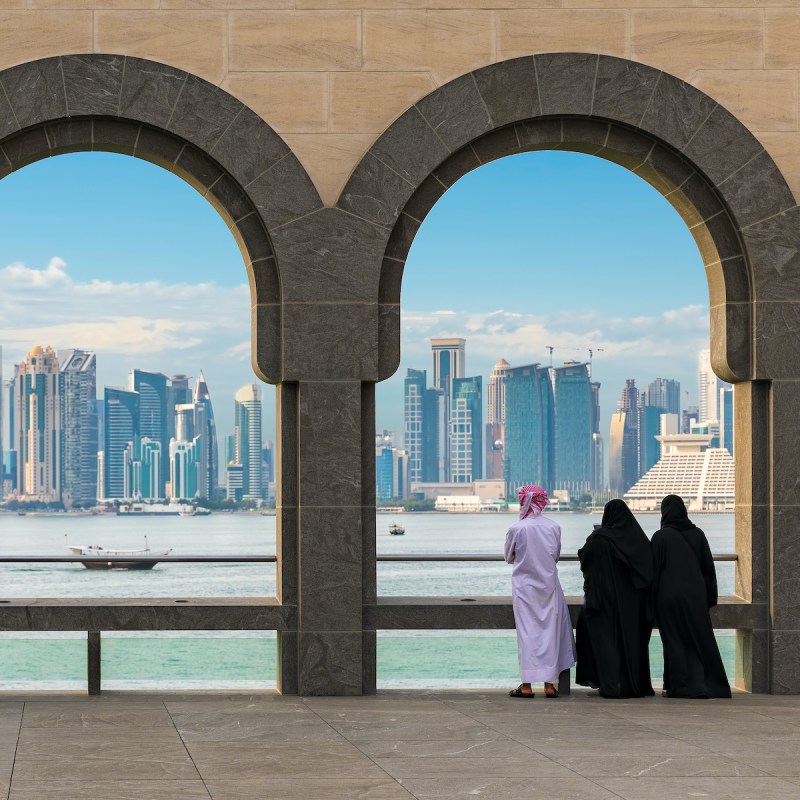 Ask any worldwide traveler, and only a few will have experienced Qatar.
A small desert state on the Saudi Arabian Peninsula, Qatar is still a bit of an unopened book. There are plenty of things you need to be aware of before you book that ticket (for instance, I am writing this in August, and outside it is 120.5 degrees Fahrenheit in the shade, with 60 percent humidity). Once you know what you are getting yourself into and are in the stages of planning your trip, there are plenty of interesting things to see and put on your itinerary here.
Having lived in Doha for a few years now (and on my second expat stay), I can confidently say that I have seen pretty much every corner of this small country, but even I am amazed by the rate of change this Qatar is experiencing, and the constant opening of new hotels, restaurants, and art installations — and even new historical discoveries.
Here I share a few sights and experiences that will give you a good all-around introduction to Qatar, from the modern capital city of Doha to the desert, from arts and culture to natural wonders. Whether you are staying for a brief stopover or coming for a little longer, there is plenty to keep you entertained. For a while, at least, because remember, this is a very small country, roughly 12 times smaller than Florida.
1. Explore Souq Waqif
Doha
To start off slowly, and to get used to the place, Souq Waqif is the perfect place to look around, take it easy, and get a feel for what the country and the region are all about.
Souq Waqif is a traditional market, not unlike typical North African Bazaars. It was superbly restored after a fire in the early 2000s, and it's the place where older locals still go to get their spices, their bales of cloth. The men come to buy a falcon, Qatar's national bird; or indeed, bring their falcon to the Falcon Hospital. The Emiri's Guard stable their camels and thoroughbred Arabian horses at Souq Waqif, and it's where everybody, from locals to expat residents to tourists, meets for coffee, fresh juices, and good food.
Pro Tip: Just across the road from this traditional sight, you can find the Msheireb neighborhood, a hyper-modern antithesis of Souq Waqif, but just as much Doha as the souq. Striking architecture, trendy design boutiques, the design gallery M7, and plenty of great cafes keep you occupied. Try Rusk Artisanal Bakery for breakfast.
2. Be Dazzled At The Museum of Islamic Art
Doha
The MIA is one of my all-time favorite museums. It's not only a stunning piece of architecture, designed by the late I.M. Pei, but a museum that brings together probably the best examples of Islamic art in the world. You wander from display to display, mouth hanging open, marveling at the design, the riches, the knowledge, and the beauty of its countless pieces, ranging from ancient manuscripts to pottery, from jewelry to carpets, from ornaments to arms, and so much more.
Having been renovated and completely overhauled over the last year, MIA will reopen in early October 2022 and be even better, if that is possible.
Pro Tip: Doha's loveliest park lies right next to the museum. MIA Park is wonderful to walk through, a green oasis, with grass, baobab trees, and unrivaled views. Walk along the trail curling behind the museum, taking you past traditional wooden dhow boats and to the sculpture 7 by Richard Serra.
3. See An Incredible Art Installation
Zekreet
The first place I went when I moved back to Qatar was the desert to see Richard Serra's installation East-West/West-East, roughly an hour's drive from Doha. The artist's second installation in Qatar (7 in MIA Park was the first) is made up of four roughly 50-foot-high weathered steel columns standing in line in an otherworldly landscape of rocky outcrops and sand. That might sound boring, but it is incredibly powerful and beautiful.
Pro Tip: It is fun to try and find it yourself, driving through the desert in your rented 4WD with good GPS, but it's quite literally a hidden gem, so it might be better to take part in an organized trip.
4. Witness A Natural Spectacle, The Inland Sea
Khor Al Adaid
The Khor Al Adaid, known to English speakers as the Inland Sea, is a spot of Qatar that has been recognized by UNESCO as a Natural World Heritage Site. It's a saltwater inlet into the extension of the Rub' Al Khali, or the Empty Quarter, the largest sand desert in the world. Here, graceful dunes meet turquoise waters (and, in winter, flocks of pink flamingos) and make for a very photogenic spectacle.
The Inland Sea is also the residents' playground, with dune bashing, i.e., driving at speed up and down the sand dunes, scuba diving, sandboarding, and day tripping being popular pastimes.
Pro Tip: To truly experience the sights and adventures that the desert brings, go on a "Desert Safari" and spend the night either in a tent by the water, or in the more glamping-oriented Sealine Resort nearby. Spending the night in the desert will allow you to glimpse a sky like no other.
5. View Ancient History At Al Jassasiya
Sidriyat Al Kheesah
This is a site I seemed to have missed when I first lived here, or maybe I thought it would not be worthwhile — because petroglyphs and the nomadic Bedouin lifestyle don't seem to go together, do they? Yet in the northeast of Qatar, on a rocky expanse rising low from the sand and easy to drive past without a second glance, lies one of Qatar's ancient wonders, the Al Jassasiya rock carvings.
The carvings hint at a settlement of fishermen hundreds of years ago. There are carvings of boats, fish, and other strange figures. There are also many ancient games in the form of parallel holes into which, I guess, you had to move pepples. You can self-drive and explore the 800+ carvings yourself, with information panels on site giving you more information.
Pro Tip: Combine the trip north with a visit to Al Zubara fort and the surrounding archaeological digs, all designated a UNESCO World Heritage Site.
6. Enjoy Art, Culture, And Great Food
Katara Cultural Village
Whether you come for the street art, the stunning tiled mosques, an event in the gigantic amphitheater, or simply for the chance to have coffee by the beach with the views across to Doha West Bay, Katara Cultural Village is a wonderful place to get lost in. This pretty little quarter dedicating itself to art and creativity is dotted with food eateries ranging from Poffertjes stands to Turkish cuisine, and is where many exciting events happen in Qatar. There are annual dhow races, horse shows, art exhibitions, and much more — but really, all you need is to meander aimlessly and enjoy whatever you come across by chance.
7. Enjoy The Copy Quirkiness Of Doha
Doha
Want to travel by gondola down a Venetian canal? Head to Villaggio Mall. Want to marvel at Milan's Galleria Vittorio Emanuele? Go straight to Al Hazm shopping complex. Never eaten at Le Train Bleu in Paris? You can do it here and never for a moment believe you're not in Paris, but in the desert. There are many places here that make you take a step back and deal with a severe attack of déjà vu.
Qatar has a definite quirky side. Lots of money and the sometimes bleak setting of daily sand and heat make people inventive, and they bring the world to them instead of traveling to it. So you will find all sorts of copycat sights, restaurants, and enjoyments from around the world right here in Doha.
Head, for example, to the Qanat Quartier on the Pearl. Here you are transported straight to Italy, complete with the Rialto Bridge, while across the road, there is the South of France. On the outskirts of Doha, you can even stay in a large (faux) English country house, the Al Aziziyah Boutique Hotel, or eat in an authentic-looking American diner on Banana Island Resort Doha by Anantara.
Pro Tip: You can easily eat your way around the world in Doha. So many nationalities live and work next to each other, and everybody has brought their cuisine. Enjoy the local cuisine first, but don't shy away from trying something totally different. Everything is possible in Qatar.