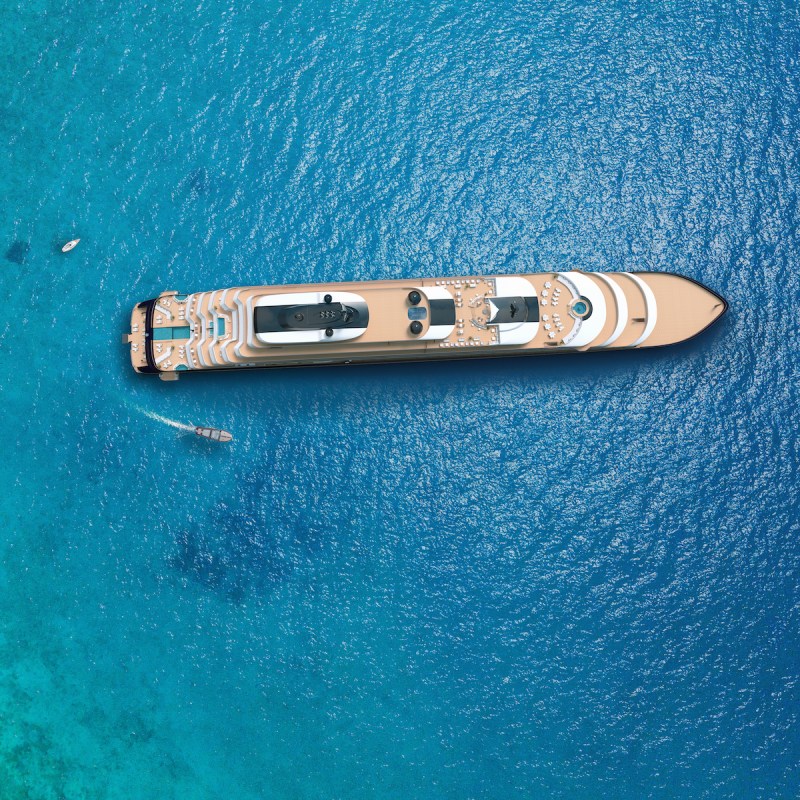 Love Ritz-Carlton hotels for their luxurious hospitality? That hospitality now extends to sea voyages. After some bumps in development, the Evrima will set sail for the first time as it cruises from Spain to France on October 15.
"Every element of the luxury yachting experience was carefully considered in creating Evrima," Douglas Prothero, the line's CEO, said in a recent news release. "This attention to detail and innovation, and our commitment to delivering highly personalized, immersive journeys, will place the Ritz-Carlton Yacht Collection in a league of its own, promising unforgettable getaways for both longtime cruisers and those who are new to the space."
The cruise's complimentary offerings include in-suite espresso machines, premium beverages, higher-tier mini luxuries, on-board gratuities, 24-hour in-suite dining, and Wi-Fi. Passengers in all suite categories enjoy access to a personal concierge.
The Evrima, which accommodates 298 passengers in 149 suites, will sail in the Caribbean, Mediterranean, South America, and elsewhere, depending on the season. Itineraries will include Costa Rica and the French Riviera.
The superyacht has three wheelchair-accessible suites, an ADA-compliant pool, and whirlpool lifts. Guests with accessibility needs can email special.services@ritz-carltonyachtcollection.com, according to the line's website.
Luxury Dining, World-Class Menus, And Local Ingredients Are Offered With A View
The Ritz-Carlton Yacht Collection boasts world-class menus, local ingredients, and internationally-inspired flavors. S.E.A., the vessel's signature restaurant, serves a European tasting menu designed by Sven Elverfeld, whose Aqua restaurant at the Ritz-Carlton in Wolfsburg, Germany, earned a three-star Michelin review. Other choices include Talaat Nam and Mistral, offering Southeast Asian- and Mediterranean-inspired menus and seating with glorious views. Even the most discerning diner will appreciate the offerings.
Relaxing – Or Invigorating – Luxury Spa And Wellness Services Are Tailored For You
Passengers on the Evrima can indulge in a spa experience tailored specifically for them. The spa's services include massages, facials, and a variety of locally-inspired treatments. Spa-goers enjoy their treatments in one of five private rooms, each with an ocean view.
The Salon offers a variety of beauty and hair services including manicure and pedicure treatments, hair consultations, cutting, styling, and blow drying. At The Barber, men can get a revitalizing close shave or facial.
Guests don't have to leave their fitness programs at home. The Fitness Studio on Evrima offers lectures and a customizable nutrition program. A personal trainer helps passengers stay fit, and wellness programs include yoga and mat Pilates. The Studio also maintains a variety of workout equipment, including bikes, rowers, ellipticals, and free weights.
Shore Excursions Widen Your Horizons
Aside from on-board experiences, passengers can choose from a variety of shore excursions. These include reef snorkeling, yoga on the beach, and curator-led museum tours, which vary by itinerary. Passengers can also customize their shore excursions to "fit the mood." Excursions can include everything from watching limoncello production in Sorrento to touring the Alhambra in Granada.
For a limited time, a selection of additional opportunities is exclusively available for private
charters. Multiple voyages, calling on sought-after destinations in Italy, France, and Monaco
during the 2024 Grand Prix, can be fully customized to offer personalized itineraries. This Personalization can include time spent at each destination with tailored excursions and special events ashore.
2024 Voyages Include Many New Itineraries In The Mediterranean
In a recent news release, Douglas Prothero announced the opening of Yacht Collection reservations for Evrima's 2024 itineraries. These itineraries include 21 new voyages. An extended Mediterranean season spans from April through November 2024, offering travelers the space and freedom to enjoy a variety of destinations.
"We are excited to unveil our 2024 Mediterranean season of itineraries," said Prothero. "Our Mediterranean voyages continue to be especially popular, and we are pleased to expand on Evrima's time in the region, promising more opportunities for our guests to enjoy some of the world's most sought-after yachting destinations."
The new season features voyages to popular Mediterranean destinations, including calls on
the Greek Isles, Balearic Islands, and French Riviera. The itineraries include 14 new ports,
including Seville, Spain; Sardinia, Italy; Syros, Greece; and Trogir, Croatia; as well as
overnights in Casablanca, Morocco; Monte Carlo, Monaco; Dubrovnik, Croatia; and Portofino, Italy. Most voyages range from seven to 11 nights.
How Much Do The Cruises Cost?
Of course, prices vary depending on when and where you go. Evrima's inaugural seven-night trip starts at $7,600 per person at double occupancy, according to its website. There are lots of perks included: multiple restaurants, room service, Wi-Fi, personal concierge service, and more. Guests pay an additional $265 each for taxes, port expenses, and fees. You'll need to make and pay for your own flight arrangements, but the company can help you make reservations.
The Ritz-Carlton Yacht Collection Introduces Two Newbuild Superyachts!
In the recent news release, the cruise line also introduced its fleet expansion. Two newbuild superyachts, the Ilma and Luminara, are expected to set sail in 2024 and 2025, respectively.
The specially-designed superyachts feature the highest space ratios at sea, with 228 suites, each with its own private terrace. A high percentage of larger suites will be offered, with two new, spacious upper suite categories measuring up to 100 square meters (1,076 square feet).
With the highest staff-to-guest ratios in the luxury cruising category, the new superyachts will each offer five restaurants, six bars, a wine vault, and signature spaces similar to those on Evrima. In addition, there will be a special space for the Ritz Kids program and an event space for exclusive get-togethers… Cocktails anyone?
Planning on a 2024 cruise with the Ritz-Carlton Yacht Collection? Now's a good time to look at the itineraries and make your reservations!
Catch up on all of our travel news about the cruising industry, including: