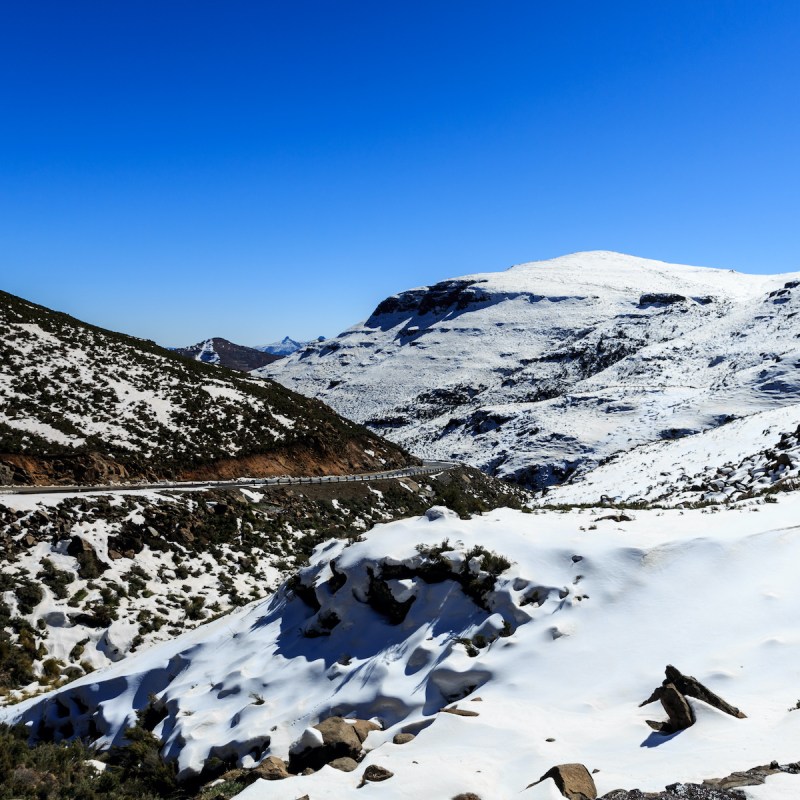 It's imperative to feel comfortable and safe while traveling.
Medjet
provides premier air medical transport, travel security, and crisis response memberships, providing peace of mind for an affordable price.
Bob Geldof famously wrote that "there won't be snow in Africa this Christmas time" in the song "Do They Know It's Christmas?" It was performed by the supergroup Band Aid in 1984 to raise money for the people of Ethiopia.
While that may have been the case for Ethiopia during Christmas in 1984, there's snow right now in Lesotho, a small mountain kingdom in Africa. Here's the best part if you're a skier: This is the best time of year to ski at the resort known as Afriski Mountain Resort.
"I've never seen snow in my life," said Kafi Mojapelo, who traveled from South Africa for a skiing vacation, according to the Associated Press. "This is a great experience."
Mojapelo was among a recent crowd at Afriski, located high in Lesotho's Maloti Mountains. The resort, sitting at an elevation of 10,570 feet, is Africa's only ski resort located south of the equator, and it is currently the winter season there.
What You Need To Know About Lesotho
Interestingly, Lesotho may be an enclave completely surrounded by South Africa, but forbidding mountains separate the two countries. The resort Afriski in Lesotho is about a 5 hour drive from Johannesburg.
Now, about those mountains. About two-thirds of Lesotho consists of mountains. The highest of those mountains is Mount Ntlenyana, with a peak of 11,424 feet.
Because it sits in the mountains, all of Lesotho is at an elevation of at least 3,281 feet. What's more, 80 percent of the country is at an elevation of 5,905 feet or higher, according to World Atlas.
Finally, Lesotho, which has a population of 2.1 million, is slightly smaller than the state of Maryland.
What You Need To Know About Afriski
The Afriski resort, sitting at 10,570 feet, is one of only a few ski resorts in Africa. Built in 2002, the addition of modern snow-making equipment and lifts makes skiing and snowboarding here possible throughout the winter season, which runs from June 10–August 29.
You may be wondering about the resort's runs.
Afriski's Kapoko Snow Park is the only freestyle snow park in Africa. Each winter, the park hosts its annual Winter Whip Slopestyle snowboard and ski competition. This year's event, however, just ended.
Know Before You Go
The best time to ski at Afriski is in June and July, according to South Africa. However, the skiing is also good in August thanks to the snow-making equipment. In addition to skiing, visitors can also go snowboarding or tubing.
And, of course, when the day's runs are done, there's even an après ski scene at Afriski.
Summer in Lesotho, on the other hand, runs from November through February because the country is in the Southern Hemisphere.
"If you've not been to Afriski during summer, then you only know half the story," Afriski explains. "The warmer weather may melt the snow, but it leaves behind an awesome network of trails that link peaks and valleys, waterfalls, and scenic views."
In the summer, popular activities at the resort include hiking, mountain biking on both downhill and cross-country trails, riding motorbike enduro trails, gorge jumping, swimming in rivers, and fishing.
You can learn more about a trip to Afriski here and more about visiting South Africa here.
If you enjoy skiing, be sure to read all of our skiing content, including: