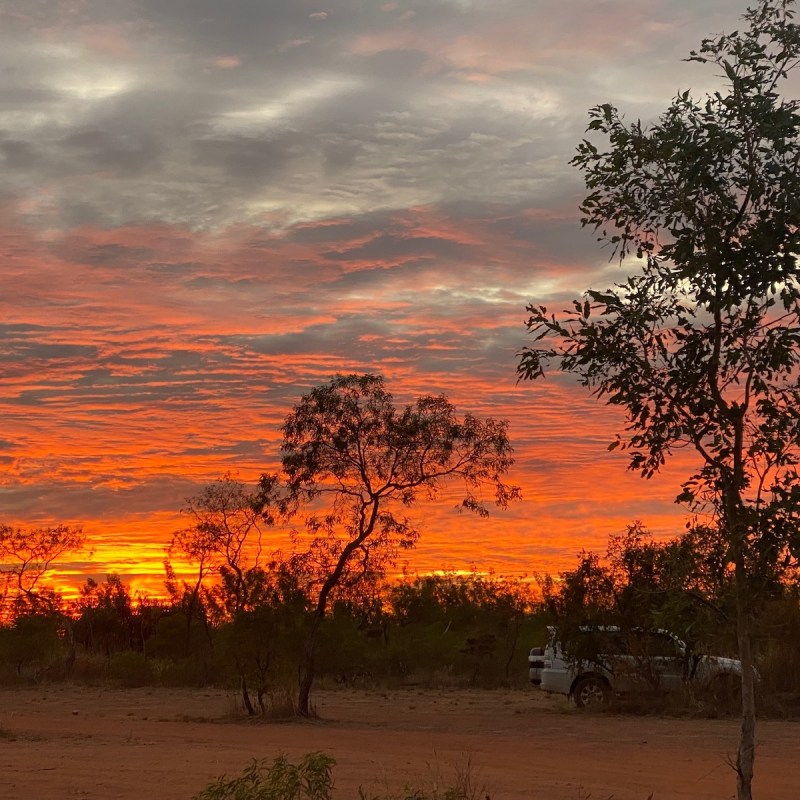 I crouched down, only slightly nervous, as a massive 16-foot crocodile yawned its gaping jaws full of teeth perfectly designed to rend and tear flesh right behind me. On either side of me, out of the frame of the photo that I was posing for, guides and handlers with the Matt Wright Top End Safari Camp were ready to pounce if that ancient predator made even the slightest movement in my direction, but that day, the beast was content to sun itself on the shore.
We had just come off an airboat tour of Sweet's Lagoon, a billabong area located roughly an hour and 30 minutes southwest of Darwin, Australia, where crocodiles slid silently along the dark waters and on the shores. One of the guides told me roughly 130 crocs call this stretch of water home, and after spending a few days in Australia's Northern Territory, I was convinced that even a rain puddle on the street probably had a crocodile lurking in it.
Northern Australia is a wild and wonderful place full of friendly people and balmy weather, but it's also full of wildlife that is as untamed as the continent itself. In addition to crocodiles, Matt Wright's Top End Safari Camp had small kangaroo baby-looking wallabies bouncing about, wild and aggressive water buffalo roaming, and maybe, just maybe, one of Northern Australia's elusive feral camels wandering about.
I came to this wildlife safari camp to see the authentic wilds, but I also wanted a little luxury too. Glamping was the best of both worlds, and in addition to a fabulous meal, guided tours of the area, and a helicopter ride over the "bush," I got to stay in a wonderful glamping tent under the millions of stars in the Australian sky.
I tried glamping at this Australian crocodile safari camp, and it was incredible.
Why I Went
I wanted to camp during my 2-week solo trek through Australia's Northern Territory, but I, like most foreigners, was a little wary about doing it on my own. As a hosted guest of NT Australia, I was invited to stay a night at Matt Wright's Top End Safari Camp.
If the name Matt Wright sounds familiar, you aren't wrong. The star of National Geographic's hit TV show Outback Wrangler, Matt is also an adventurer of the finest caliber, working during his life as a horse wrangler, Australian Army soldier, crocodile egg collector, helicopter pilot, wildlife relocator, and award-winning tourism operator.
He also shares his love for the Australian Outback and the wildlife at his safari camp and overnight tour, which includes guided crocodile encounters and feeding, an airboat cruise with knowledgeable guides, dinner on an open star deck, deluxe lotus belle tents to sleep in, a big ol' barbecue breakfast, and a 10-minute helicopter scenic tour — all in one package.
I drove my rental car for the roughly 2-hour trek to the Top End Safari Camp, but the experience also has air-conditioned coach transfers from Darwin City. I like driving (even on the "wrong side of the road" from what I was used to), and because I left a little early, I was able to stop off at one of Northern Australia's famed roadhouses, The Sandpalms Roadhouse and Tropical Motel for a snack and conversation with the locals.
The roadhouses are a unique feature along the highways in the Australian Outback, acting as part fuel stop, part restaurant, park accommodation, and part gimmick. Some include emu enclosures, crocodiles out back, and even giant fiberglass aliens, but all are a great place to stop for a cool drink and a meal.
Crocs And Wallabies Up Close
I wanted an authentic experience in some of Australia's wildest places, and Matt Wright's Top End Safari Camp didn't disappoint. As soon as I arrived, I was checked in with the rest of the visitors and we loaded up on buses to go down to the "dock" where the airboats and river boat waited.
Signs along the water warned us all not to get too close to the water's edge, because, well, crocodiles. Little forearm-length baby crocs wallowed in the waters close to shore and above, an eagle perched at the top of a dead tree to eye for easy fish in the waters.
As we sped through the lagoon on the airboats, which were imported from Florida, we spied lazy crocs sunning in the grasses and along the shores while the guides shared information about the ecology and the animals themselves.
At one point, one of the guides grabbed a croc by its jaws to open its mouth, and I nearly fell into the water with shock. Sadly, the crocodile had part of its lower jaw missing thanks to a fight with another territorial male, so we were able to see its teeth and jaws up close with little danger.
"He's able to feed himself, yeah?" I asked.
"Yeah, yeah, he feeds himself alright. He's opportunistic. He'll take advantage of what other crocodiles have killed and partly eaten," said our guide in his thick Aussie accent.
After the airboat ride, we boarded a large passenger boat for a leisurely cruise along the lagoon to spot birds, more crocodiles, and other wildlife. When I say this part of Australia is full of crocodiles, I'm not kidding.
After the boat safaris, we went to meet the resident caged crocodiles at the camp, large beasts wallowing in shallow ponds who were lured out with chunks of feral pig on a stick. The largest of those beasts was the one we all posed with.
Fun Fact: Sweet's Lagoon is named after the 16-foot saltwater crocodile, "Sweetheart," who roamed the area and chased visiting boats. Authorities attempted to trap Sweetheart for relocation, but the massive creature drowned in the attempted removal. He weighed 1,719 pounds, and his body is on display in Darwin's Museum and Art Gallery.
Glamping
Matt's Top End Safari Camp's overnight excursion includes a night in a belle tent on the property. The roomy tent was outfitted with a comfortable double bed, a small table and chairs, and an outdoor open-air shower and sink system. The camp only offers shared bathroom facilities, however.
After a full communal dinner cooked by the staff at the camp, we sat under the night sky and around a cozy firepit to share travel stories, sip on local beer and cocktails, and watch the little wallabies hop across the yard.
Usually, when the skies are clear, guests have the chance to learn about the night sky and the constellations during a stargazing program, but an unusually rainy cloudy day took that experience away from us that night.
The tents are sturdy and comfortable, but in the dead of night, the sounds of mysterious animals rustling through the brush made me curious if I was hearing wallabies and rabbits or if one of those giant crocodiles was hunting back there. I was assured that crocs are pretty lazy creatures in general, so it was highly unlikely they would leave the comforts of the water to roam across the land.
The next morning, we split into groups to do our 10-minute helicopter sightseeing tour, and I was among those in the first group. While the staff cooked up a mighty breakfast of eggs, bacon, skillet potatoes, and fresh bread, I boarded the small helicopter to get a bird's eye view of the land.
Flying over Sweet's Lagoon is a vastly different experience than cruising along its waters, and from the air, we could see a herd of feral water buffalo grazing. Australia has two types of invasive buffalo, which numbered as many as 350,000 prior to extensive culling to control the population in the 1980s. According to The Australian Government, "Between 1825 and 1843, about 80 buffalo were brought to Melville Island and Cobourg Peninsula for meat. When these settlements were abandoned in the mid-1900s, the buffalo soon colonised the permanent and semi-permanent swamps, and freshwater springs of the top end of the Northern Territory."
Feral pigs are also a problem throughout the Northern Territory, though the feral camels that roam the desert areas here do not seem to cause quite as much damage.
Funny Fact: Australia is home to the largest population of feral camels in the world. The camel farms in this continent actually export camels to the Middle East!
All in all, I was impressed and thrilled with my experience of glamping at an Australian crocodile safari camp and found the experience to be one of my favorite days during my 2-week adventure in Australia's Northern Territory.
Pro Tip: The best time to visit the Northern Territory's Top End is during the "winter" dry months between May and October. While the rest of Australia shivers in the cold winter, the Top End stays warm and balmy thanks to its tropical climate. The summer months tend to be very hot, humid, and rainy.