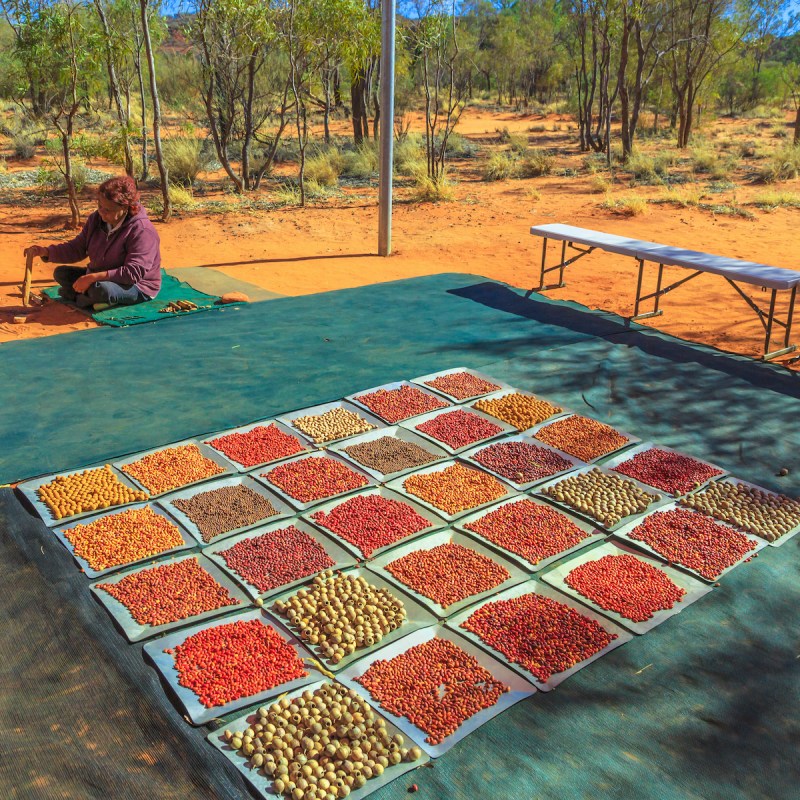 I sat cross-legged on the ground in front of two local Anangu artists who demonstrated the art of Aboriginal dot painting, those swirled, dot-filled creations that define some of the Aboriginal artists of Northern Territory, Australia.
As the artists made shapes in the dirt in front of us, they explained what each symbol represented. The swirly circles can mean "waterhole" or "an important place." Two half-moon shapes sitting across from each other with indentions alongside them represent two women working together, the indentions representing their digging sticks and the wooden bowls they use for collecting.
Around me, children watched on as rapt as I did, all of us anxious to use our new knowledge and imagination to create Aboriginal dot paintings of our own at the Maruku Dot Painting Experience at Ayers Rock Resort Village in Yulara. Behind us, the looming visage of Uluru (formerly called Ayers Rock) rose in the distance, an ever-present monolith of cultural importance to the Indigenous peoples of Australia.
Australia is home to 250 distinct language groups of Aboriginal Australians who are split into two groups: the ones who already lived in Australia when the British began colonizing in 1788, and those who descend from the Torres Strait Islands, now part of Queensland. What's more, the Aboriginal people of Australia have lived on the continent for more than 50,000 years, making them possibly the oldest population of humans living outside of Africa.
Throughout my 2-week hosted tour of Northern Territory, Australia, I was able to connect, meet, and share experiences with many of Australia's native peoples. In these experiences, I learned about creation stories, bushcraft, art, and the tragic history of how these native populations were treated during colonization.
If you are visiting Australia's Northern Territory, here are seven authentic Aboriginal experiences you can have, enjoy, and learn from.
1. Guluyambi Cultural Cruise
Kakadu Cultural Tours
Northern Australia's Kakadu National Park's 7,722-square-mile lush wilderness is a World Heritage destination full of both cultural and natural wonders. With millions of migratory birds calling the wetlands home, Kakadu's rainforests, rocky gorges, billabongs, and rivers also contain some of the oldest Indigenous rock art in the world.
There are more than 5,000 Aboriginal rock art sites in the park. The Bininj/Mungguy people have lived in the Kakadu area for roughly 65,000 years and the park has plenty of ways to learn about their ancient culture.
My first stop at Kakadu was on the Guluyambi Cultural Cruise, which is hosted by local Aboriginal guides who share their culture, local mythology, bushcraft (traditional uses for plants and animals), and the legends and ecology of the East Alligator River.
This small-group boat tour is 100 percent Aboriginal-owned and operated, and along the one-and-a-half-hour tour, we spotted saltwater crocodiles and the waterfowl of the area and learned about the sacred lands just past the river. Our guide shared traditional tools and weapons used by the people in the area and kept us rapt with the cultural stories of his people.
Pro Tip: The Guluyambi Cultural Cruise starts at the Upstream Boat Ramp roughly 45 minutes from Jabiru. If you are making the 4-hour drive from Darwin on the Arnhem Highway, turn north onto the Oenpelli Road just west of Jabiru. You'll pass some pretty spectacular scenery and rock formations. Just follow the signs and you shouldn't get lost.
2. Warradjan Aboriginal Cultural Centre
Kakadu National Park
If you are staying at the Cooinda Lodge at Kakadu National Park like I did, the Warradjan Aboriginal Cultural Centre is an easy 10-minute walk from the lodge and well worth visiting. The center, which is free and open to the public for self-guided tours, shares the creation stories of the Aboriginal peoples of the area, as well as artifacts like clap sticks (used to communicate and make music), rock art samples, weaving techniques, and more.
The center also has a large gift store that sells locally created items and art from the Aboriginal community, and a mini-theater has a huge selection of films to watch that tie into Australian culture.
Pro Tip: Don't miss taking the Yellow Water Sunrise Cruise while in Kakadu, which is hosted by Yellow Water Cruises. All the guides have the Kakadu Knowledge Certificate, which means they can share insights into how the Bininj peoples lived along the Yellow Water Billabong. Plus, the sunrises in Australia are just spectacular.
3. Alice Springs Cultural Activities
A short flight from Darwin, Alice Springs is located in what is known as the Red Centre in Northern Australia, and this city is home to tons of Aboriginal experiences. The Araluen Cultural Precinct includes Araluen Arts Centre, Strehlow Research Centre, Museum of Central Australia, and the Central Craft studio and retail outlet.
Right next door to the Araluen is the Central Australian Aviation Museum, which focuses on Australia's aviation history and culture, and you can start a journey on the Territory Arts Trail, which celebrates Aboriginal artists and artwork from the broader central desert regions.
While in Alice Springs, I took a private tour of the MacDonnell Ranges with Sandrifter Safaris, which included stops at sacred spots like the Ilparpa Range and Yeperenye "Caterpillar" Dreaming, plus a local Aboriginal guided hike at Standley Chasm.
4. Kings Canyon And Karrke Aboriginal Cultural Experience Tour
Located halfway between Alice Springs and Uluru-Kata Tjuta National Park, Kings Canyon and the iconic Kings Canyon Rim Walk in the heart of Australia's Red Centre were formed over 400 million years. This is a wild, gorgeous landscape full of soaring canyon walls and lush pools.
It's also the traditional home of the Luritja and Arrente peoples for more than 20,000 years, and you can get firsthand knowledge of their culture and way of life with the Karrke Aboriginal Cultural Experience Tour. This one-of-a-kind tour hosted by brother-and-sister team Peter and Natasha offers a 1-hour cultural experience as lived by the local Luritja and Pertame people of Central Australia.
In addition to learning about the weapons and tools, visitors can learn about the traditional foods — including a plump grub called a Witchitty Grub — watch to see how traditional beads and jewelry are made, learn about dot painting and symbology and hear the sacred chants and songs of the area.
Pro Tip: The Kings Canyon Rim Walk is a famous hike in the area. It's a nearly 4-mile walk around the canyon rim, during which you will have to climb 500 steep steps to get to the top of the canyon. Set aside about 3 or 4 hours for this hike, which goes over some rough terrain and includes ladders and steps. It's best to tackle this hike at sunrise so you can watch the sun crest the canyon — and before it gets too hot.
5. Uluru Tour And Cultural Center
Uluru is a World Heritage Park and perhaps the most recognizable and famous feature in the Australian Outback. Rising up as a massive monolith from the flat surroundings, the Uluru-Kata Tjuta National Park also holds centuries of cultural importance and history for the Aboriginal tribes of the area.
One of the best ways to discover Uluru in a day is with SEIT Outback Australia, a small group tour company specializing in interpretive touring with experiences like a tour of Uluru with a traditional owner, a day trip to traditional Aboriginal homelands at Cave Hill, and more. On this gilded tour of the base of Uluru, you can visit culturally-significant areas like the Mutitjulu waterhole, see ancient rock paintings while hearing creation stories, and learn about how Aboriginal people lived in the area.
At Uluru-Kata Tjuta National Park, the Cultural Centre is a place of learning that celebrates and recognizes the Anangu people (Aboriginal people from the Western and Central Deserts of Australia) and their lore through exhibits and free presentations with Anangu and park rangers. It also has a few Aboriginal art galleries with local artists on site.
Pro Tip: If you go during the winter months of May through October, bring a heavy jacket, a hat, and gloves. The temperatures drop well below freezing in this part of Central Australia.
6. Maruku Dot Painting Experience
One of the most popular experiences is the Maruku Dot Painting Experience workshop with the local Anangu artists, held in the Ayers Rock Resort area. The artists walk you through the traditional practice of Aboriginal dot painting, the symbols and tools used, and how dot painting (which came about in the 1950s) came to represent the Aboriginal people of Central Australia.
This experience was among my favorite because of the knowledge and patience of the two women leading the workshop.
The class had everyone from small children to folks in their 70s, and we all created our own works of art based on the lore these women shared. We even learned a few Pitjantjatjara words (Pitjantjatjara is a local language spoken by Anangu).
Maruku Arts is a collective of more than 900 Anangu artists from throughout the Western and Central Deserts of Australia. This collective has been going strong as a non-profit craft corporation for more than 30 years. Maruku is owned and operated by Anangu. For over 30 years, Maruku has made the arts and culture of the Anangu accessible in an authentic way.
Pro Tip: Wear something you don't mind getting messy as you will be working with paints. Also, it's a good idea to reserve a spot early as these classes tend to sell out quickly.
7. Gallery Of Central Australia
Also located at the Ayers Rock Resort area of Yulara is the Gallery of Central Australia, which just opened in late 2021. This collective art gallery brings together Indigenous communities to share their artwork, their stories, and their culture from smaller art communities throughout Central Australia.
Some of these small art communities are in the most remote areas of the Central and Western Desert regions, so the gallery serves as a hub for artists to display and sell their artwork. Because of the continued support of visitors, the art and culture is kept alive in the communities and beyond.
Central Australian Indigenous artists also participate in the GoCA Artist in Residence program, during which they create, exhibit, and sell their art while living at the resort.
Pro Tip: The GoCA is open daily from 9 a.m. to 5 p.m. Also, the Ayers Rock Resort supports the Anangu Communities Foundation, which benefits the Anangu communities through health, education, and economic, and social participation. So far, the foundation has given more than $1 million for community projects, and Ayers Rock Resort matches all guest contributions dollar-for-dollar, up to $200,000 each year.
This list is just a small selection of Aboriginal experiences one can enjoy in Australia's Northern Territory — and only the ones I participated in. Whether you choose from this list or find other experiences to try, learning about Australia's Aboriginal and Indigenous cultures is a vital part of understanding its history and its people.
For more Australia inspiration, consider